Dressing your dog in cute clothes is fun. Sometimes we do it just because we like a certain shirt or jumper, but sometimes it's a must, in winter for example! A lot of breeds aren't used to cold weather, so sometimes we need to get them something that will make them warm. However, the problem with dog clothes is that they are quite expensive. But don't worry, with a little bit of practice and imagination you can make your own cheap dog clothes!
We have prepared a few great DIY ideas on how you can make fashionable, practical, but cheap dog clothes!
ALSO READ Dog Clothes: How To Choose And Buy The Right One?
Cheap dog clothes – DIY ideas
As mentioned above, nice dog clothes don't have to be expensive, nor do they have to be complicated to make!
1. No sew dog jacket
We love a good DIY project that doesn't require sewing! What about making the easiest no-sew dog jacket for your beloved pooch?
What you'll need to make the no-sew dog jacket:
Measuring Tape
Scissors
Pins
Fleecy Jumper
Fleecy Track Pants
How to make the no-sew dog jacket
There are two different ways on how to make this no-sew dog jacket and our friends over at DIY Project will definitely explain in better than we do. Just click HERE to get to the tutorial.
ALSO READ Bean Bag Dog Beds: Why They Are Good For Dogs?
If you want to make it even easier for yourself, there's a video in which the whole process is explained!
2. No-sew dog tutu
Why does your dog always have to wear only jumpers or jackets. Maybe you have a little princess at home or you just want to dress your dog up for her birthday or maybe a wedding, and a no-sew tutu would be a cute look!
Your dog will definitely be the center of attention when she pulls up in this super adorable dog tutu!
What you'll need to make this dog tutu:
Measuring tape
3/4 inch wide elastic band
1.5 yards of tulle
Scissors
Ribbon
Safety pin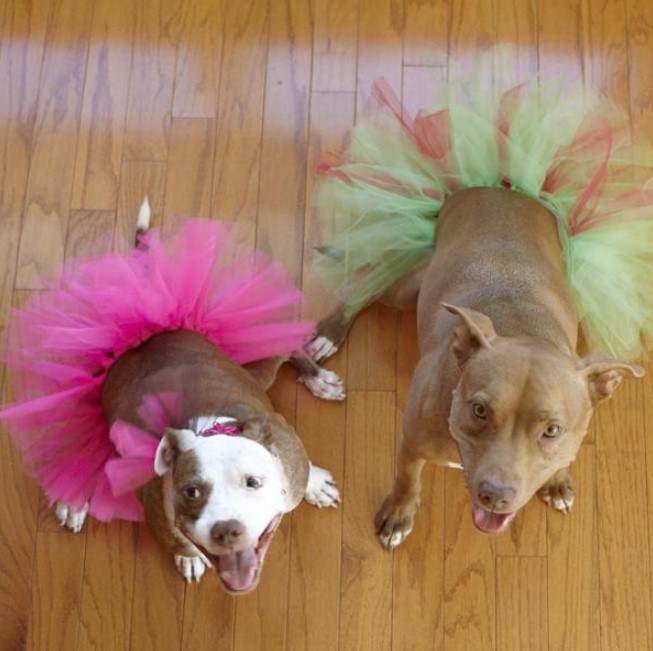 How to make a dog tutu:
The first step in making a dog tutu is to measure around your dog's belly using a measuring tape. Then cut the elastic according to the measurements you took.
Make sure that the elastic band isn't too tight around your dog's tummy. Then, take the ends of the band and connect them together with a safety pin, or if you want you can sew them together too (but you don't have to!).
ALSO READ Does my dog love me? How canines show affection
Next, you'll have to lay out your tulle and start cutting strips of 2″ and 3″ wide and set them aside. This step is also optional, but now you can cover your elastic with a nice ribbon.
After you've done that take the tulle strips and start tying it around your elastic band. Our tip is to leave the fabric folded in half to create a puffy look!
Repeat this step until you've completely covered your elastic band with the strips.
3. DIY dog shirt
Lastly, we're going to make a dog shirt! With this one, we're cheating a bit, because you're actually going to upcycle old shirts, and not really make a new one. But despite this, it's a great DIY with which you'll get cool shirts for your dog!
What you'll need for this easy DIY dog shirt:
Measuring Tape
Scissors
Old T-Shirt
Plate
Safety Pins
How to make a DIY dog shirt
The first step in making a DIY dog shirt is to go shopping! Go to the thrift store and get a cute shirt that you can upcycle.
Then, using a measuring tape, measure your dog from the start of his neck onto where his tail starts.
After you got your dog's measurements, lay the shirt on a flat surface with the logo you want to show facing up. Then, measure from the neck of the shirt down and cut horizontally at that mark across the entire shirt.
ALSO READ Dog Sleeping Positions And What They Mean
Now, this next step is a bit complicated to explain, but basically, you'll need to make the body of the dog shirt. For this, get a plate and place it over the shirt covering half the sleeve.
Then, start from the bottom and just follow and cut along the plate all the way through the sleeve. In order to better understand this step, you might want to watch the tutorial below!
You're almost done! Your next step is going to be to either sew or safety pin the shirt!
If you want you can sew the shirt together or grab the ends of the shirt from underneath your dog's arms and carefully safety pin those ends together.
And you're done! Now you know how to make cheap dog clothes!