The internet is something you can't imagine your day without. Thanks to it, we make and maintain friendships, work, study, but we can also have fun. It is full of various photos and videos that can brighten our day. My favorite content on the internet is videos and photos of animals, especially videos of a cute golden retriever.
Everyone knows that they are playful and cheerful, so they can easily entertain others. Their interesting temperament, but also a small dose of curiosity helps them to be noticed. They often have interesting reactions to food, babies, and other animals, but sure they also often fall down the stairs or startle their images in the mirror.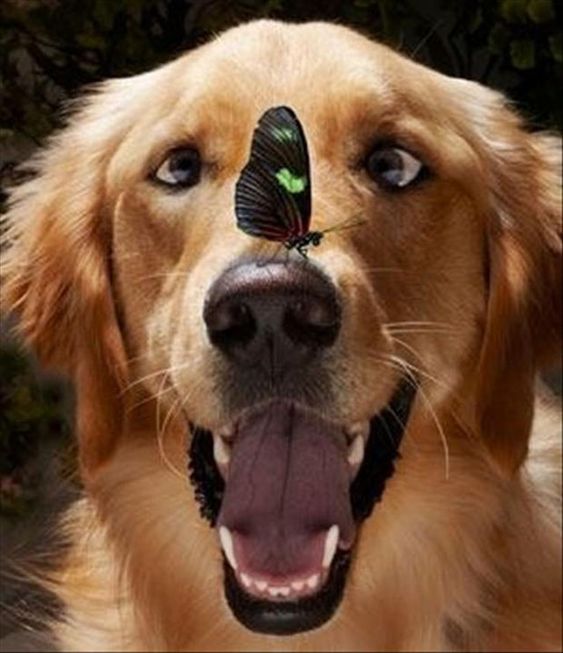 Today, I will present you five cute golden retrievers that you must follow on their Instagram profiles and YouTube channels to make yourself and others every day. Some of them even have more than 2 million followers and are known as some stars. You just won't be able to resist their cute faces and always playful tails. We promise you great fun.
Top 5 cute golden retriever stars of the internet
1. Tucker
What kind of a fan of golden retrievers are you if you've never heard of Tucker? Tucker is the most famous golden retriever on the internet. Firstly, has 2.9 million followers on Instagram, and in addition to Instagram. Secondly, he also has a YouTube channel with as many as 3.2 million subscribers. Its owner is very imaginative and manages to make videos showing how Tucker spends his days. The most-watched videos on Tucker's YouTube channel are the ones in which he tries out food. Namely, the owner gives him snacks of various human foods and records his reaction while his thoughts are written above him. It's just impossible not to laugh and not watch all his videos. We are sure that Tucker will win your hearts just as he won ours. Be sure to follow him.
2. Watson and Kiko
Our "Cute Golden retriever" list wouldn't be complete without Watson and Kiko. Two golden retrievers whose owner posts photos on their Instagram profile every day. Firstly, to easily differentiate them, Watson has darker hair and Kiko has lighter hair. The two of them have a great brotherly relationship, although each of them is specific in its own way. Namely, Watson loves to hug others, so you will find a lot of photos on their Instagram profile where he hugs Kiko. Those photos actually show how strong a bond the two of them have.
Kiko is a cancer survivor. Doctors did not predict a bright future for him, he had little chance of surviving. Kiko still fought and emerged victorious from this battle, but unfortunately with one paw less. In addition to save his life they had to amputate his paw. This did not prevent him from continuing to live life as a playful dog always ready to play, but also to share the love. Similarly as Tucker, the two of them have their own YouTube channel where you can find videos showing Kiko's period of battling cancer. Well done Kiko, and we're sure everything was easier with Watson's hugs.
3. Louie
Louie is a four-year-old golden retriever who has 243 thousand followers on his Instagram profile. He lives with his owners in California and loves to be active. When you review his Instagram profile, you can conclude that he loves swimming, hiking, walking and playing a lot. Louie has a baby in the family with whom she obviously likes to spend time. Pictures of the two of them will melt your heart. Although he is young, he has a large number of fans thanks to his owners. They strive to make every Louie's pictured original and perfect. In addition to her Instagram profile, Louie even has her own website. Because of so many people following him, Louie is the star of many commercials. Who knows, maybe we'll see him in a movie soon.
4. Kevin
Kevin is a two-year-old goldie who lives life to the fullest in Florida. Just like Tucker, Kevin loves to try human food and to hang out with owners. What actually made Kevin famous was his collection of hats. Yes, you read that right, this cute dog has his own collection of hats. For example, he has a duck and chicken hat. Its owners try to make all outfits modern, and the most important thing is that everything fits together perfectly. Kevin is a real model and loves to show others his outfits. Finally, if you are interested in what is fashionable in the dog world, be sure to follow Kevin.
5. Samson and Rookie
Last, but not least on our "Cute Golden Retriever" list is Samson. Samson is a comedian golden retriever. His profession is to make people laugh. This is exactly what he succeeds in because 90.8 thousand people follow his Instagram profile. That's a very large number considering Samson's owners are briefly running his Instagram profile. Samson doesn't live alone in the family, he has a younger brother Rookie who also loves to pose in front of the camera.
Samson is very active, he loves swings, the beach, playing, but also sleeping. Rookie is a dog, but there is a younger member in their family. Recently, a little girl entered their lives who won Rookie's heart and he is her main guardian. When he takes a break from guarding, he jumps into her swing and sleeps with her. The two of them are so cute that they will make you cry when you see them. In short, be sure to follow Samson and Rookie as their time is just beginning.