Difficult circumstances force us to make difficult decisions.
For some pet owners, this the unfortunate reality that dawns on them when they realize their furry friend deserves a better home. Nobody wants to ever give away their best friends, but for their sake, it's best to think about the type of life you want them to live.
This was the tale of a doggo and his journey to adoption. A golden retriever was found chained to a nearby public bench. He was unable to move and was unusually still for his size. His bravery to withstand the loneliness of being without his closest protectors raised a couple of eyebrows.
Marcela Goldberg was notified of the stranded dog and quickly went to its aid. She rushed over with fellow rescuer Azul Galindo in order to see what the issue was all about. Since the beginning of the pandemic, many more dogs had turned up abandoned in Goldberg's town and so she wasn't really shocked by the news.
There were already several neighbors gathered who had brought him water and food because they left him tied to the bench with nothing," Goldberg said. "But they could not get close because the puppy was terrified, growling and snipping."
After trying to calm the pup down, Marcela noticed that there was a handwritten note that was being held down by a rock. The note read:
"Hi, please adopt me: Max. Please, I ask that you adopt this cute dog and you take good care of him. It hurts a lot to leave my dog here but I made the decision of leaving him because my family used to mistreat him and it would always hurt me to see him in that condition. If you're reading this and your heart wavers, please adopt him and take good care of him. If not, please leave this note in its place. That way others can read it and adopt him. Thank you."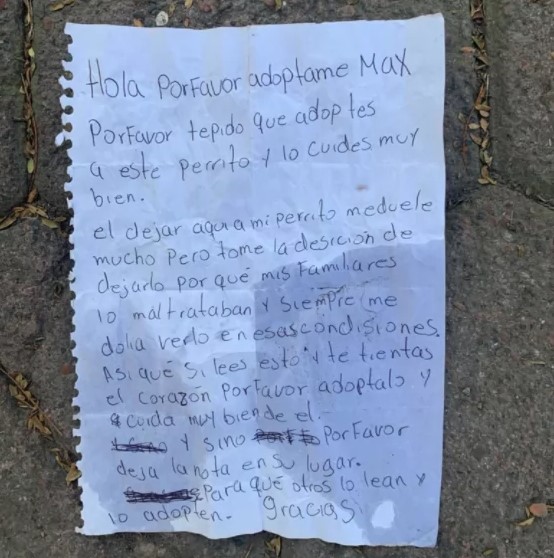 You hate to see a broken home.
Poor Max was probably living through terrible conditions that have really traumatized him for the worse. Goldberg made sure to be precautious and handle Max with care. Since the smell of food didn't distract or relax him, she thought it would be best to approach him with protective padding in order to be safe.
I wore protective gloves to be able to approach with more confidence, but it was still difficult," Goldberg said. "We contacted a trainer with experience in aggressive dogs who watched the situation by video call and gave me instructions until we managed to pass the loop [over his head] and cut the other chain."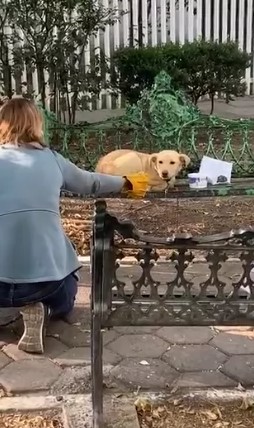 Once the chain was cut, Max's attitude changed completely to a more temperate, docile dog. He stopped all the growling and became more willing to cooperate. Goldberg started to pet him more and more and by the time they arrived at the shelter, Max was definitely not the same dog they found lying by himself on that bench.
The 7-month-old pup was soon after renamed Boston.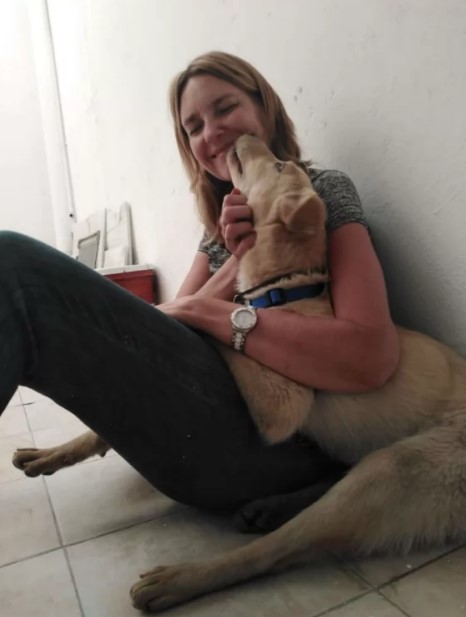 He's slowly coming around becoming more open to people being a positive influence in his life. Playfulness and trust are slowly becoming part of his everyday routine.
"He is sweet, very affectionate, he loves to give kisses and play with the ball that the vet gave him," Goldberg said.