Conscious dog owners around the whole world are looking for different product alternatives to make both, their dogs and the planet — happy. A lot of pet food options are now available in recyclable packaging instead of the old plastic one. However, what about dog toys and dog balls? Are there any non-toxic and eco-friendly options out there!
The answer is a clear yes! If you don't want for your dogs to chew every day on poisonous materials, than non-toxic dog toys are the way to go! Just like you try for yourself and your family to find more clean options, make sure you do the same for your dog.
The one non-toxic and eco-friendly toy that is incredibly affordable and widely available is — a simple wool dryer ball!
Yes, seriously! You might've never come to that idea. But these balls are not only great for your delicate wool coats, but also to throw your dog to play with them.
The best thing is that you can also put them in the washing machine and clean if needed. And they, of course, can also get dried in the drier.
These balls are ideal for puppies, adult and senior dogs! In other words — they are a great fit for everyone! They are not harsh and won't hurt your dog's teeth and gums. In fact, they can even help your dog to clean his teeth.
However, not all dryer balls are made the same. Make sure to get some made with organic wool and without any added dyes.
However, if you want some more options, here are out favorites.
Non-toxic dog balls
TennisWools
TennisWools are all-natural tennis balls that are hand-crafted using only 100% merino wool. Local artisans, in Nepal, create each ball individually. No machines are used in the creation of TennisWools. TennisWools contain no chemicals, fillers or nasty synthetic rubbers that can make your pet sick. Both cats and dogs are both naturally drawn to wool and will love playing with their new TennisWools. Even though wool dog toys are safer, remember to act responsibly and supervise your pet while it plays with toys it might ingest. TwinCritters is dedicated to the production of all-natural and safe pet products. TwinCritters offers a 100 percent manufacturer money back guarantee on TennisWools.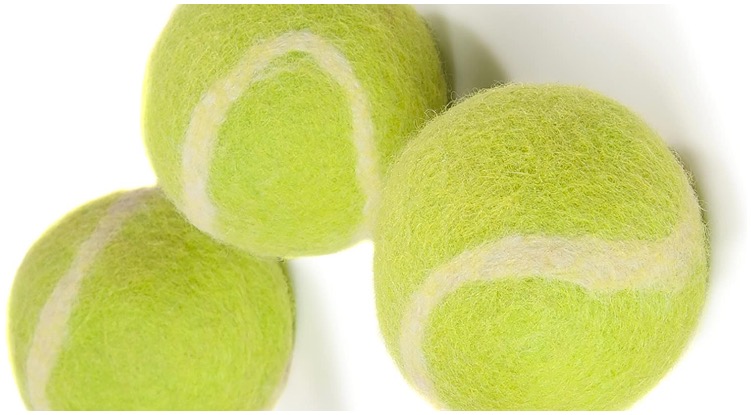 Beco Ball
Beco pets natural rubber toys are made from 100% natural rubber and rice husk. They are non-toxic and vanilla scented. If ingested, they are less likely to cause harm than their synthetic counterparts. They are extraordinarily strong for the toughest Chewers and every toy comes with a manufacturers lifetime guarantee.
Planet Dog Orbee Tuff® Recycle Ball®
Planet Dog makes their Orbee Tuff® Recycle Ball entirely from material left over after the injection molding process used to make other toys in their range, which are themselves said to be eco-friendly. This process virtually eliminates manufacturing waste for the company and helps reduce their carbon footprint.
The Recycle Ball measures 3 inches in diameter and is durable (a 5 out of 5 on the company's toughness scale), buoyant, bouncy, and vaguely minty, presumably to help freshen your pup's breath. Colors vary depending on the materials the company has left over after making their other toys.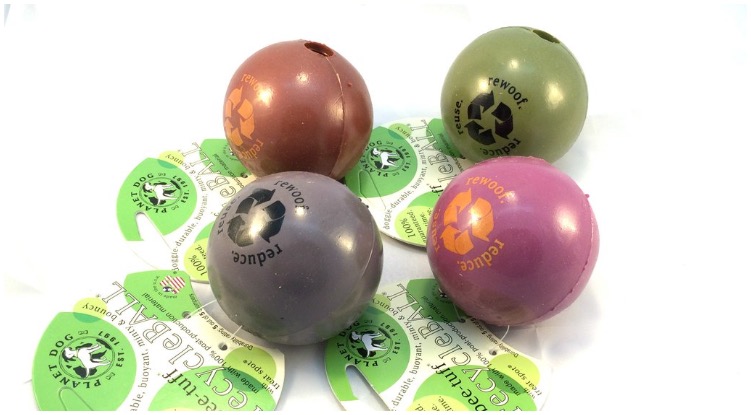 Chuckit! Rebounce Ball
The Chuckit! Rebounce ball is designed for extraordinary games of fetch, featuring a high-bounce, recycled rubber construction. The Rebounce ball encourages pets to run farther and leap higher, helping pets stay fit for long-term health. The Chuckit! dog ball has a soft exterior that keeps dogs' mouths comfortable as they catch and carry during fetch. Ideal for outdoor use, the durable rubber surface withstands tough play and is resistant to dirt and slobber for convenient cleaning. This recycled rubber ball includes eye-catching colors that attract dogs' interest and make it easy to spot in tall grass or leaves. Two Rebounce balls are included in each pack for pet parents who like to have an extra ball on hand during fetch. The Chuckit! Rebounce Ball is compatible with medium-sized Chuckit! Launchers, enhancing fetch with slobber-free pickup and long-distance throws.