It's finally summer! Here is the sun and the absolutely wonderful weather and fresh air. It's the perfect time to start going outside more, explore nature and get some fresh oxygen and vitamin D. Many of us can't wait to finally hop onto our bikes again and just ride around and have a good time. But many dog owners would also like to make their dogs a part of this adventure. And that is absolutely possible! All you need is a dog bike attachment.
There are different ways to make your dog a part of your bike ride. We have bike carts, carriers, trailers, leashes. It all depends on the size of your dog and how active he is. A dog bike attachment is the perfect choice for medium to large dog breeds that love to get some exercise. If you have a smaller dog that isn't all about running, it's better to choose a dog cart or carrier.
However, choosing the right dog bike attachment can be difficult. There are simply so many options available. But we are here to help!
These are our top three dog bike attachments that you can order from the biggest online retailer worldwide — Amazon.
Walky Dog Plus Hands Free Dog Bicycle Exerciser Leash
The WalkyDog Plus dog bike leash lets you safely take your dog with you on bike rides. The Stainless steel material of this attachment is going to last for a long time. It's made with the highest grade of High Carbon Steel. The attachment has Military Grade Paracord 550-lbs pull strength.
The quick release system allows you to disconnected your dog from the bike within seconds when not riding. The Walky dog plus Lets you walk your dog and ride your bike at the same time. Length of Leash is Adjustable.
Recommended for Medium to Large dogs, Huskies, Malamute, Bernese Mountain Dog, Akita, Boxer, Shiba Inu, German Shepherd, Labrador Retriever, Golden Retriever, Doberman Pinscher, American Pit Bull Terrier, Border Collie, Cocker Spaniel, Standard Poodle, Weimaraner, Terriers, Greyhound, Rottweiler, Portuguese water dog, Australian Shepherd, Springer Spaniel, Beagle, Whippet, Samoyed, and Many more.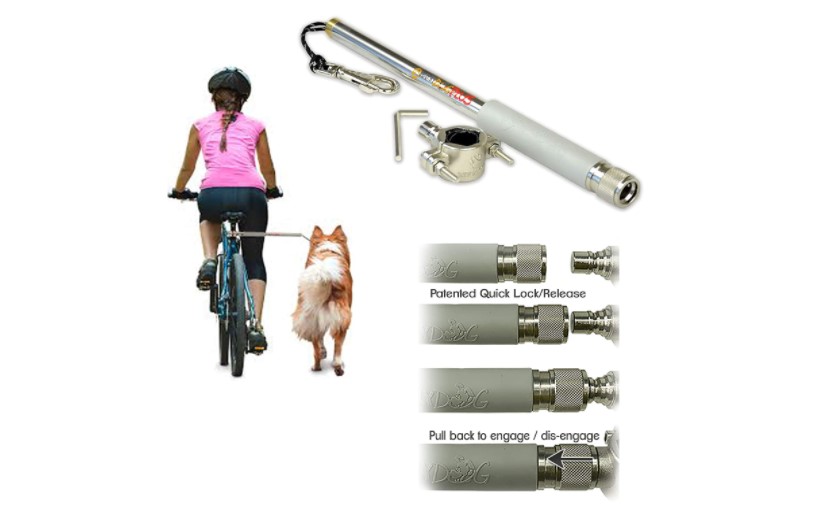 Springer Hands Free Dog Leash Bike Attachment Kit
The Springer Dog Exerciser is used by over 600,000 dog-loving bicyclists, mushers, and K9 corps around the world. It uses a low-mounted, heavy-duty steel spring to absorb up to 90% of the force of a dog's unexpected tugs, which allows bike riders to keep their balance, while also protecting their dogs from traffic, pedals, and wheels.
Manufactured in Norway, it's super easy to install and you have the option to exercise two dogs simultaneously with the Springer Extra Arm Kit, which is sold separately. The attachment fits most regular, touring, and mountain bikes.
Videosystem Dog Hands Free
The Videosystem Dog Hands Free dog bike attachment can be easily disconnected from a bike by screwing and unscrewing in seconds. That allows you to remove the attachment effortlessly. It's compatible with any kind of bike.
The flexible leash lets your dog set the pace for the ride so you'll always know you're going the right speed. The 15″guide pole keeps him a safe distance away from the wheels and gives him plenty of room to run alongside.
You don't have to worry about your dog sudden jerking movements. A shock-absorbing system allows you to maintain control while riding without the effects of your dog.
You can always replace the leash with a new one which you think may be more suitable in length or the old one going tear.