Do you think a dog bike trailer is stupid? Think again! There are so many situations where a dog bicycle trailer can come in handy and be very useful.
Now, you might think "Can't my dog run along while I'm riding my bike?", well, yes, of course they can. However, sometimes this is just not feasable.
ALSO READ Dog exercise pen: Why your pooch needs one!
For example, some people have a quite lazy dog which doesn't want to run along. Others have small dogs that simply can't run along. You'll agree that in those cases a dog bike trailer comes in handy!
Dog bike trailer
In this article, we're going to take a look at all the reasons why you might want to get a dog bicycle trailer. But first, there are a few questions you should ask yourself before getting a dog bike trailer.
Given the fact that these are quite expensive, so you first want to make sure that you will really use it.
ALSO READ Dog Umbrella: The Different Options
So, that's why you should ask yourself these questions:
How often will you use the trailer?
How long do you plan to use it?
What size is your dog?
What is your budget?
How important is durability?
What type of roads or terrain will you be riding?
Do you want to use it as a dog carrier as well?
Reasons to get a trailer
There are several reasons why you and your dog might need a dog bicycle trailer. We're going to cover only some of them.
ALSO READ Craigslist Golden Retriever: Why it's a bad idea
Your dog doesn't have the discipline to run alongside your bike.
Even if your dog loves to run along while you're riding your bike, some dogs just get too distracted.
Your rides are longer than what your dog can keep up with.
If you like to go on veeery long bike rides, then a dog bike trailer is the perfect option for you. This way if your dog gets too tired they can hop in the trailer and enjoy the ride with you.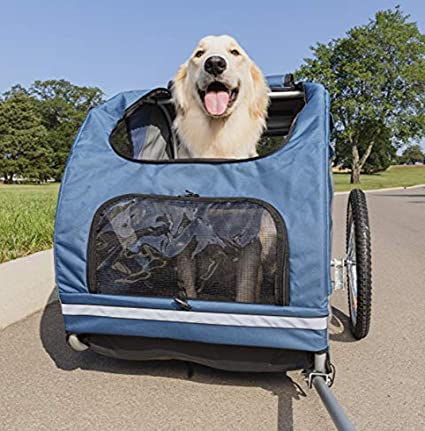 Your dog doesn't like exercise.
If your dog doesn't really like exercise, if you for example have an older dog or a short breed, then a little dog trailer is perfect. This way your dog can still spend time with you and go on a little adventure, but doesn't have to walk too much.
ALSO READ Dog Wash Station: How To Use Self-Service Dog Wash?
Our recommendations
Now that you know why a dog bike trailer can be a very good idea, let's take a look at the best dog bicycle trailers you can find!
1. Schwinn Rascal Pet Trailer
The Schwinn Rascal Pet Trailer is our overall winner when it comes to bike trailers. According to the manufacturer, this is a lightweight, quality pet trailer that allows your pet to ride in style.
Another great plus is the easy assembly and quick-collapse features that make transporting it a breeze!
ALSO READ Dog Ball Launcher: The Best Ones
This pet trailer is suitable for dogs 50lbs and under and you can buy it on Amazon for 150 dollars.
2. Solvit HoundAbout Pet Bicycle Trailer
Our second pick for you is the Solvit HoundAbout Pet Bicycle Trailer. What is so great about this pet trailer is the fact that it's perfect for larger dogs! It is one of the few that's suitable for big breeds, with a maximum weight of 110 lbs.
This pet trailer is made out of a metal-framed trailer that features a 600d polyester shell and a waterproof, flexible floorboard to keep your pup contained, dry and comfortable.
ALSO READ Dr. Marty ProPower Plus: Is It Worth Your Money?
Just like with the previous trailer, this one is also collapsible which allows you to store it easily when you aren't using it.
One downside might be the price, the Solvit HoundAbout Pet Bicycle Trailer costs around 190 dolars.
3. Best Choice Products 2-in-1 Dog Bike Trailer
The Best Choice Products 2-in-1 Dog Bike Trailer, just like the name suggests is a dual-purpose trailer. Besides being a dog bike trailer, it can also be converted into a pet stroller! If by any chance you decide to go on a walk and push your dog instead of peddling.
This pet trailer has a lightweight steel frame and water-resistant polyester shell to keep your pet safe and protected from the elements. The maximum carrying weight of this trailer is 66 lbs.
ALSO READ Drontal Plus For Dogs: What Is It & How To Use It?
Unfortunately, this trailer is quite pricy. If you want this one, you'll have to cash out around 250 dollars.
4. Burley Tail Wagon
The Burley Tail Wagon is a luxury and premium dog bike trailer. It was designed for owners who want only the best for their pup and are willing to pay for it!
When we say this trailer is expensive, then we really mean it. The Burley Tail Wagon costs 400 dollars. Yup, you read that right! However, we also need to state that it is also well built and comes with so many great features.
ALSO READ Dog Beds Amazon Finds For Every Breed
These features include:
Side-battens for increased stability and a smoother ride
Reflectors
Removable floor for a quick clean up
Waterproof zippers