Finding a dog cage for sale is the easiest thing ever. However, what is not easy is to find a good, reliable and affordable dog crate or cage! The majority of dog crates are pretty expensive. If you find a cheap one, chances are the quality is poor.
Crate training is very important, as well as starting in early puppyhood. Only this way will your dog learn that the crate is his safe place, and that it's not there for punishment.
So, the sooner you buy a dog crate, the better. And the sooner you crate train your dog, the easier it will be.
Now, in order to start crate training, you need a good dog crate or cage, however, you want to call it. That's where we come into play!
We found the three best dog crates to buy today!
Dog cage for sale – which to buy
Before we get into our list of the best dog cage for sale, we need to understand why crate training is important.
Many people believe that dog cages and crates are like prisons for your dog. But this is actually not the case! Crates are great for teaching your dog responsibility and calming their anxiety.
Besides this, crates are a safe place when the environment around them becomes too loud or overwhelming!
We have a few useful articles on crates and crate training you might want to check out:
What Size Crate For Golden Retriever Should I Buy?
Golden Retriever Crate Training: Ultimate Guide To Success
Dog Cage: Everything You Need To Know
Types of crates
Before buying a crate you should know that there are three types of dog crates:
Plastic (often called "flight kennels")
Fabric on a collapsible, rigid frame
Collapsible, metal pens
Of course, all of these come in different sizes depending on whether you have a small or a large breed of dog.
Today we're not going to talk about "flight kennels" or portable, plastic crates, but metal frame crates for your home.
MidWest Ultima Pro Double Door Folding Dog Crate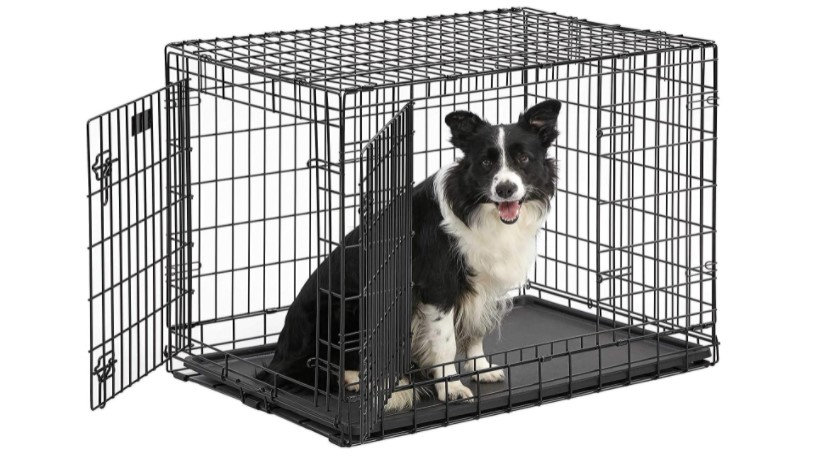 The MidWest Ultima Pro Double Door Folding Dog Crate is a universally good crate. According to reviews, this crate is very sturdy and it is escape resistant!
The great part about this crate is that it folds up and transports easily, and it will surely last you for many many years.
Depending on your dog's size there are four variations of this crate you can get 24 inch, 30 inch, 36 inch, 42 inch and even a 48 inch crate!
This dog crate also has a strong carrying handle, rubber feet to protect floors and a 1 year Manufacturer's Warranty!
One downside and critique point many people have is that the door lock on this crate could be stronger.
You can get the MidWest Ultima Pro Double Door Folding Dog Crate on Amazon. This crate costs depending on the size you get, between 50 and 105 dollars.
MidWest iCrate Starter Kit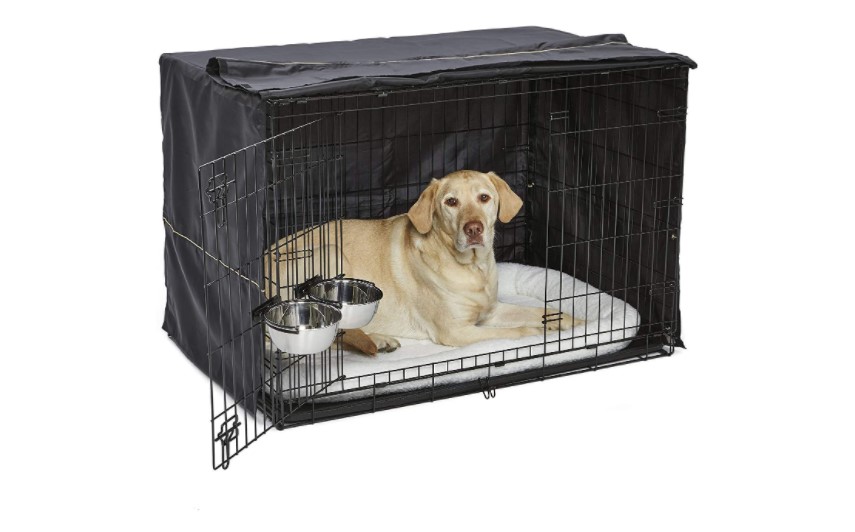 The MidWest iCrate Starter Kit is great and very convenient for new dog owners who are not sure what exactly they need to buy. In this kit you get absolutely everything you need!
In the kit you will get:
a fully equipped 2-door iCrate,
a dog bed,
crate cover
two pet bowls that affix to the dog crate
The great thing about this kit is that the fleece pet bed and polyester crate cover fit your dog crate perfectly. Also, they are machine washable and dryer friendly making upkeep and cleaning super easy! The two bowls you get in the kit are designed to attach to the dog crate keeping food and water in one convenient location!
According to reviews many buyers agree that this crate kit is very convenient and high quality!
Usually, you can get the MidWest iCrate Starter Kit on Amazon, however, right now every size is sold out. Walmart has five out of six possible sizes of crates available and the prices range between 70 and 170 dollars.
Crown Pet Products Wood Pet Crate and End Table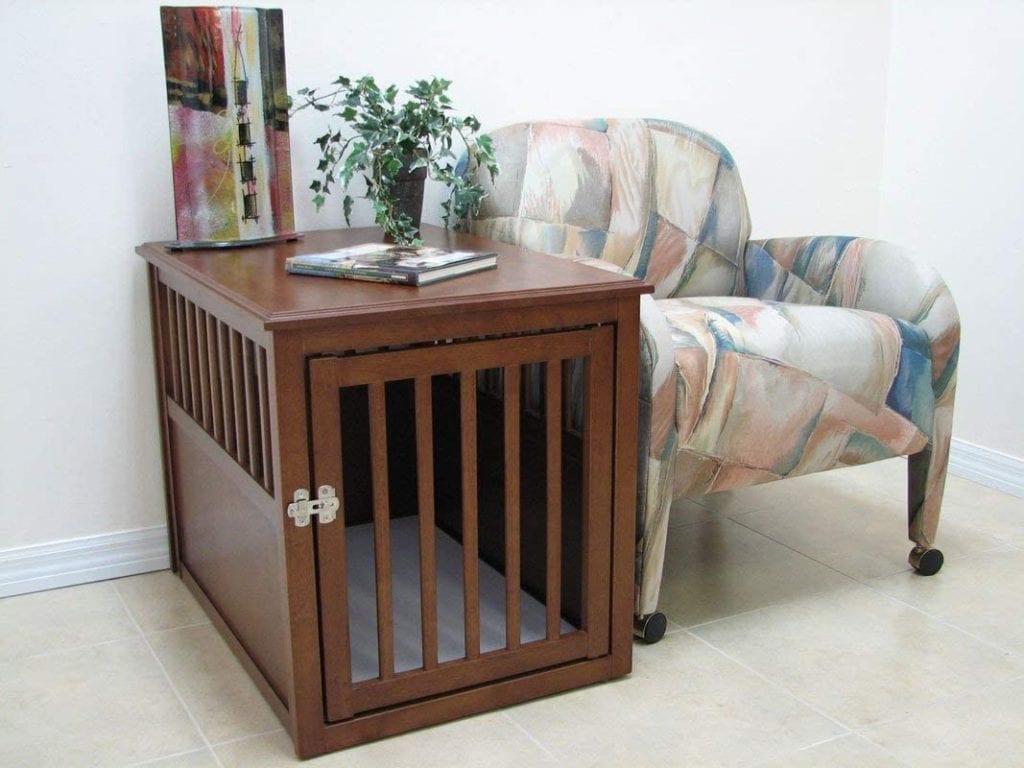 The Crown Pet Products Wood Pet Crate and End Table is a 2 in 1 product. Your beloved pet gets a comfy crate and you get a tasteful end table.
Because this crate is made out of wood it's perfect for well-trained or older pups who won't try to escape or chew on the crate.
You can get the Crown Pet Products Wood Pet Crate and End Table in two sizes medium and large, as well as two colors "Espresso" and "Mahogany" so it perfectly blends in with your home décor!
Of course, this crate comes with a hefty price too! You can get the Crown Pet Products Wood Pet Crate and End Table on Amazon and it costs a whopping 440 dollars!