Summertime is the perfect timing to go on long and fun bike rides. But if you are a proud dog owner, you would maybe prefer it to take your canine companion with you on that adventure. For that you would definitely need a dog carrier for your bike. That way you and your dog can both enjoy the ride.
However, if you are unsure where to get a dog carrier for your bike, we can help. Our team picked out some amazing options from Amazon.
Amazon is the biggest online retailer and offers fast shipping to a lot of different countries around the world. Millions of different products are available and you can shop from the comfort of your own home.
However, all of the different options can get a bit overwhelming. If that's how you are feeling too, here are our top three dog carriers for bikes.
BARKBAY Dog Bike Basket Carrier
It's the perfect way to pedal to fun new adventures with your favorite sidekick! The BARKBAY All-In-One bicycle basket adds a pet carrier compartment with a zip-open mesh top and front that rolls neatly out of the way. This innovative design sits at the top of your bike, giving your pup a front row seat to enjoy the company of their owner while biking, travelling, hiking. You think your dog is cute now? Wait until you see his little face sticking out of the bike, watching the scenery roll by.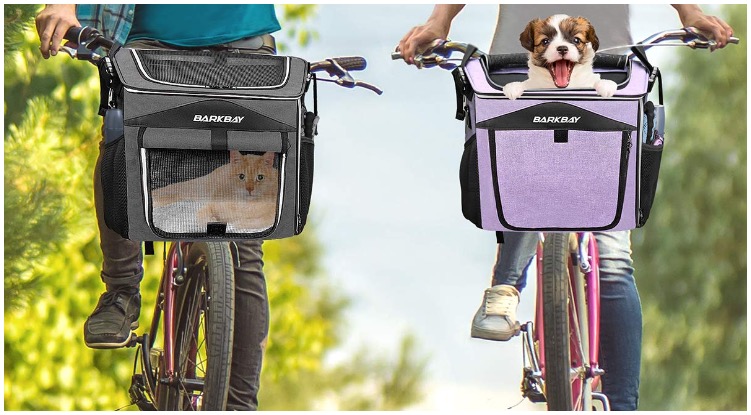 Features
1.REMOVABLE & FOLDABLE: This multifunctional bicycle basket attaches via a quick-release handlebar mount, making removal a snap.
LIGHTWEIGHT & DURABLE: Made of a sturdy metal frame, with a solid oxford fabric, a modern quick release handlebar adapter. The bike basket lives up to the quality craftsmanship.
STYLISH & PRACTICAL: Whether you shop daily at the market, or commute into work by bike, our bicycle front baskets are on hand to make your journey go that little bit easier.
WATERPROOF & EASY TO CLEAN: The bicycle handlebar basket range can be left in drizzly conditions with no worries whatsoever. If it get dirty, just rinse it with water and dry it.
IDEAL FOR SMALL SIZED DOGS: Holds pets up to 18 pounds.
RAYMACE Dog Bike Basket Bag with Reflective Stripe
Buying one RAYMACE Dog Bike Basket Bag is equivalent to getting 4 bags. It also can be used as pet travel carrier, dog/cat carrier backpack, pet bike basket and pet car seat.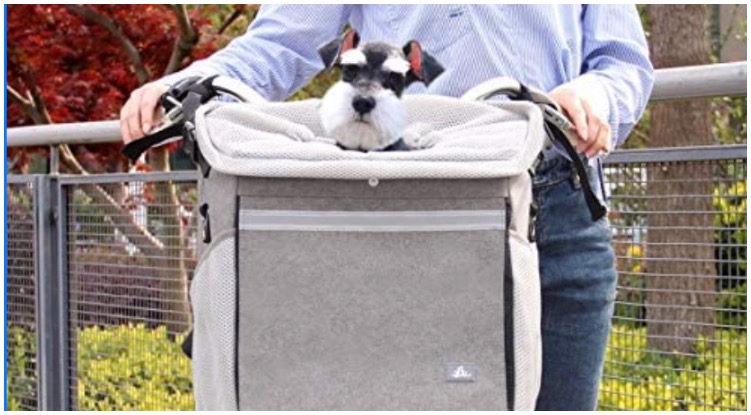 This is an incredibly practical option. It's a must have for dog owners of smaller dog breeds that love to take their pets everywhere with them. It's not only a must for bike rides, but also for car rides or even hiking.
The maximum capacity of the dog carrier is 15 pounds.
Travelin K9 Pet-Pilot MAX Medium Dog Bike Basket
Innovative steel frame and mounting system – easily attaches and detaches from mount
Strength, Stability, and Comfort are the main features of this dog bicycle pet carrier. With its sturdy, steel frame and mount this Dog Bike Basket for small dogs is both SAFE and Stylish with 8 color options.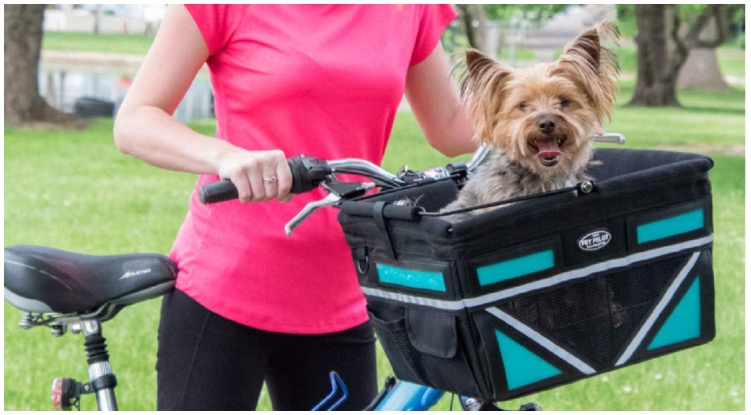 The Pet-Pilot is designed to carry more weight, without swaying, than any other front bicycle dog carrier on the market today. Patented handlebar mount is the key to this stability. Other bike baskets tend to wobble when loaded, not the Pet Pilot. Fast and easy attachment method used to lock the bicycle basket in place makes it very convenient to attach and remove the basket.