Dog cart for bike
Going on the perfect adventure with your dog takes just two things: a bicycle and a dog cart for your bike. If you have these two, a good time is guaranteed.
Just imagine the two of you rolling in your neighborhood while your adorable dog is chilling back in the cart. Sounds like the perfect summer activity to me!
However, sometimes it can be difficult to find the right cart! You need to make sure that your pet is completely safe, that it doesn't get too hot, that it's easy to clean and so on! And with all of those demands, the price can get a bit high!
So if you are unsure which dog cart for your bike to get, we are here to help! We picked up some of our favorites. These are incredibly practical, easily washable, pretty cool looking and your dog will fit right into them!
And the best of all — they are available on Amazon! So if you have Amazon Prime any of these carts can be yours in just 24 hours.
Let us know in the comments which one of these you liked the best.
PetSafe Happy Ride Aluminum Dog Bike Trailer
If you want to get in a bike ride, but your pet isn't up to it, you can still take them along with the PetSafe Happy Ride Aluminum Dog Bike Trailer.
Perfect for cycling to the dog park – you get a workout there and back, and your pet stays safe while you're on the road. For those who are nervous about leashing their pet to a bicycle – the HoundAbout II solves that problem and your pet will love the ride. Solvit's design features an extra-wide wheelbase and a lower center-of-gravity to provide outstanding ride stability and easier access for pets getting in and out of the cabin.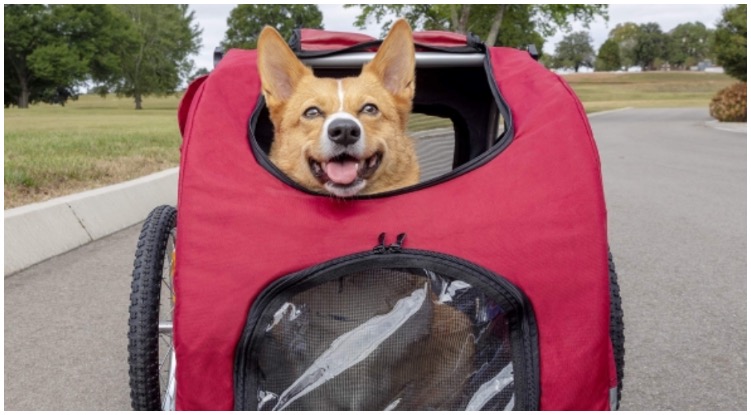 Special pockets hold plenty of gear including cellphones, keys, leash, water bottle, treats, and more. The front door on the trailer includes a zippered, mesh screen layer plus a zippered, clear vinyl layer to block wind and weather.
Use them in different configurations depending on riding conditions. The over-sized sunroof provides ample airflow and room for pets to peek their heads out and look about. A removable, washable cushion keeps pets comfortable on long rides. Assembles quickly and folds down for easy storage or transport.
Aosom Bike Trailer Cargo Cart for Dogs and Pets
The Aosom Bike Trailer Cargo Cart for Dogs and Pets bicycle cargo trailer is a great way to maintain an active lifestyle with your pets. This pet bike trailer can be set up in minutes. The mesh zippered screen on the top and back and the meshed windows on the side allow for maximum airflow for your pet. Exciting biking and outdoor adventures don't have to stop when your pet gets old. With this bike pet trailer, just hook it up to your bike, put your pet inside, store your cargo in the convenient back storage unit and you're off.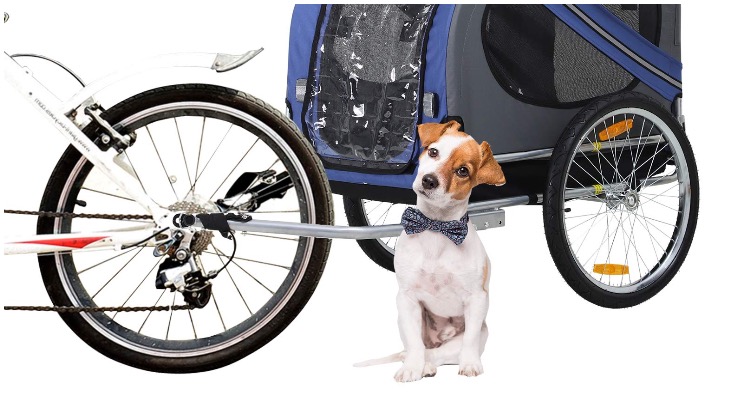 Features:
Two large 20″ rear wheels provide a smooth ride and are off-road capable
Entry at the front, top and the back for easy entrance and exit
Zippered mesh screen at the front, top, side, and back
Great ventilation and a comfortable ride
Equipped with a weather shield to protect your pet from bad weather
D-ring included for connecting security leash (leash not included)
A flag and reflector provides visibility in traffic and low-light conditions
Sepnine 2 in1 Medium pet Dog Bike Trailer
SEPNINE is a company specializing in making dog cart for your bike. When you want to travel or do outdoor sports, with Sepnine 2 in1 Medium pet Dog Bike Trailer, you can let your furry children come with you. If your pet is not suitable for bicycles, you can let it ride in a trailer, which can keep your pet safe and satisfy your cart to meet the needs of going to the park or exercising.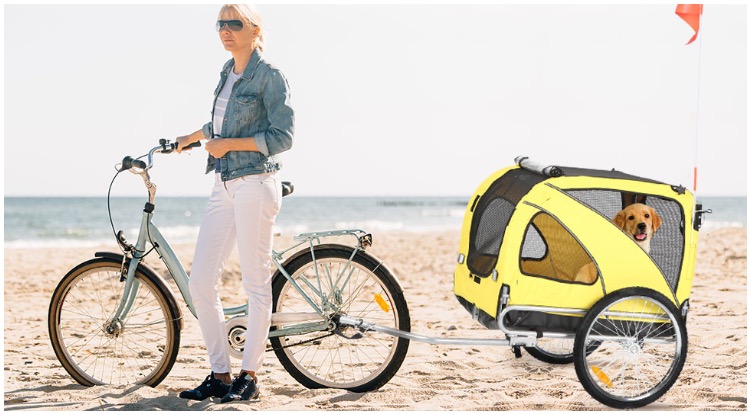 Features:
EASY TO CONNECT: You can easily connect the trailer hook to your bike. And once you and your dog are back home, disconnecting is just as easy.
SAFETY GUARANTEE: The safety belt in the trailer is fastened to the furry child to avoid jumping out and ensure safety on the road.
DOUBLE ENTRANCES: Sepnine bicycle trailers are designed with entrances on the front and back, which can easily load your pets.
INTIMATE DESIGN: Transparent windows increase visibility, and the movable cushion keeps your dog comfortable and happy during the journey
REFERENCE SIZE: The medium trailer can accommodate a dog weighing up to 66 pounds.
*If you own a smaller dog breed using a dog cart could be difficult or dangerous. In that case, a dog carrier might be the one product you should consider getting.