Dog Crocs
The crocs are super popular foam-based clogs made by the American company Crocs. The crocs are a fairly recent invention that was unveiled in 2002 at the Fort Lauderdale Boat Show in Florida. They are the brainchild of George Boedecker, Lyndon Hanson, and Scott Seamans who wanted to produce foam clog boating shoes. The crocs are made out of extraordinary material known as "Croslite". This material is non-toxic, slip-resistant, light, UV-resistant, recyclable, antimicrobial, and resists odor. Also, Croslite has an amazing property to shape itself to the wearer's feet and evenly distribute the load across the bottom of the foot. The success of the company saw many other brands trying to copy the design and appeal of world-famous crocs. One of these companies is the brand GEHARTY. This brand is not affiliated with Crocs. However, they took the basic design of the crocs and created the dog crocs.
What Can You Expect From Dog Crocs?
Well, similar to the "real" crocs, dog crocs are also flexible, soft and they come in a wide variety of colors. However, the company states that dog crocs are not suited for dog walks or playtime. GEHARTY states that the purpose of their product is more of a fashion accessory that will make your dog look cute in the hose or posing for a photo. The dog crocs are measuring 2.76 by 1.15 inches, which means these are meant for really tiny paws.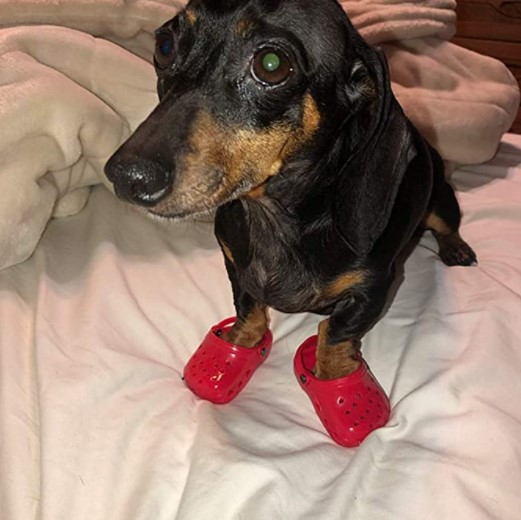 As most buyers on Amazon agree, there is no doubt that dog crocs are adorable, but they are not practical for dog's feet. Their size doesn't fit the dog's feet well, and they are too small even for the small dog breeds' feet. Also, they seem to be heavy and the dogs don't want to wear them.
What Is The Price?
The price of the GEHARTY dog crocs on Amazon is $14.99. Also, you can return the product if you aren't satisfied with the item you got.