Taking care of your dog's eye health is the responsibility of every dog owner. Dogs can have different types of eye conditions that could even lead to serious side effects such as vision loss. One of them is Conjunctivitis (Dog Eye Infection: Causes, Symptoms, Treatment). The most important step in preventing conjunctivitis in dogs is making sure that your dog's eyes are always clean. But also and that you don't touch them with dirty hands. That's when dog eye wipes come in handy.
Some dog owners may think that it would also be fine to simply clean your dog's eyes with a regular baby or makeup wipe. However, these wipes often contain alcohol or fragrances that could irritate your dog's cornea. That's why dog eye wipes exist, they are a gentle and effective way to clean out all goop without irritating the eyes.
If you are unsure where to buy the dog eye wipes, or which ones to get, we have a few recommendations. Most of them are available on Amazon, the world's largest online retailer. You can simply order them from your home, and if you have Amazon prime receive them the next day on your doorstep.
Here are some of our recommendations when it comes to dog eye wipes.
Arava Pet Eye Wipes – for Dogs Cats Puppies & Kittens
Arava's Natural Pet Eye Wipes' formula helps gently and effectively cleanse the eye area of all cat and dog breeds. The hypoallergenic ingredients are safe for everyday use on even the most sensitive pets and easily remove any dirt or discharge to keep eyes healthy and tear-free. The wipes are soft, non-irritating, and soothing to ensure that daily grooming is a pleasant experience for you and your pet.
The premium Arava formula is a blend of natural active ingredients. They contain 26 Dead Sea minerals which are essential to cleansing and nourishing the skin. Active botanical ingredients including Lion's Tooth, Eyebright, Chamomile, and Aloe Vera provide additional protective, nourishing and anti-inflammatory properties. The wipes are also fortified with Vitamins D, E, and B5 to support healthy eyes.
Arava pet eye wipes prevent new tear stains, infections and irritations caused by mucus around the eye. These wipes help keep the fur around your dog or cat's eye area clean and dry.
Mochi's Paws Premium Plant-Based Pet Wipes
Mochi's Paws is a family-owned small business in Los Angeles, CA. They create and bring to market natural and sustainable pet products.
Mochi's Paws Premium Plant-Based Pet Wipes are made from 100% Bamboo fibers. Bamboo is not a tree – it's a grass! Grass grows wild and fast, which means, it is renewable and much more gentle to the planet we live on than alternatives such as cotton or paper-based wipes. Also, bamboo is naturally hypoallergenic and is great for your fur baby's sensitive skin.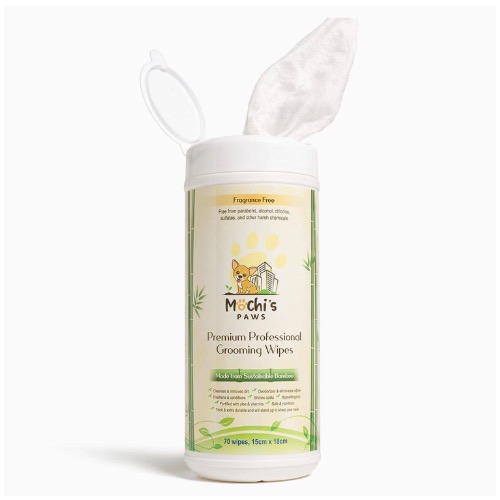 The product is made free from parabens, alcohol, chlorine, sulfates, and other harmful chemicals. The actual ingredients used are: Vitamin E, Aloe Extract, Calendula Extract, and Chamomile Flower Extract. These natural ingredients not only provide an irritation-free experience, they provide much-needed deodorizing and moisturizing effects.
These wipes are large and sturdy, measuring at 8 x 9 inches (20 x 23 cm), and feel like any other non-bamboo wipes you've used in the past. Use them on your fur babies' paws and body to give them the much-needed quick freshen-me-up they deserve.
Angel's Eyes Gentle Tear Stain Wipes
Angels' Eyes Gentle Tear Stain wipes are recommended to help remove dried mucus secretions, discharge, and tear stains. Use daily to keep eye exterior clean and help reduce the risk of eye irritations and itching caused by foreign matter, our unique formulation requires no rinsing.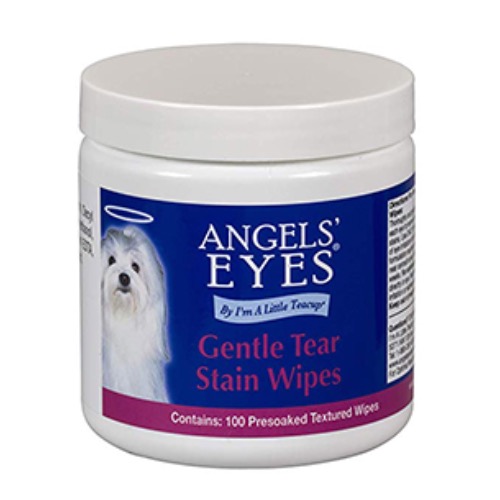 Developed specifically for dogs and cats to help eliminate tear stains from the inside out. This product is designed to help keep dogs and cats' coats looking their very best!
Use daily to keep eye exterior clean and help reduce the risk of eye irritations and itching caused by foreign matter your dog or cat can pick up. The unique formulation requires no rinsing.