Going out to eat when you have a dog usually ends up with you leaving your dog at home. There is also the option of dropping them off at a friend's house. But it doesn't have to be like that! You can choose one of the many dog-friendly restaurants in the US! Here you can enjoy a delicious meal and have your dog make you company!
If you haven't thought about looking for good pooch-friendly restaurants, we made a list of the top three canine-friendly restaurants in the US. We guarantee that you and your dog will enjoy your meals in these restaurants!
Also, if you haven't found the right restaurant on our list. And if you're thinking "There are no canine-friendly restaurants near me", we assure you there certainly are! You just have to look a little harder!
So, let's take a look at our favorite dog-friendly restaurants in the US!
Dog-friendly restaurants – Our top three
Before we get into our top three canine-friendly restaurants, we want to remind you of something. On our page we have so many articles on dog-friendly places like beaches or hotels.
Dog-Friendly Stores In The USA
As you can see there is no need to leave your pooch at home, you can bring them along on any adventure!
Now, let's take a look at our three favorite restaurants where your best buddy is welcome.
1. Yard Bar in Texas
The Yard Bar in Texas is the first restaurant on our list and it's located in Austin. We like the Yard Bar because it's not only a restaurant, but it has a bar and a very nice dog park! Your pooch has an area where he can get the exercise he needs!
What we also love about this restaurant is that they have a dog menu! The Dogs menu consists of:
Nathan's Hot Dog: Sliced into bites for your furry friend!
Bone Star Dog Beer: Beef and veggie stock for the paw-ty animal in your life
House-made Ice Cream: Drool-inducing rotating flavors.
So, if you ever find yourself in Austin, Texas, or if you live there, you know where to go!
2. Sail Pavilion on the Riverwalk, Florida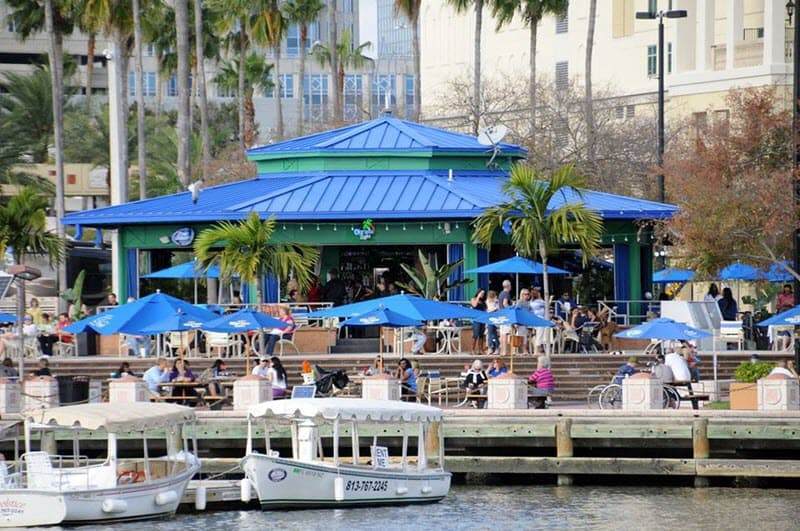 The Sail Pavilion on the Riverwalk in Tampa, Florida will take your breath away! Besides being absolutely a must see restaurant located along a waterfront in Tampa Florida, it's also dog-friendly!
The restaurant has also a bar and various menus of salads appetizers and sandwiches. Basically, even the pickiest eaters can find something for themselves here! It's also important to mention that the restaurant can actually be accessed through the road or by boat!
But, what makes this restaurant dog-friendly? Well, besides the fact that your pooch is allowed here.
Well, we love this restaurant because it is equipped with water dishes, a cleaning station, free dog treats, and special menus for dogs which even include delicious smoothies.
As you can see this restaurant is not only great for us humans, but our canine friends as well! It's definitely worth checking out if you're visiting Tampa or are living there.
3. Le Diplomate, Washington DC, DC
The last restaurant on our list, but definitely not our least favorite, is the Le Diplomate, which is located in Washington DC!
Le Diplomate is definitely a bit different than the other two restaurants on our list.
Here's what the owners have to say about the restaurant: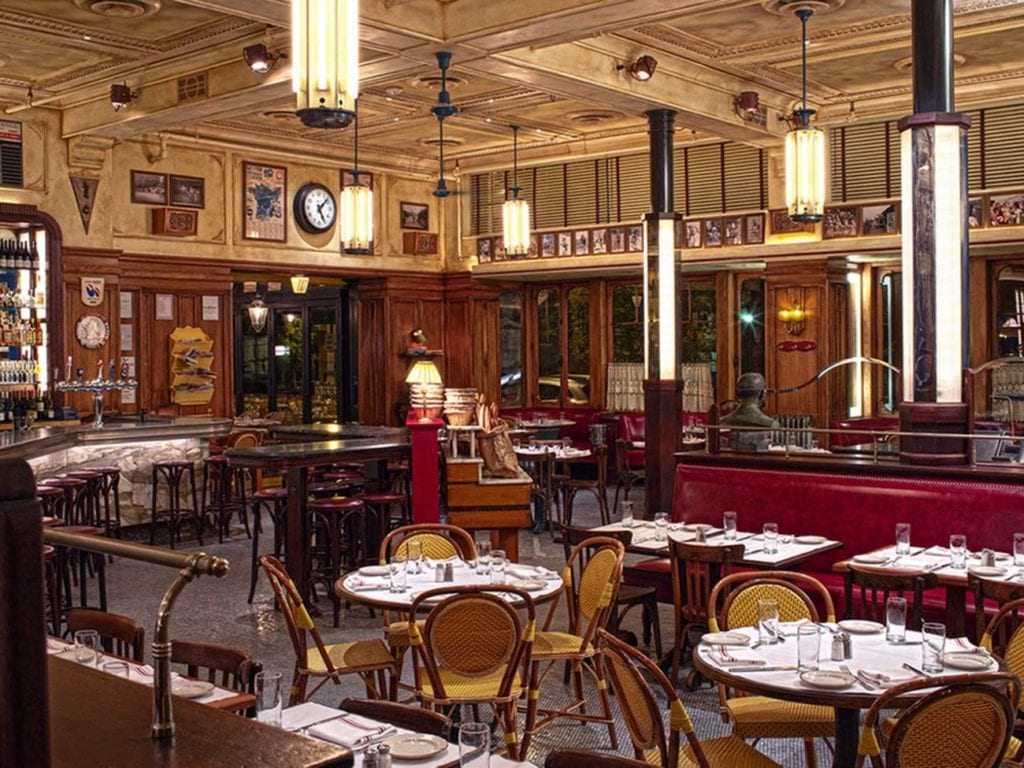 "Le Diplomate pays sincere homage to French cafe culture, providing a comfortable, versatile gathering place that's become an anchor for Washington, D.C.'s resurgent 14th Street corridor.
Painstakingly built out of a historic structure that harnesses the artful spirit of a Parisian brasserie, the interior and exterior pay subtle tribute to tradition, imbuing every meal with a sweeping sense of European drama.
A thoughtfully curated wine list and specialty cocktail program complete the transporting experience."
However, despite this definitely being a must-visit restaurant in Washington DC. We also need to say that your dog is only welcome on the outside patio. So, we don't love that and it's definitely something to keep in mind too.
Conclusion
In conclusion, finding a dog-friendly restaurant doesn't have to be so difficult. These types of restaurants are everywhere in the USA, you just need to look for them.
So don't leave your canine at home, but take them out for a nice meal too! It might take a while until you find the perfect pooch-friendly restaurant you like, but don't give up! It will be worth it!
Besides the above-mentioned restaurants, there are dog-friendly restaurant chains which you can find pretty much anywhere in the USA:
Dairy Queen
In-N-Out Burger
Sonic Drive-In
Shake Shack
Starbucks
Outback Steakhouse
Olive Garden
Applebee's
Panera Bread