Have you ever wanted to take your dog to a restaurant? Or to meet an old friend during a walk with the dog and decide to go to lunch with her? I'm sure you did, but I'm also sure you had a problem finding a restaurant that would allow you to come in with the dog. Finding dog friendly restaurants is not a difficult task, especially in New York.
If you live in New York and have a dog you know how hard it is to find a bar that allows your dogs to be with you. Finding a dog friendly restaurants where you can enjoy with your dog while eating is an even more difficult task. Most such places allow dogs to stay outdoors. We decided to help you and find 10 dog friendly restaurants in New York. Some of them allow you to bring your pet inside the facility, and some even have special menus for dogs.
Why are dogs not allowed in some restaurants?
Not all dogs are wonderful and obedient. There are also those who are restless and disobedient. Because dogs can cause material damage to a restaurant, such as breaking things off the table, biting tables and chairs, and destroying decorations, some restaurants do not allow dogs to enter. Also, many people want peace and quiet around them during lunch or dinner, which is not guaranteed with the presence of dogs in the bar. There is nothing interesting for the dog in the restaurant and if they are there for a long time, they can start barking or whining and thus produce noise that other guests can complain about. Also, there are people who are allergic to dogs or simply have fear. Such people are not obliged to sit next to the dog during a relaxing lunch and often avoid places where pets are allowed.
What are the rules on dogs in restaurants?
Firstly, the dog in the restaurant must be on a short leash near you. They should also sit or lie next to you or under a table. Secondly, under no circumstances should a dog jump on a table or go to other people's tables. During your stay in the restaurant, you must not give the dog to eat the food you ordered. Make sure that the dog does everything necessary outside before entering the restaurant, so as not to cause an awkward situation.
Dog friendly restaurants
1. Cookshop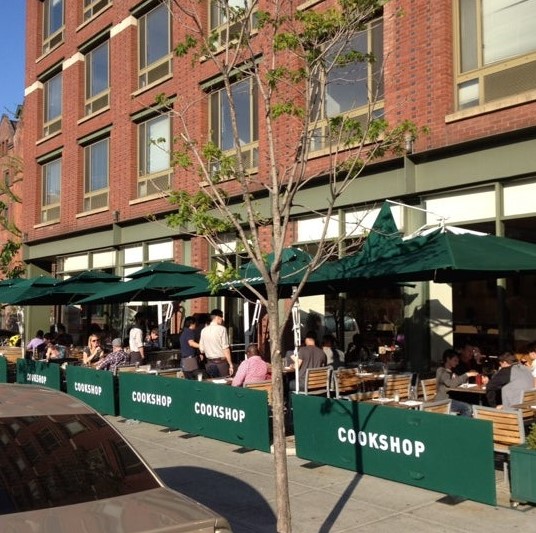 If you like quiet places with a beautiful ambiance, this is the right place for you. If you like to eat outside, you can take your dog with you. Most importantly, next to the garden of the restaurant, there is sidewalk seating with ample greenery on 10th Avenue, right near the High Line. I recommend breakfast here, you won't be able to resist their buttermilk pancakes.
2. Barking dog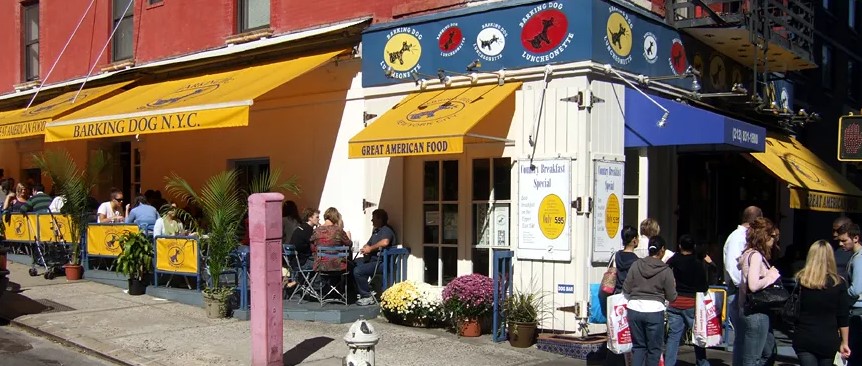 Firstly, from the name of this restaurant, you can conclude that you can take your dog with you. This space is completely perfect for dogs, it has doggy water fountains and a large promenade around the restaurant. Brunch is the most popular in this restaurant. Of course, you can have lunch and dinner here, we recommend you try mac and cheese.
3. d.b.a.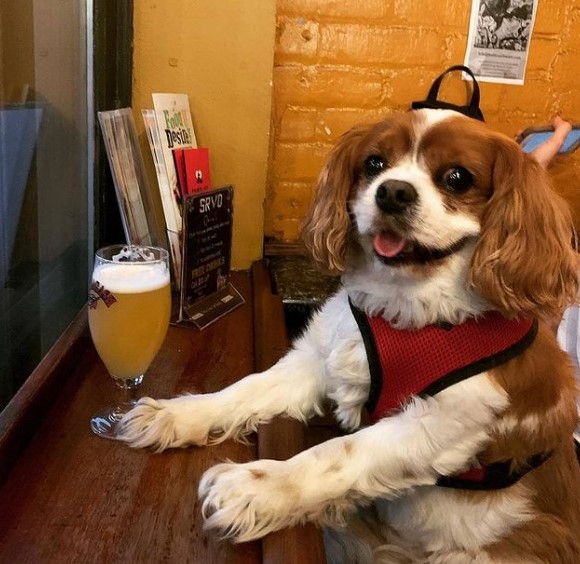 If you are a person who likes to drink craft beer, this place is the right choice for you. In addition to a wide range of craft beers, you will be delighted by the offer of whiskey. To emphasize, dogs are also allowed inside in this bar, so you don't have a problem enjoying your fur ball even during the winter.
4. The Wilson NYC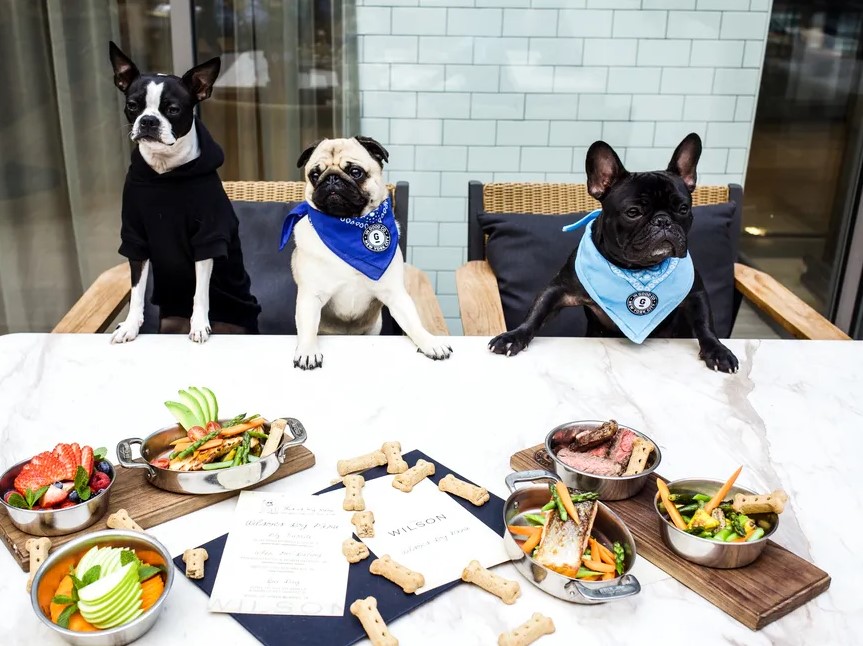 If you are looking for a place where your dog can eat with you, this restaurant is the right place for you. Above all, the restaurant offers a dog menu where you can find pan-roasted salmon for $ 28, grilled chicken breast for $ 16, and many more different dishes. In the garden of this restaurant, you can enjoy the sun and great food.
5. Five Boroughs Brewing Co.
This bar has an industrial vibe and that makes it really special. In the bar, you can enjoy with your dog, but also play many board and card games. Unfortunately, the restaurant does not have an outdoor area, but you can enjoy the inside of the facility with your dog. You can find many types of beer, wine, and cider on the menu. Food is not available at the bar, but you have permission to bring food from wherever you want.
6. Boat Basin Cafe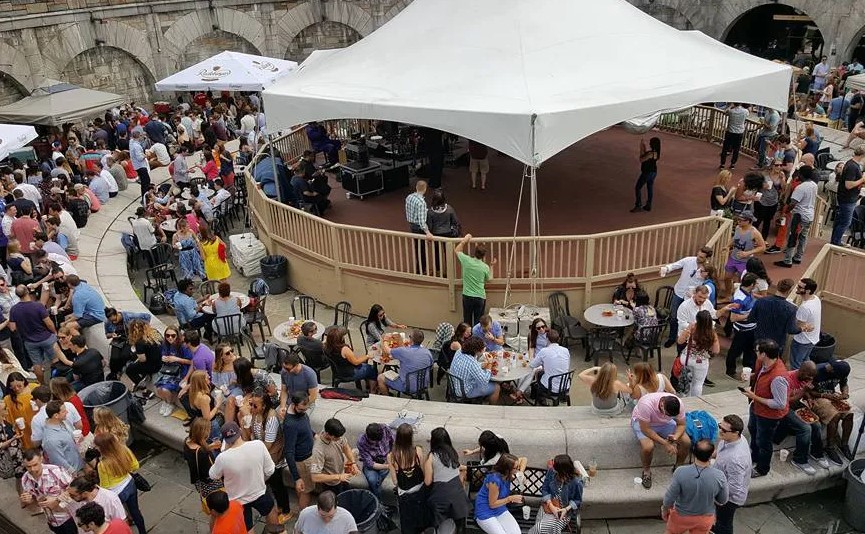 The view of the Hudson River from the terrace of this caffe is breathtaking. The drinks you can drink are some of the best in New York. Your dog is always welcome, and you have the option to organize a casual party here. If you want some more serious dishes, unfortunately, you won't find them here. The menu of this caffe is a typical example of a bar menu, you can find sandwiches, salads, and fried appetizers.
7. Shake Shack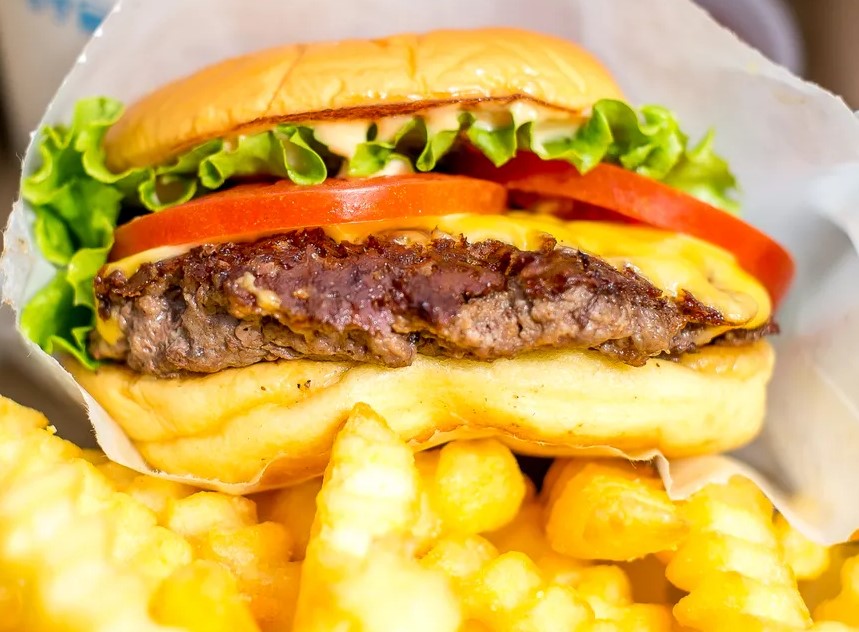 This fast food is located in Madison Square Park and dogs are welcome. You can enjoy the large garden while eating a hamburger, french fries, or milkshake. This place is a great place while walking your dog in the park you can always sit down and eat something. You will agree with us that many parks lack bars like this.
8. Five Leaves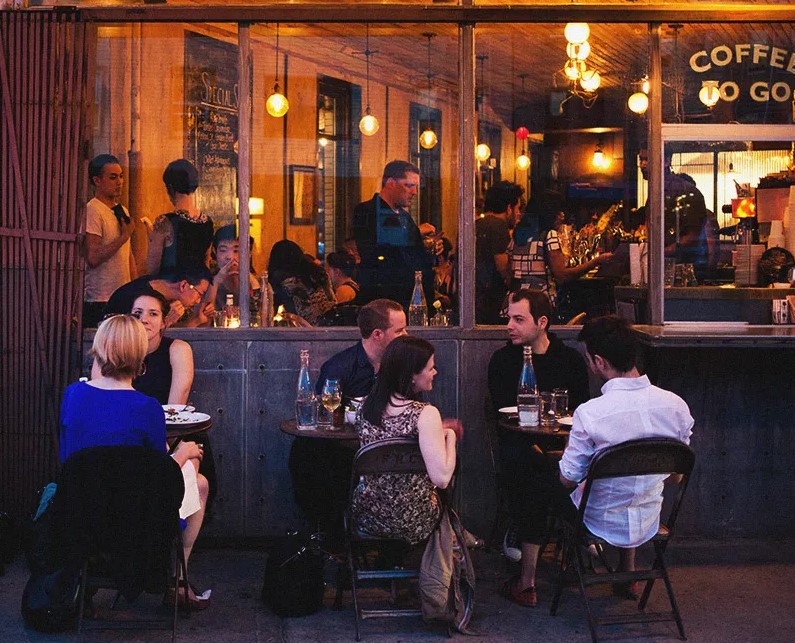 This beautifully decorated place is great for people who like to take their dogs to dinner with them. The menu of this restaurant has a variety of dishes, Australian is dominant. On the breakfast menu, you can find ricotta pancakes or avocado toast. For lunch or dinner, you can eat a variety of salads, burgers, or a range of sandwiches. What distinguishes this place from others is that it works all day.
9. LIC Bar
This restaurant was opened over a century ago and has a long history. It is decorated with brick walls, a tin ceiling, and a gorgeous outdoor patio. You can often enjoy live music while staying at the dog bar. In addition, the bar often hosts various events.
10. Lucky Dog
From the name of this place, you can conclude that it is dog-friendly. Here you can enjoy a drink with your dog both outside and inside. As for the menu, you can choose between different types of beer, cocktails, and shots.
Conclusion
To conclude, there is a lot of beautiful places in New York where you can bring your dog with you. These 10 were chosen because of the very good reviews. If you are interested in which locals in your area allow dogs to stay, try to find them via maps or google. Dog friendly restaurants should be everywhere around you because there is nothing bad about dog in the restaurant.