Ice cream is a delicious treat many (if not all) people absolutely love! Chocolate, strawberry or good old vanilla, no matter which flavor, ice cream is always a good idea! Just as much we love this delicious sweet treat, our dogs love whatever we're eating too! They can't help but beg for a piece of our food, or a lick in this case. However, giving your dog human ice cream might not be the best idea. The good news is that you can make dog ice cream for your beloved pooch!
We have some great recipes for delicious dog safe ice cream!
Also read: How To Make Homemade Peanut Butter And Carrot Dog Treats
Dog ice cream – The best recipes
Peanut butter and banana or maybe strawberry and banana, no matter which one of our recipes you chose for your dog, we're sure they'll love your homemade ice cream.
Delicious P&B and banana
It doesn't get easier than making this peanut butter and banana ice cream, and you'll only need three ingredients!
Ingredients:
16 oz of plain yogurt
1 ripe banana
1/3 cup of homemade peanut butter
How to make it:
To make this delicious treat for your dog you first need to put all ingredients in a blender or food processor and blend them until smooth.
Also read: Six Tasty And Simple Dog Biscuit Recipe Ideas
Then, pour the mixture into your desired containers for freezing. You can use an icecube tray or get silicone molds in fun shapes. Place the molds in the freezer for at least three hours, or overnight.
And you're done! Told you, it doesn't get easier than this.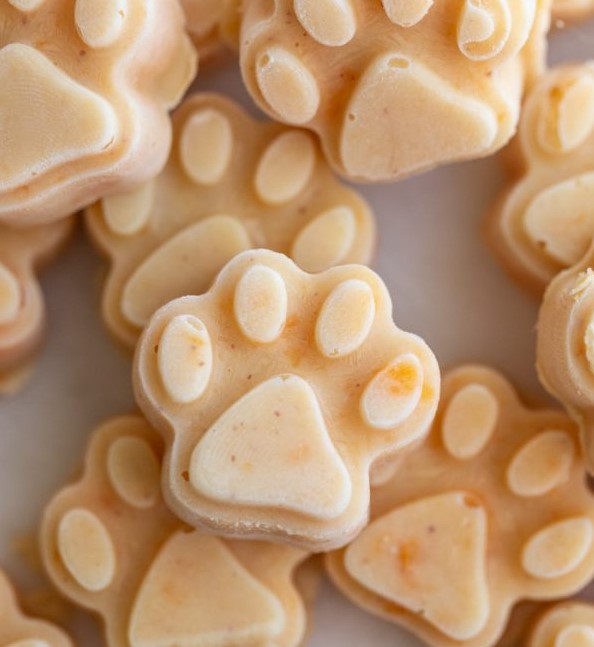 Strawberry and banana
Here's another super easy recipe, for this one you'll also need only three ingredients.
Ingredients:
10 fresh strawberries, chopped
1 medium, ripe banana
1 cup natural plain yogurt
How to make it:
The first step in making this ice cream is to mash the strawberries using a potato masher. You want very small pieces of fruit so your dog can swallow them easily.
Then, add in the banana and continue to mash until you have a fruit puree. This is when you stir in the yogurt and mix all ingredients until well-combined.
Pour the mixture into molds and freeze for a minimum of 4 hours or overnight.
Also read: Three easy dog treat recipes made with only five ingredients or less!
Pumpkin ice cream
Pumpkin ice cream doesn't really sound like something we humans would enjoy, but your dog will definitely love it!
Ingredients:
1 cup pumpkin puree
1 cup non-fat unsweetened yogurt
dash of cinnamon
splash of maple syrup
How to make it:
First, spoon the pumpkin puree into an ice cube tray and freeze until solid, so for about 4 hours. Then put the frozen pumpkin, cinnamon, and maple syrup into your food processor.
Add about half the yogurt, and pulse until combined. Continue to add yogurt or a little water until you get the consistency you want. Put the whole mixture into a big container and freeze it again.