You might have noticed that your dog's paws sometimes get a bit dry no matter if it is cold out or warm. This is completely normal, don't worry. However, just like you moisturize your hands you need to take care of your dog's paws too and moisturize them! No matter if it is a Golden retriever or a Husky, the fact is walking on streets and pavements will make their little footsies hard and crack, this could of course hurt. That is why you should definitely make a dog paw balm for your furry best friend and its paws. And don't worry, it's completely safe for them!
Also read: Claritin Side Effects In Dogs
DIY Dog Paw Balm

The DIY we're going to show you today is super easy to make, but highly effective! For this DIY dog paw balm you will need around 21-24 standard lip balm tubes OR 6 1-oz. tins (or one big container) and a small pot or double boiler.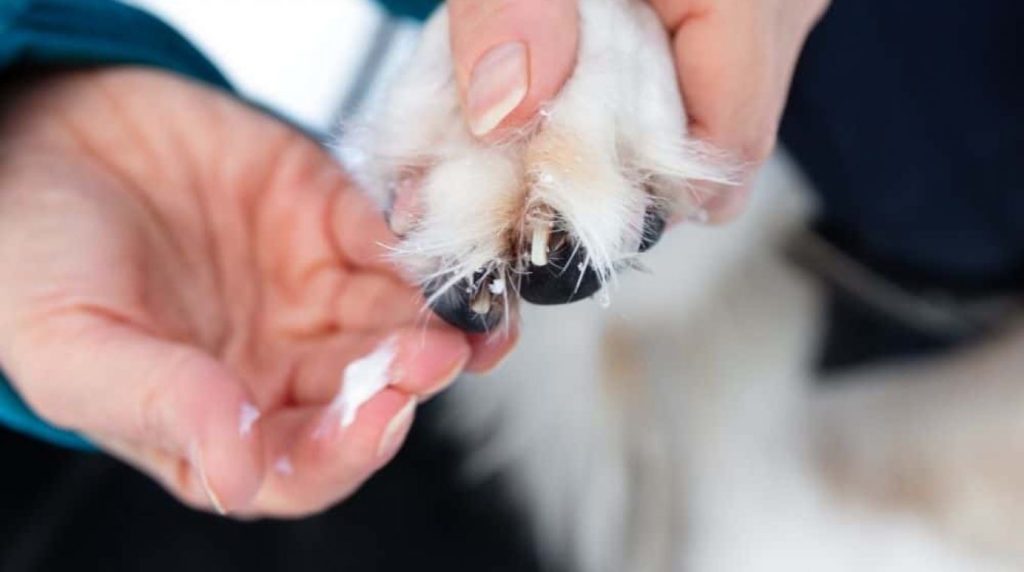 Ingredients
2 tbsp. olive, sunflower, or sweet almond oil
2 tbsp. coconut oil
1 tbsp. shea butter
4 tsp. beeswax
Also read: Ciprofloxacin side effects for dogs
How to make it
As you can see, you don't need many ingredients to make the dog paw balm! Now, let's jump into the "How" of making this balm.
First, you'll need to put a small pot or double boiler over low heat melt the oils, shea butter, and beeswax. Stir continuously until all is melted and well blended.
Then, carefully pour the mixture into the lip balm tubes and/or tins or into the big container. Let this cool and harden at room temperature, then after an hour put it into the fridge to completely harden.
It's best to store the tins you're not using inside a fridge. The one you are using can be at room temperature, however, keep the balm away from heat or else it will melt.
Also read: Can dogs get fevers? Signs your dog has a fever
How to use the balm
The use of the dog paw balm is simple too! Apply the balm as a preventive treatment or to help soften dry paw pads or even noses. The best part of this balm is that you can use it within 1 to 2 years!
If you don't want to make a balm for your dog, you can buy one too!