Dog Toy
Our furry friends are very similar to our kids. They are energetic, playful, and generally live a carefree life. The most important things to your dog are love, affection, attention from the owner, and playtime, lots of playtimes. What better way to satisfy your dog's needs than to buy him a cool, interesting, and safe dog toy. Today we will go through some of the most popular dog toys on the market. So, let's start.
Dog Toy: The Most Popular Dog Toys List
Baby Yoda Dog Toy
Star Wars universe have captivated millions of peoples trough decades. It's one of the most popular media franchises in history with millions of devoted followers around the world.
If you are a fan of Star Wars, but you also want to buy a great, high-quality toy for your dog, then look no further, baby Yoda dog toy is here.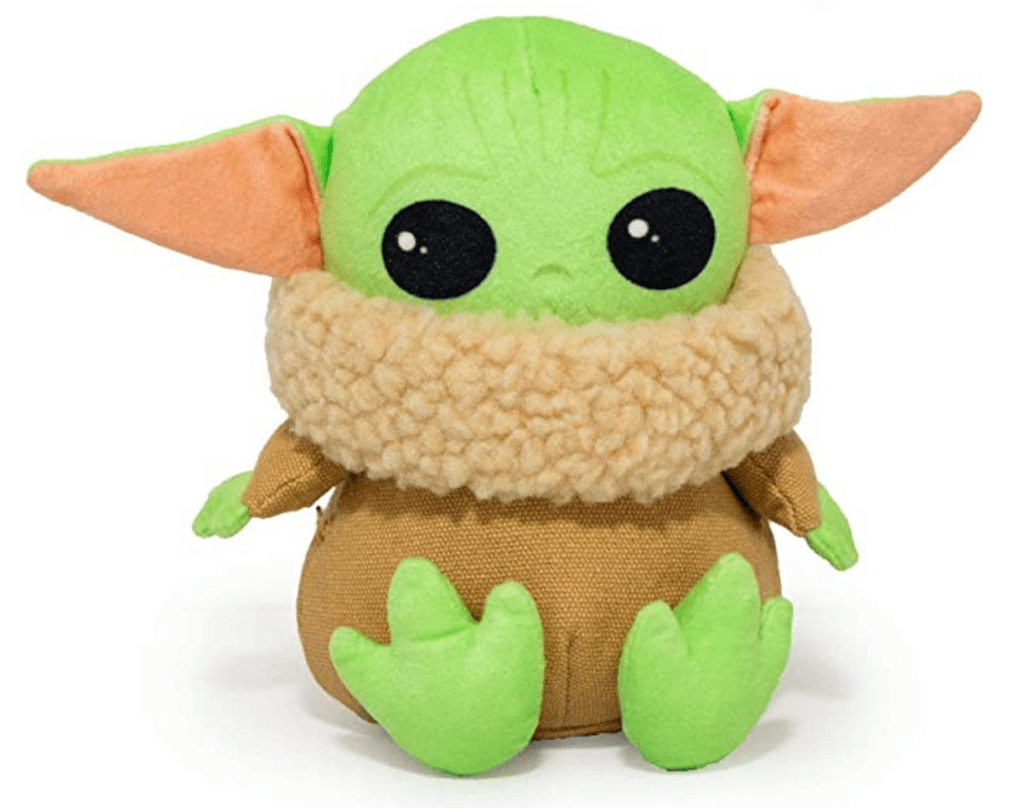 Baby Yoda dog toy is a high-quality squeaker plush toy made of poly-fill with a built-in squeaker mechanism.
Baby Yoda dog toy is made in China by Buckle-Down, Inc, and its officially licensed by Lucasfilm Ltd.
Crinkle Dog Toys
Crinkle dog toys are an excellent option if you want to keep your dog's attention. These toys usually have a squeaker in the mid and crinkles in the wings, legs arms, etc. Crinkle toys give your dog a multisensory experience keeping him engaged and interested. Also, crinkle dog toys are generally more sturdy and durable than stuffed dog toys.
Some of the most popular crinkle dog toys include:
Ethical Pets Skinneeez Crinklers Lamb Dog Toy
ZippyPaws – Crinkles, Squeaky Plush Dog Toy – Dragonfly
Sharlovy Dog Toy Set Of 5
Fire Hose Dog Toy
Fire hose dog toy is a plush toy made of durable firehose material. This toy comes with a squeaker to further entice your dog. Fire hose dog toy is perfect for outdoor and indoor games such as tug, toss or fetch. The toy also floats in water, so it's perfect for play in the pool or lake.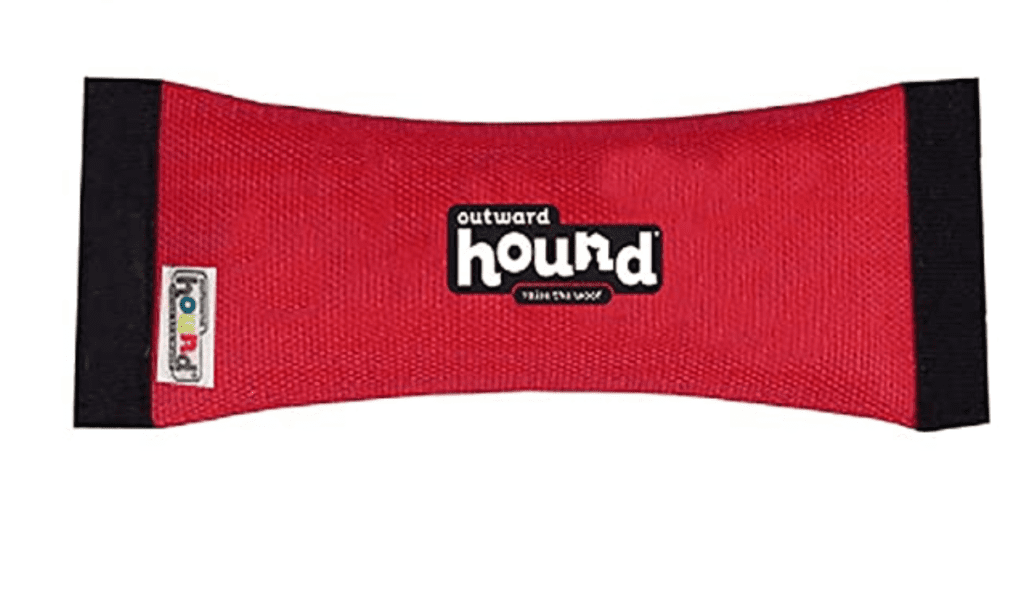 Always keep in mind that no toy is indestructible. Never leave the toy with an unsupervised dog. Also, replace and remove the toy if damaged.
Chicken Dog Toy
Most chicken dog toys are made of latex rubber and come with a squeaker. These toys are perfectly safe for your dog since they are made from natural latex and hand-painted with lead-free paint. The chicken dog toy comes with an irresistible squeaker that will entice your to play with it.
Disney Dog Toys
The Walt Disney Company is one of the largest media and production companies in the world, with many popular franchises under its wings.
Therefore, it's no wonder there are so many toys, including dog toys based on the characters from different Disney franchises.
You can buy many different Disney dog toys on Amazon such as Sheriff Woody and Buzz Lightyear (Toy Story), Yoda, Chewbacca, Mandalorian (Star Wars), Mickey, and Minnie Mouse, etc.
These are all quality toys made for different playstyles and purposes. Therefore, make sure you pick the toy that will suit your dog's needs.
Dog Tug Toy
Playing tug of war is a great way to bond with your dog while simultaneously allowing him to tap into his instincts. It's also a great way for your dog to have some physical exercise and spend some of that excess energy.
Of course to play tug of war you first need a tug dog toy. Now there are many different tug dog toys on the market.
However, there are several things you need to consider when buying a dog tug toy. High-quality dog tug toys are made of sturdy, durable materials like rope, rubber, and bungee cord.
There are many different designs, some toys are stretchy and soft, others are almost indestructible, while some can be tethered to a tree to rest your arms.
Generally, you want to pick the toy that best suits your dog's size and needs. Also, try to buy a toy that has enough distance between your hand and your dog's mouth.
These are some of the best dog tug toys we found on the market. However, always do your research before you buy a new toy.
Flossy Chews Color Rope Tug (Mammoth Pet Products)
This is a great toy for dogs that love to play with rope toys. It's made of cotton-poly yarn which is both durable and helps clean the togs teeth. The rope comes in different sizes and it's available in 3-, 4-, 5- knot variants.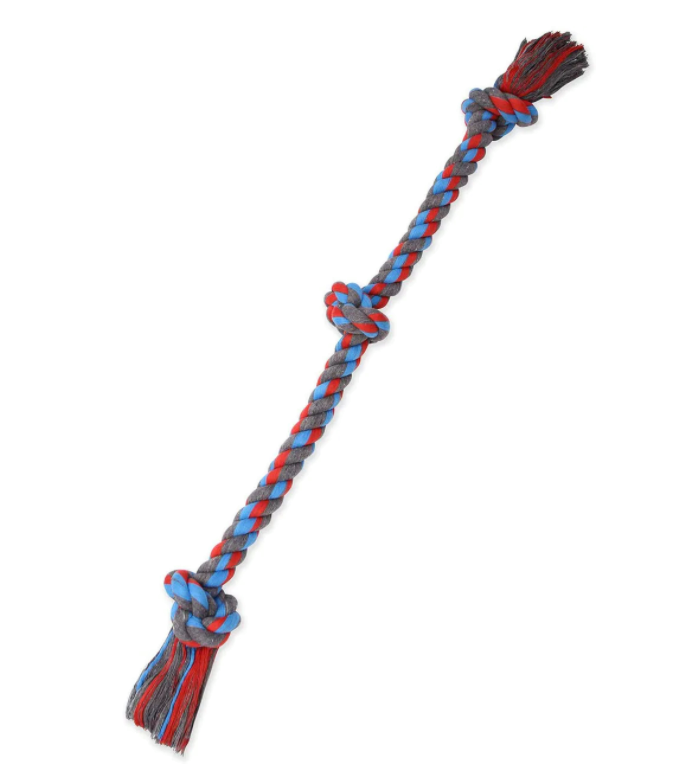 When you want to clean Flossy Chews Color Rope Tug, simply run it through your washing machine.
Chuckit! Ultra Tug
Chuckit! Ultra Tug toy is an excellent option if you own a dog with a high ball drive. You can toss this toy, but also play tug of war with your dog. It's a well-stiched, durable toy that you can easily wash by hand. The toy comes in three sizes and two color combinations (orange and blue).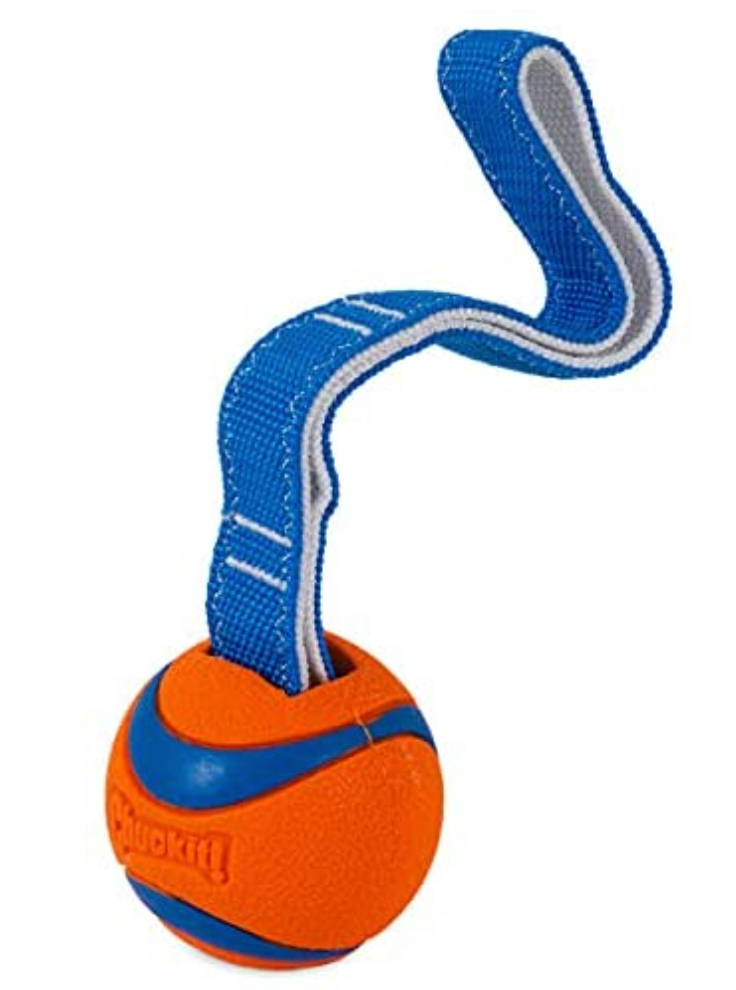 Goughnuts Virtually Indestructible Dog Pull Toy
The name says it all. This dog tug toy is indeed indestructible. The toy consists of two rings, it measures 5 inches wide, 9 inches long, and 1.4 inches thick. The toy is manufactured in the USA and it's made of durable rubber designed specifically for super chewers. The rubber is thick, heavy hard, and extremely durable. Therefore, this dog pull toy comes with a lifetime replacement guarantee.
IMPORTANT:
Dog tug toys are great and entertaining. However, if you don't utilize them in a proper way you may actually encourage aggression and unwanted behavior in your dog.
Therefore, it's important to establish rules when playing tug of war with your dog.
There are several important boundaries to set up when playing. Firstly, you decide and say when and how to play. Secondly, the play stops the moment your dog touches any part of you. Thirdly, when you say "drop it" your dog needs to drop the toy as soon as possible.
Dog Water Toys
as their name suggests, dog water toys are specifically made for use in the water. These toys are made of waterproof materials like rubber and plastic. Therefore, dog water toys can float on the water enabling your dog to retrieve them during play in the water.
There are many different dog water toys on the market, so you need to know what to look for. Generally, you need to take several things into consideration when buying a dog water toy.
These are:
Color
You want the toy color to be bright and different from the color of the water. If the toy's color blends with the color of the water, your dog won't be able to find and retrieve it.
Floatability
A water dog toy should float easily, without any issue.
Grip
Dog water toy should have some kind of gripping assistance to enable your dog to hold it with his mouth. Some toys achieve this with the texture of their surface, others with ropes and nubs that the dog can easily grasp with his teeth.
Versatility
Yes, they are water dog toys. However, some of these toys can also be very useful on land. Therefore, make sure to pick a water dog toy you can also use on land.
These are some of the best water dog toys we have found on the net. However, as always, we encourage you to do your research.
KONG Wet Wubba Dog Toy
KONG Wet Wubba dog toy has everything we talk about above. It's made of neoprene fabric which makes it easy to spot in the water. It consists of two different ball sizes and four flowing tails, thus most dogs will easily grab it. Another big plus is the toy's versatility. You can use this toy both on water and on land. Also, the toy dries quickly after use.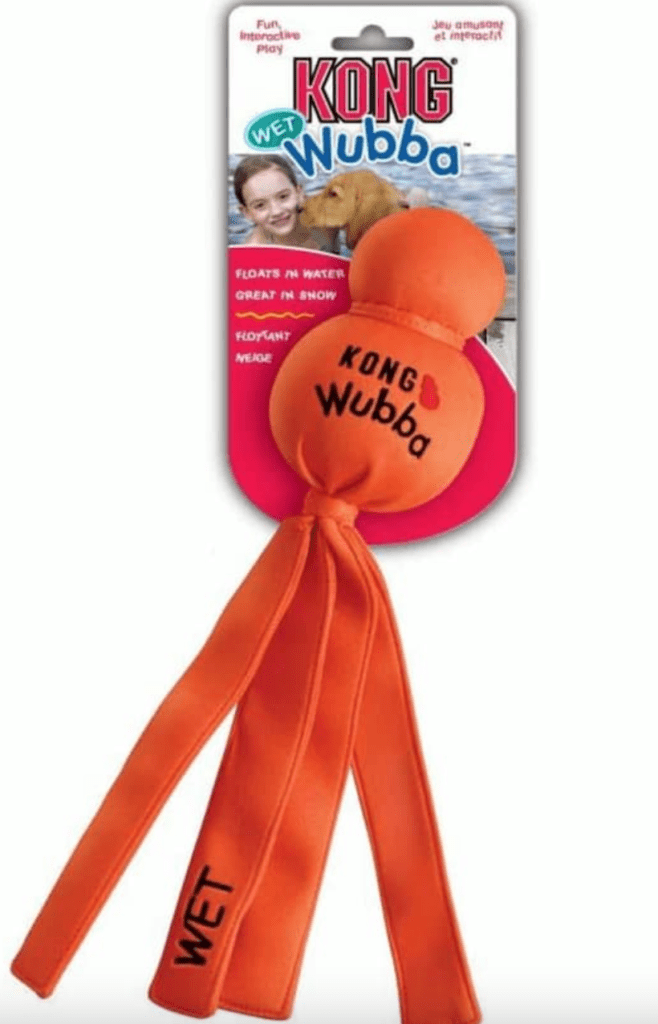 However, there are several downsides we noticed. The toy is only available in large and extra-large sizes. Therefore, it's not suited for small dogs. Also, you can only pick the size of the toy, while the color is random. Another concern is durability. If you have a powerful chewer, this toy won't last long.
Dog Squeaky Toys Beach Play Set
Dog Squeaky Toys Beach Play Set is a set of four different toys that are perfect for a long day at the beach. Toys are made from non-toxic TPR material and they float on the water. Your dog can also play with them on the land. As we have already said, there are four different toys in this set to offer your dog a choice. Also, all the toys have built-in squeakers to keep the dogs entertained.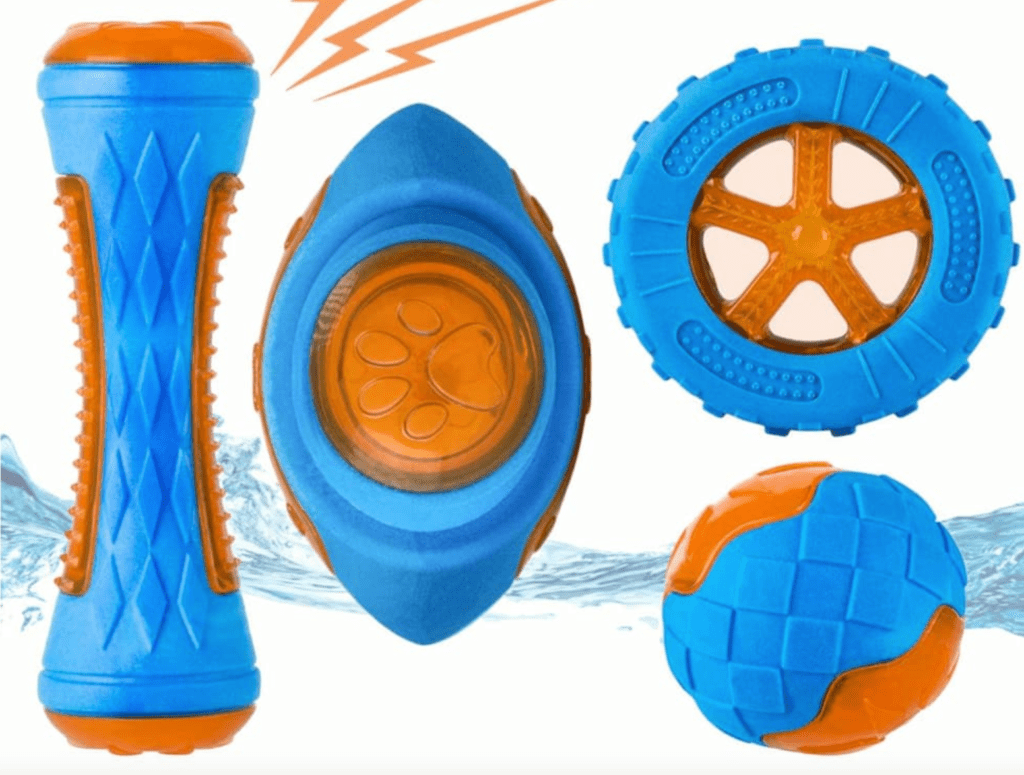 However, they're also a few downsides you need to consider before buying this set. While squeakers are nice and fun for dogs, they do make a noise that can be annoying to other people. The color of the toys is a combination of orange and blue. While orange is clearly visible in the water the blue parts dominate and they can blend with the water.
Therefore, it can be fairly tricky for your dog to see the toy in the water. If your dog is a power chewer, make sure to supervise him while he is playing with these toys. They are not meant as chew toys and will not withstand your dog's powerful bites.
Pig Dog Toy
Our furry friends simply love to play with pig dog toys. They are soft, chewable and they produce a pig-like sound. Therefore, these toys have all the right "ingredients" your dog needs.
We picked one quality product that we liked the most. However, don't follow blindly what anyone says and do your research before buying.
Multipet Latex Polka Dot Globlet Pig Squeaky Dog Toy
This is a great pig dog toy. It's made of latex, a material that is easy to clean but also has anti-bacterial properties. The material is soft and best suited for gentle chewers. Pig squeaky dog toy also contains a voice box that produces a grunting sound when squeezed. The toy comes in the sizes, 9-in and 4-in, and multiple colors including:
Purple
Green
Yellow
Orange
Blue
Pink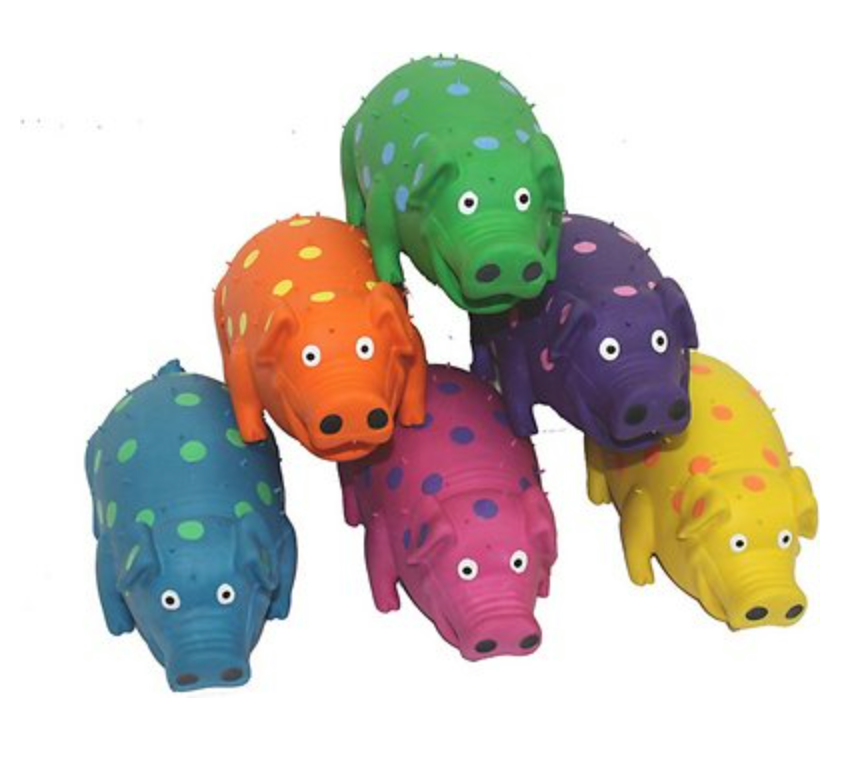 However, the downside is that color ships at random depending on what is available at the moment of purchase. The toy is made in China from non-toxic material.
Duck Dog Toy
Duck dog toys are perfect for activating your dog's hunting instinct. This is especially true for retrievers that used to work in the field and retrieve waterfowl.
We have picked two solid products that we liked the most, but as ever always do your research.
Patchwork Pet Mallard Duck
This is a great 15-inch dog toy with a realistic, natural mallard look. It's made of plush fabric, while the filling is of polyester. The toy also includes a small squeaker in the head, a large quacker in the body, and crunchy material in the wings that produce a crinkle sound.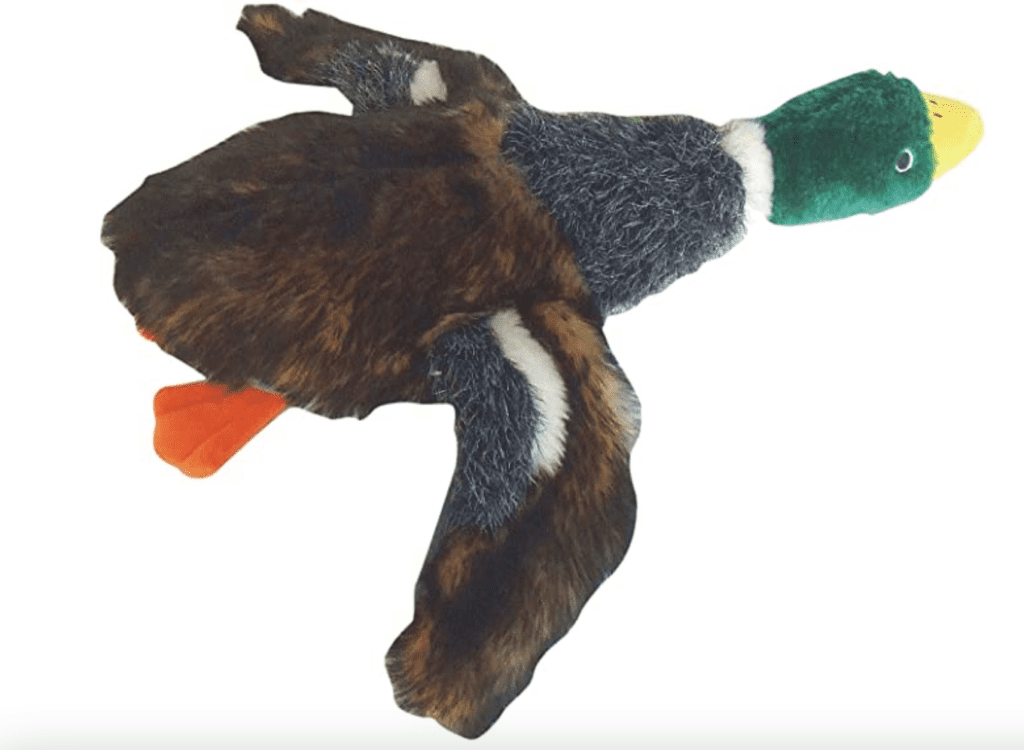 Remember, that these toys are not indestructible, and don't leave your dog unsupervised when playing with them. Some dogs can rip open this duck quickly. Therefore, always be there, ready to remove or replace the damaged toy.
Pet Plush Squeaky Dog Toy
This is our favorite duck dog toy and it's almost certain that your dog will absolutely love this toy. This is a big toy, 14 inches long, 6 inches wide, and 4" high. Therefore, the toy is best suited for medium and large dogs. It's made of high-quality polyester fiber, with ample filler inside. The toy is fluffy, soft but also durable. However, it's not indestructible, so you will need to keep an eye on your dog during the play.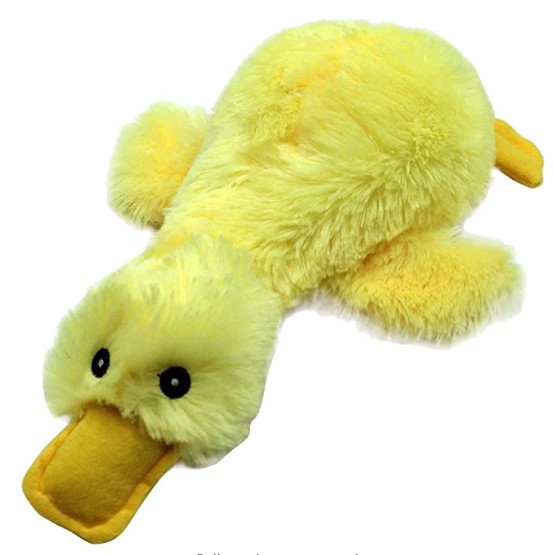 The duck features a squeaker and a bright yellow color to further entice your dog and attract his attention. This toy also has very good reviews on Amazon.
Playology Dog Toys
Dogs primarily use their scent of smell to interact with the environment. In fact, your dog's sense of smell is 10.000 times more powerful than yours. This is exactly what folks at Playology had in mind when developing their dog toys.
Playology dog toys are dual-layer toys, scented with natural beef scent(you can also choose bacon or chicken scent). The toy consists of inner hardcore and an outer durable chewy layer.
The toy's structure mimics a real animal bone, while the beef scent further entices the dog to chew the toy. The dog is releasing the scent from the toy by chewing. Usually, the scent lasts for six months.
These are safe toys that meet both ASTM standards for safety for children's toys and CPSIA standards for hazardous materials.
Playology dog toys are very easy to clean. Also, don't worry, you can't wash away the toy's scent. There are many different dog toys you can buy on the Playology website, so make sure to check them out.
Moving Dog Toys
Moving dog toys are interactive toys for dogs that take up the entertainment level to another level. These toys are excellent if you want to prevent boredom in your dog and give him something he can play with for hours.
These are our two picks when it comes to interactive dog toys.
LED Bouncy Dog Balls
This interactive toy comes in a set of three balls with colorful lights that shake and make the sound when turned on. Also, when you drop the ball it bounces high. Therefore, these are excellent toys for dogs that love to chase things around the house or play fetch.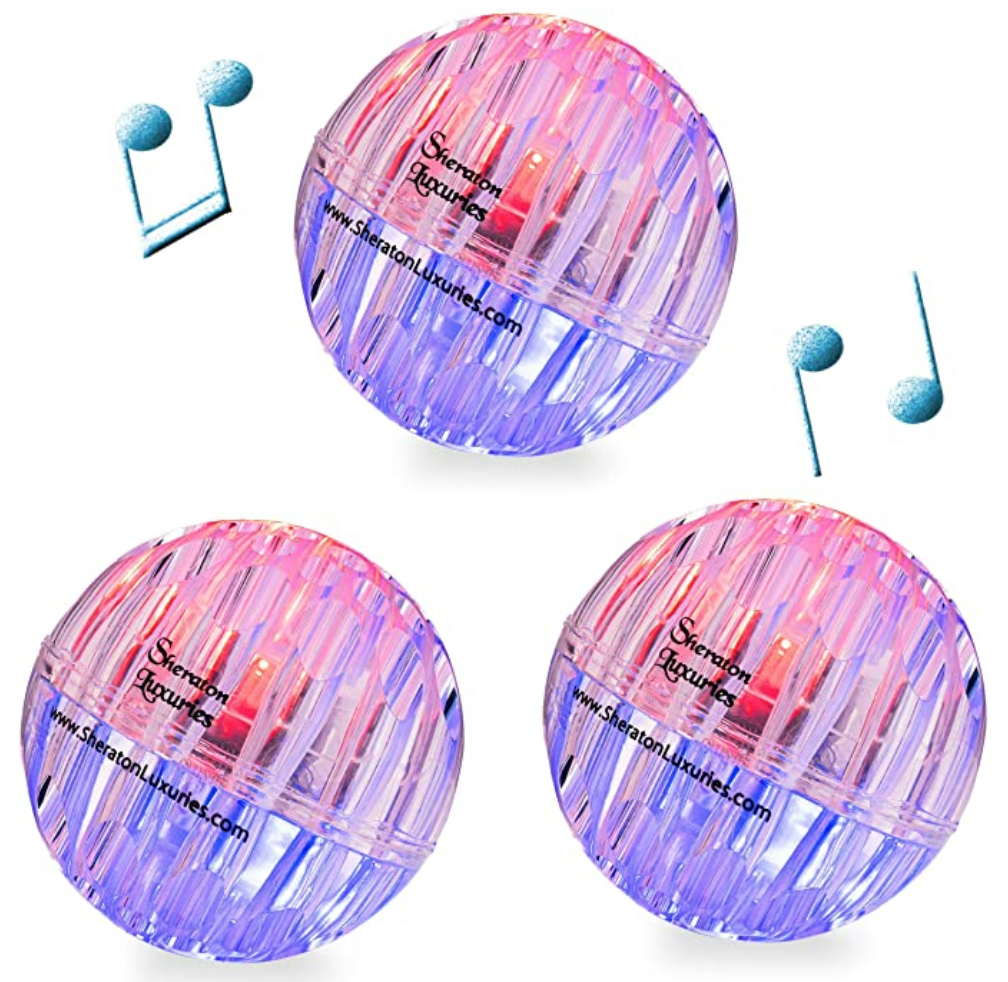 Wickedbone Automatic & Interactive Chew Toy
This is a fairly expensive, but quality, high-tech dog toy. You can control the box with your phone via Bluetooth and let your dog chase it around the house. Battery lasts almost a month when in sleep mode.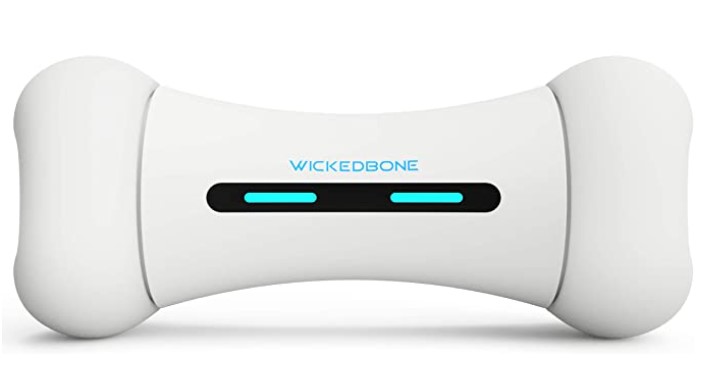 Starmark Dog Toys
Starmark Interactive play toys are great toys for mental stimulation. These toys help prevent boredom and destructive behaviors as well as activate natural foraging and hunting behaviors. Starmark offers a variety of interactive dog toys you can check on their website.
Conclusion
There are many different types of dog toys. Some toys are interactive, others are almost indestructible, some are suited for water, others for thug of war game, etc. When picking up a toy for your dog make sure to buy a high-quality toy made from dog-safe materials. Also, make sure the toy fits your dog's size and needs. No dog toy is really indestructible, so always keep an eye on your dog when he plays with toys.