Going on walks during the rain with our dogs can be a muddy experience.While we can protect ourselves with umbrellas and some rain-boots, protecting our canines can be a bit more difficult. Sure, you can always go for a water-repellent dog coat, but that sometimes won't be enough either. But that is where a dog umbrella and a dog umbrella hat come into place!
Many canine owners don't even know that there are things such as a canine umbrella available out there. You can get different options from Amazon, that would work best for your canine.
The most commonly used method is a standard dog umbrella. You hold it together with the leash and it protects your dog while walking. However, if you walk your dog without a leash, a dog umbrella hat might be the better option for you. It's put around your dog's body and protects him even while running around the dog park.
The one you choose depends on your dog's lifestyle and what your preferred way of walking your dog is.
However, if the choices are a bit too overwhelming for you, here are our picks.
Dog Umbrella
LESYPET Pet Umbrella
"Take your pooch out for a walk—come sleet, rain or snow—with the LesyPet Dog Umbrella with Leash. Made to withstand any weather, this water-proof and wind-proof clear umbrella lets you shield your pup from the elements so you can always be ready for a walk, no matter the forecast.
It's made of a durable polyester material that resists tearing and comes with a built-in, strength-tested stainless steel leash that securely connects to your pup's collar, which means it stays stable and closer to your pal for more coverage.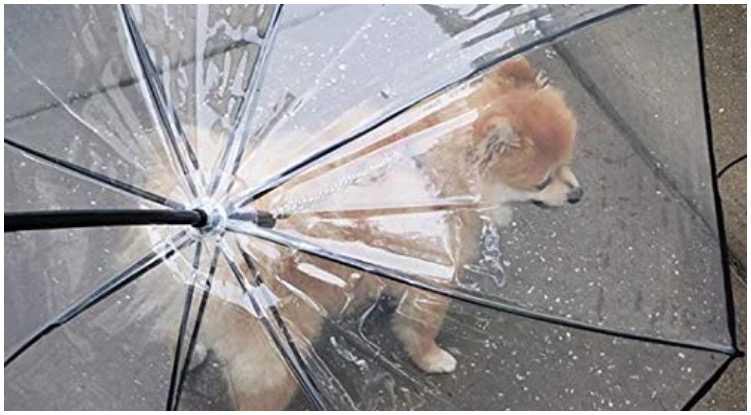 Ultra-comfy to carry with the ergonomic handle, it's also ultra-strong thanks to the stainless steel frame. Plus, since it's transparent, it lets you see your pooch as you go. So grab it, head out and get ready for a chance of rain, and plenty of happy walks!"
K&L Pet Dog Umbrella
"K&L Pet Umbrella is a new item which can protect pets from grit, wind, snow and rain, specifically designed for small dogs. It is fashionable, stylish, concise and easy to handle. With this pet umbrella, pets don't have to wear a raincoat in rainy days. With this, she looks lovely, pretty and elegant.
Please note that this is specifically designed for small dogs. Large dogs are not recommended. Please gently open the umbrella, do not scare your little fur friend. Please compare the size of this item with that of your pet before purchasing. Be sure the umbrella fits her. Your pup may feel uneasy first time with this umbrella, you need only walk him a few more times till she gets used to it."
Umbrella Hat
Seymour Dog Umbrella
"Seymour Dog Umbrella is a pet friendly harness free umbrella. Your dog will enjoy his walks in his stylish umbrella uniform! We believe in treating our dogs like our littles ones. They are a reflection of us, therefore they deserve nothing less than equal quality in all of its endeavors.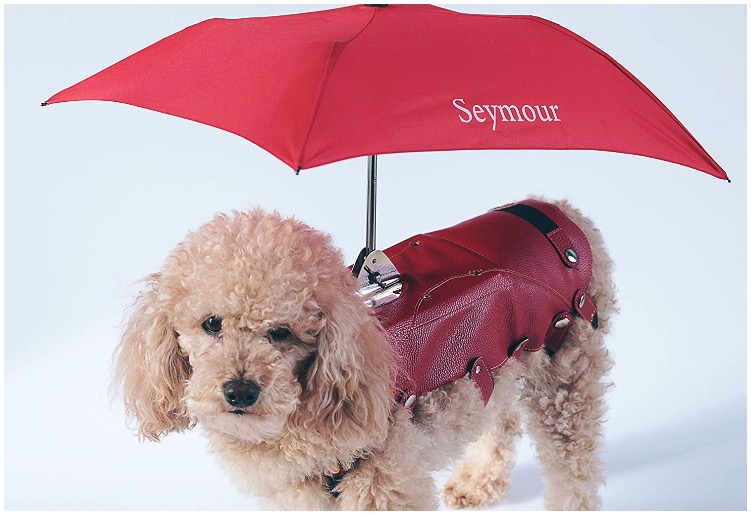 Seymour Umbrella is available in different sizes. The sizes include:
Small Dog Size : (8-12)in
Medium Dog Size : (14-18)in
Small umbrella : 17×12
Medium Umbrella : 19×13
Small Saddle : 8.5×10
Medium saddle : 11×12"