Golden retrievers are beautiful, smart, and loyal dogs. It's no wonder they are in the top five most popular breeds in the United States. However, one thing that isn't really talked about that much is the Golden retriever cost.
Obviously, we know that this breed is very expensive, but how expensive are they really? And we're not only talking about the price of buying a Golden retriever.
ALSO READ White Golden retriever puppies cost a fortune?
What is the true, real Golden retriever cost? From purchasing them to vet bills, to the food, toys, and so on?
In this article, we're going to exactly take a look at all of those costs. We're going to see how much you really have to pay for a Golden retriever.
Golden retriever cost – Everything to know
Let's first take a look at the typical Golden retriever price range. Many people will say that you can get a Golden retriever starting at 500 dollars. This is true, but if you're adopting, if you're getting your Golden from a shelter.
Now, adopting a dog is great. But let's be real, when have you seen a Golden retriever be at a shelter for too long? If it happens that a Golden is offered for adoption, they will be adopted in a few hours.
If you need more information on the topic of adopting a Golden retriever, we have a detailed article. You can find all the information HERE.
Then, you should also be aware that the dogs you get at a shelter are adults, not puppies. The reality of things is that people want puppies.
ALSO READ How Much Does A Golden Retriever Puppy Cost?
This means that the cost of a Golden retriever is not 500 to 3000 dollars like some claim. The real cost of a Golden retriever is actually 2000 to 4000 dollars. Depending on the breeder, the area you're in, the puppy's parents, and so on.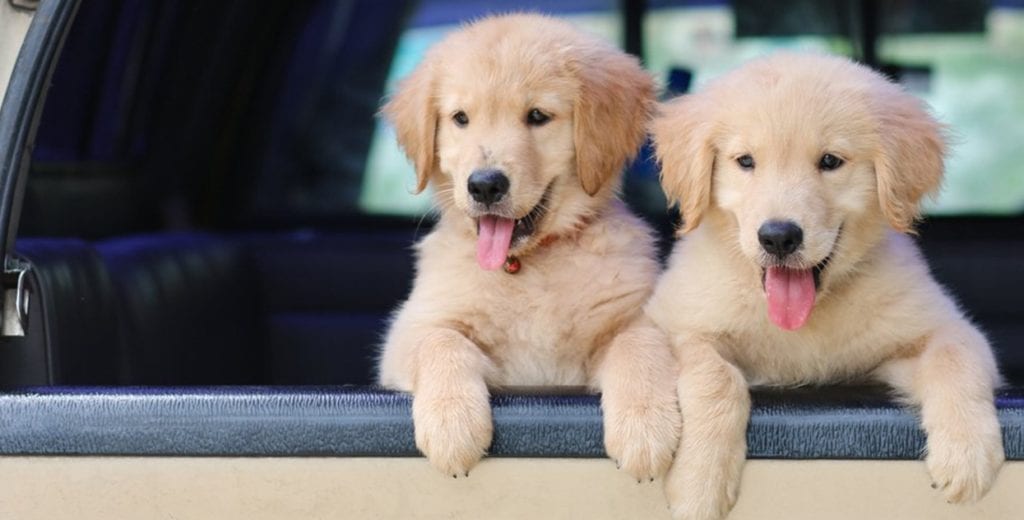 Don't be cheap
Obviously that is a large sum of money. However if you want a healthy puppy, that's the price you will have to pay. Buying a puppy is definitely not the time to be cheap.
Be aware that cheaper puppies usually never have the necessary 3rd-party assurances or veterinarian procedures. These include deworming, vaccinations, or a thorough health checkup. You will have to pay for all of these. If you manage to get a puppy for $500 cheaper, you'll spend that money on vet visits right away.
ALSO READ Golden Retriever Pitbull Mix: Rare And Unusual Breed
But, this is not the biggest issue with buying a cheap puppy. Generally speaking, cheaper puppies tend to have more health or behavior problems. This is because they usually come from "puppy mills". It's very likely that a cheaper dog will costs you more in the long run, due to chronic health problems.
Breakdown of all costs
Now that you know the typical cost of a Golden retriever and why you shouldn't buy cheaper puppies, let's break down the other costs of a GR.
Veterinarian bills
Vet appointments and check ups are very important if you want your dog to be healthy.
According to the American Kennel Club, there are some essential steps and vet bills you'll need to take care of before your Golden retriever's first birthday:
ALSO READ How Often Should I Take My Dog To The Vet?
Full physical exam: $50 – $100
Recommended vaccines (Coronavirus, Leptospirosis, Bordetella, Canine Influenza, and Lyme Disease): $100 – $200
Rabies vaccine: $10 – $20
DAPPV vaccine (Distemper, Adenovirus, Parvovirus, and Parainfluenza): $60 – $100
AKC registration: $35+
Dewormings: $10 each
Heartworm preventatives: $70 – $200 (1-year supply)
Total price of veterinary expenses: $335 – $665 (does not include service fees, charges, and taxes)
Cost of food
Dog food is expensive! Basic dry food costs between $100 and $250 per year, if you're buying a 30-pound bag every 1 to 2 months.
However, high-quality dry food costs a bit more. It will cost you between $200 – $400 per year for the same quantity and frequency.
We recommend feeding your Golden retriever puppy high quality dog food. It does costs a lot of money, but in the long run, it will be better for your pup.
ALSO READ Best Food For Golden Retriever Puppy
We made a list of the most popular dog food types and how much they cost:
Pedigree Dry Dog Food: $17.26 for 30lb bag
IAMS Healthy Naturals: $29.99 for 25.6lb bag
Canidae All Life Stages Dog Dry Food: $53.07 for 30lb bag
Purina Pro Plan Savor: $45.78 for 35lb bag
Pedigree Choice Cuts in Gravy Wet Dog Food Pouches: $8.19, (18) 3.5oz pouches
Purina Pro Plan Savor Adult Wet Dog Food: $18.96, (12) 13oz cans
Toys, chewies, accessories
If you want your dog to be happy and feel loved in its new home, then you will have to get them a few toys and accessories.
Dental Products: $10 – $30
Toys: $50 – $100
Crates: $20 – $80
Beds: $20 – $60
Collars and Leashes: $10 – $30
Bowls: $5 – $25
Total golden retriever price for equipment, toys and accessories: $415 – $825