Golden Retriever types
There are many reasons why Golden Retrievers are one of the most beloved breed in USA and around the world. These dogs are affectionate, intelligent, playful, great with children and eager to please. They are quite easy to train and this makes them perfect service dogs. In this article we will focus more on history and know types of Golden Retriever breed.
As we can already deduce from breeds name, Golden Retrievers are gun dogs bred for working in the field and retrieving wild game. All Golden Retrievers today descended from Yellow Retriever named Nous and Tweed Water Spaniel(extinct breed from Scotland) named Belle. Creator of this breed was Lord Tweedmouth. Result of this breeding was litter of four bitches, ancestors of every Golden Retriever today.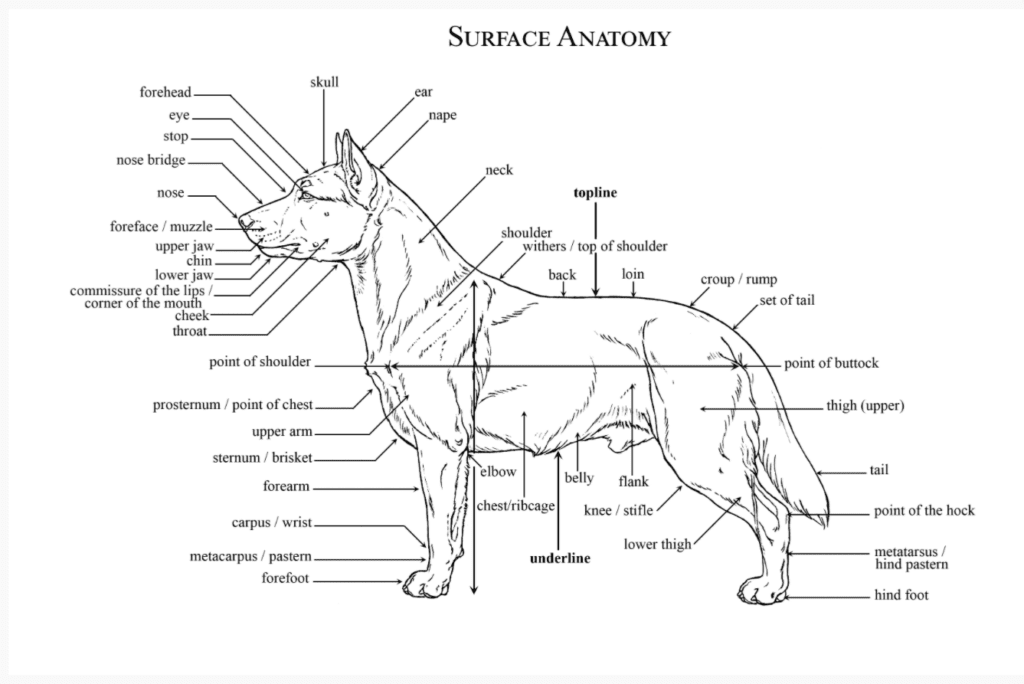 Although all Golden Retrievers belong to the same breed, due to some minimal and subtle differences there are three known and recognized Golden Retriever types.
These are:
American Golden Retriever
English (British) Golden Retriever
Canadian Golden Retriever
Differences between these three types are mostly physical and have no profound effect on temperament or health of the dog.
Let us now dig deeper into this subject and learn about characteristics of each of the three types as well as minute differences between them.
American Golden Retriever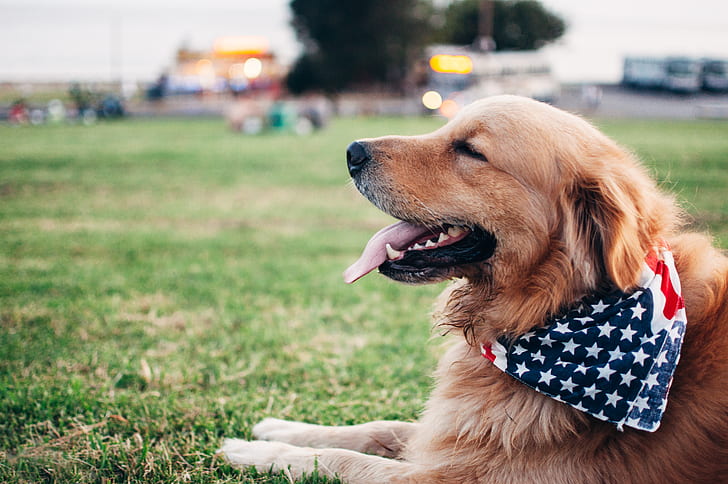 American Golden Retriever was bred according to AKC standard, these are the main characteristics of this type of Golden Retriever.
Color
The American Kennel Club standard states that Golden Retriever coat color can have various shades of golden, extremely dark or light coat colors are not allowed.
Coat
American Retriever coat is slightly longer than that of English Retriever. It is water- repellent and dense with moderate feathering.
Head And Skull
The profile of American Golden Retriever's head is narrower, the skull is broad and the muzzle blends into the skull.
Eyes
American Golden Retrievers eyes are medium large, shape is more slanted and narrow. Desired color of the eyes is dark brown, but medium brown is also acceptable. Triangular shape of the eye is not acceptable.
Size
American Golden Retriever have lighter muscle tone and overall less muscular appearance.
Average size for males is 23-24″ (58-61 cm) at the wither, and Females stand 21.5-22.5″ (55-57 cm). AKC standard states that acceptable weight for males is between 65 and 75 pounds and 55 to 65 pounds for females.
Health And Longevity
Average lifespan of American Golden Retriever is 10 years and 8 months. Same as the two other types, American Golden Retriever is susceptible to many diseases and genetic disorders. Number one killer of Golden Retriever breed is cancer. Out of the three types American Golden Retriever is most prone to cancer.
Study by the AKC have shown that 61.4 % of deaths among American Golden Retrievers are caused by cancer.
English (British) Golden Retriever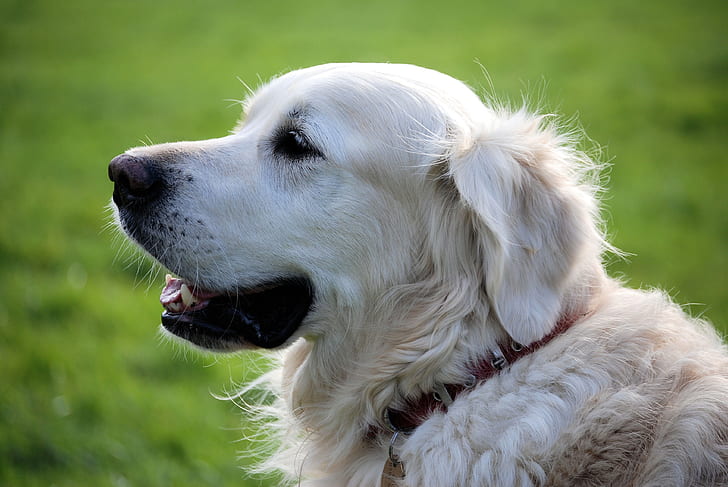 Color
Main difference and therefore the one most people will single out straight away is the color of English Retriever Coat that is substantially lighter than those of American or Canadian Type.
Any shade of golden or cream coat color is acceptable, red or mahogany on the other hand is not allowed.
Coat
The English Retriever's coat is shorter than that of the American and Canadian counterparts, but it is also thicker. It can be wavy or flat with dense water-resistant undercoat.
Head And Skull
The English Retriever has a broad skull, very well-chiseled and balanced head. Muzzle is wide and powerful.
Eyes
English Retriever's eyes are medium-sized, well set apart. Color is dark brown with dark rims.
Size
English Golden Retriever is shorter but more muscular and bulkier than American and Canadian counterparts. The Kennel Club standard states that size of males should be 23-24″ (58-61 cm) at the withers, and size of Females stand 20-22″ (51-56 cm) at the withers.
TKC did not specified acceptable weight for the type but it has stated that the topline should be level with straight hindquarters.
Health And Longevity
The English Golden Retriever has bigger life span than American counterpart, with average lifespan at 12 years and 3 months. Research from 2004. has shown occurrence of cancer in only 38.8 % of all the English Golden Retrievers who participated in this test. Therefore, this type of Golden Retriever is more resilient to the cancer than its American counterpart.
Canadian Golden Retriever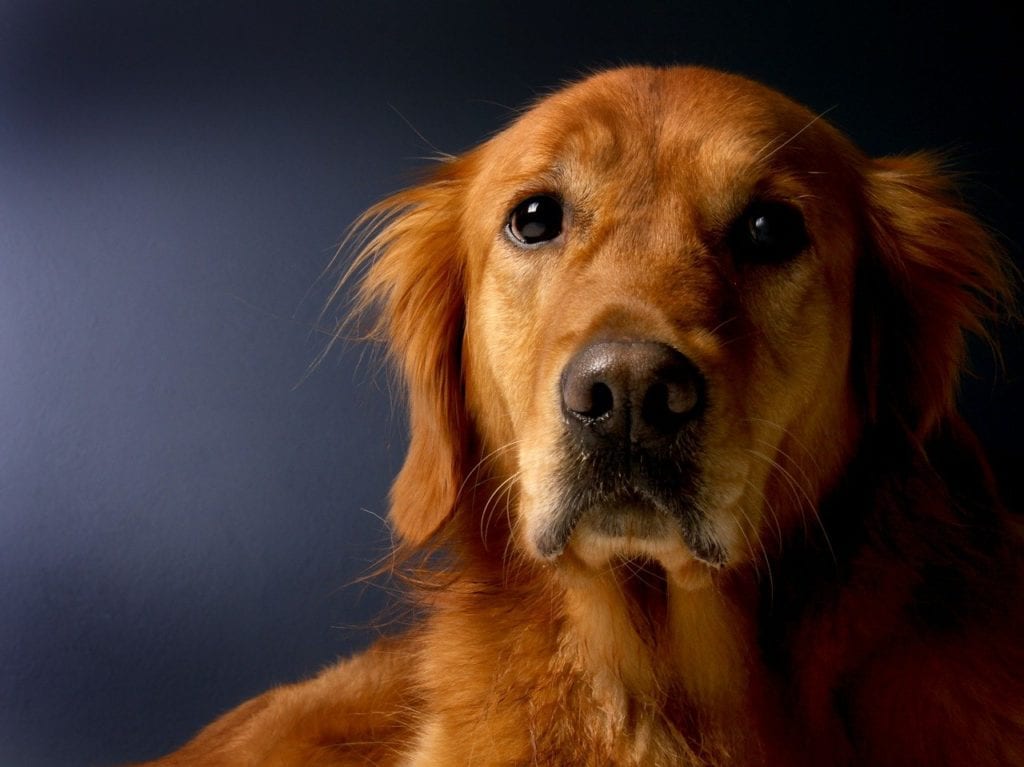 Color
The Canadian Kennel Club allows same color variations and shades of golden as the AKC.
Coat
The Canadian Golden Retriever's coat is thinner but more dense that that of other two types.
Head And Skull
The shape and profile of the Canadian Retriever's head and skull is about the same as that of it's American counterpart.
Eyes
The Canadian Retrievers eyes are set well apart and medium-large in size. Preferred color is dark brown.
Size
Canadian Retrievers are on average two inches taller and more leaner than their American and English counterparts. Acceptable weight per CKC standards is 65-75 pounds for males and 60-70 pounds for females.
Health And Longevity
There is no substantial difference in this aspect between Canadian and American Golden Retriever.
Conclusion
When choosing between American, Canadian or English Golden Retriever remember there is really no significant difference between the three types. They all share those same personality traits that makes them one of the most popular breed in the world. So, it all really comes to a personal preferences, but one thing is certain: You really can't go wrong with Golden Retriever!