Harley-Davidson is an American motorcycle manufacturer that was founded in 1903. This company has survived many ups and downs, including the Great Depression. It now is one of the world's largest motorcycle manufacturers, but also an iconic brand that is widely known and has a loyal following. If you are one of those Harley Davidson fans, you might be interested to share that passion of yours with your dog. And while your canine can't exactly ride a Harley Davidson motorcycle himself, he can always rock a cool looking Harley Davidson dog collar. Because yes -they exist.
Nowadays, Harley Davidson doesn't only produce motorcycles, but also other fun items for all of their loyal fans. You can buy HD t-shirts, mugs, hats, but in some places also — dog collars. You can find their web-shop here and have a look through all of that cool merchandise that they have available. There really is a variety of amazing clothing items and accessories that you could possibly buy.
However, buying the dog collars can be a bit more tricky. They are often either sold out, or not available at the moment. But we found a few places online where you still can get some for your beloved canine.
Harley Davidson Dog Collar
While the official website of Harley Davidson features mostly women's and men's clothing, there is a web-shop called House of Harley where you can also buy different products for your dog.
Two different Harley Davidson dog collars are available there, "Muscle" and "Patriotic".
Harley-Davidson® Muscle Dog Adjustable Collar
A simple but yet effective dog collar in black and red that would look great on many different dog breeds. It's from nylon and promises to endure even the strongest of dogs.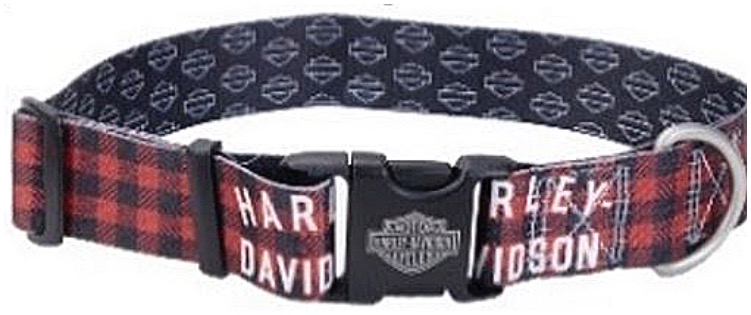 The description on the website says: "With just enough branding design elements to strut around the neighborhood in Harley® style, the H-D® Muscle Dog Adjustable Collar gives your canine something to bark about. Red/black plaid reverses to a repeating grey Bar & Shield® logo pattern. Appropriate for medium-size dogs. Measures approximately 1.5″W. Adjusts from 14″ to 20″ in circumfrence."
If this particular style of dog collar didn't really impress you, they have another one available.
Harley-Davidson® Patriotic Adjustable Dog Collar
A bit more fun and colorful. This dog collar features the colors of the American flag. That's where the name "Patriotic" comes from. It's a bit thinner than the previous one and will work great for medium sized dogs.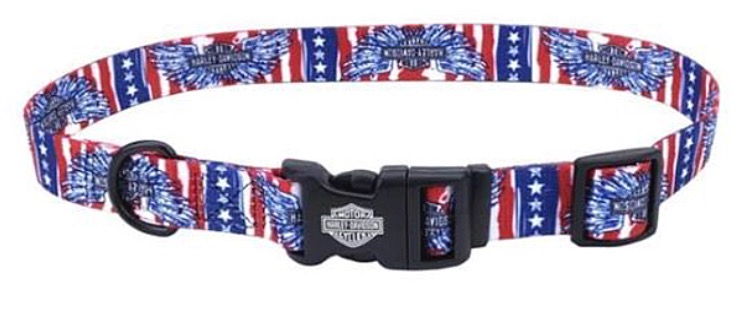 The description on the website says: "Your dog likes summer-time almost as much as you do. The festivals, parades and community events bring folks together to celebrate national and local holidays. And where you go, your dog goes. So add a bit of the red, white and blue to the mix with the H-D® Patriotic Adjustable Dog Collar. The vibrant display of stars & stripes along with the repeated pattern of the winged Bar & Shield® and the emphatic stamp of that icon on the buckle combine to display the lifestyle that you love — almost as much as your pup. Medium size measures approximately 0.625″W; adjusts from 12″ to 18″ in circumference. Nylon."
However, maybe you're not too interested in a collar but instead want your dog to wear a harness. They have an option for that too.
Harley-Davidson® Designer Wrap Adjustable Harness
If you are a fan of Halloween, you will love this design. Orange, black and white colors featured on this harness definitely give some spooky vibes. However, it's still cute enough to be worn throughout the whole year.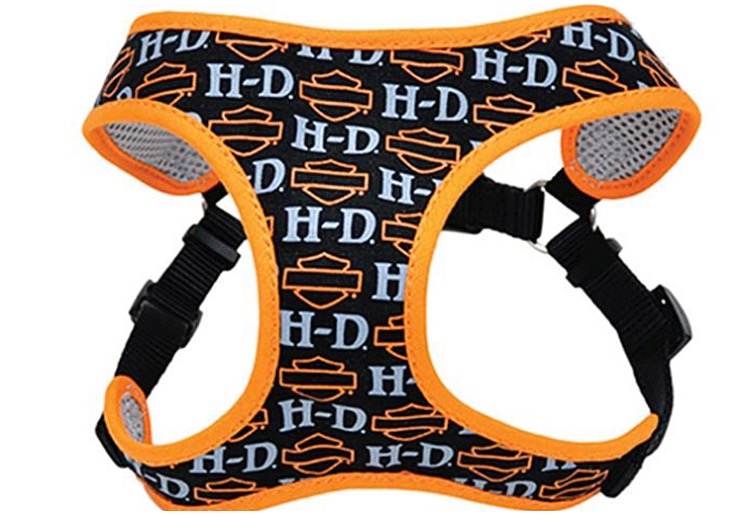 The seller says: Dog walkers find using a harness makes a positive difference in the animal's comfort and compliance. Try the H-D® Bar & Shield® Orange Designer Wrap Adjustable Harness, and enjoy your walks more. With easy on/off wearability, the light-weight nylon harness includes a breathable polyester mesh lining to promote cooling air flow for a comfortable fit. Construction assets include dual D-rings and a snap-lock buckle. Available in three sizes.