Have you ever seen a Pit Bull cry? And I mean really cry, sob and whine? If you haven't, unfortunately you will now… I want you to meet Blue King (or Blue for short).
Blue is a Pit Bull from California who had an amazing life, a great family, and all the treats in the world. However, one day his whole life changed. After being with his owners for over a year and loving them wholeheartedly, his family decided to move and Blue became nothing but an inconvenience… And you know what they did with Blue? They just left him at the Carson Shelter in California.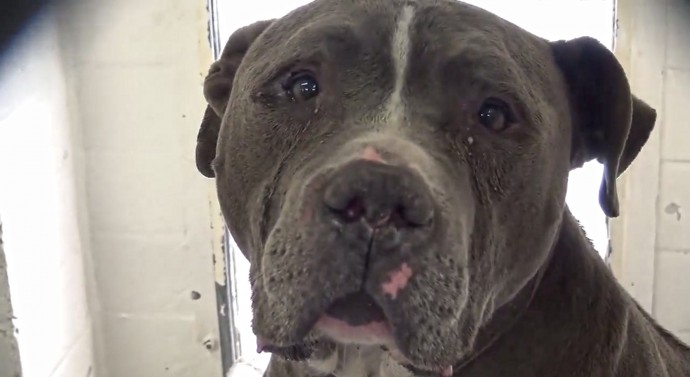 Maybe you'll say dogs have no feelings, they can't cry. Well I want you to take another look at Blue.
Whoever spotted the devastated Pit Bull, and saw him weeping and whimpering inside of his isolated cage at the shelter, will tell you that he was a sorry sight. You could even literally see tears streaming down his face. This Pitty clearly felt the sadness of being abandoned.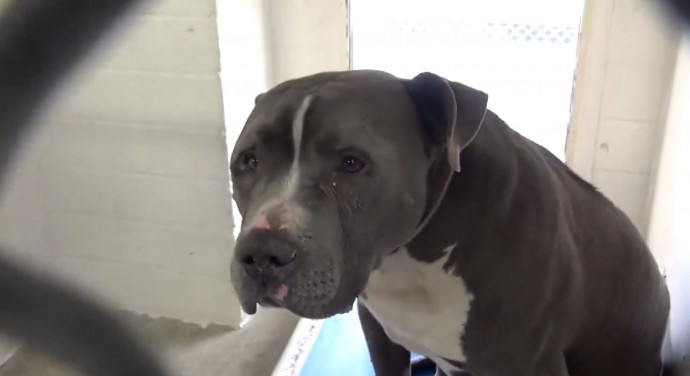 Thankfully, volunteers from this shelter saw in how much pain Ble was and decided to help him. They decided to make a video of him and post it on the organization's Facebook page, hoping someone would want to adopt him.
And luckily for Blue, someone took notice shortly after! Jennifer McKay traveled to the shelter to meet Blue.
"He looked very sad and depressed," McKay told The Dodo. "He wouldn't even acknowledge me at all. All the other dogs were making eye contact and wagging their tails, but he wouldn't stand up, wouldn't come see me. It was sad."
Jennifer said that it was obvious Blue hadn't given up on his old owners.
"You could tell that every time someone walked by, it was like he was looking for them," she said. "It's like he knew he had been left there."
It was at that moment that Jennifer just knew she had to make Blue a part of her family, she had to make this pooch happy again! However, it wasn't that easy. First the shelter needed to run behavioral tests on him before they could even let her take him home. While she waited for her pooch, the hopeful owner visited the shelter with gifts for Blue every day.
To Jennifer's surprise Blue wasn't what the shy dog she thought he was. No, no! He had a lot more personality.
"He kind of tricked me," she said. "I was expecting to get a really laid back, chill dog, but as soon as the gates opened in the kennel, he was super excited. And he loved riding in the car. He wanted to stick his head out the window."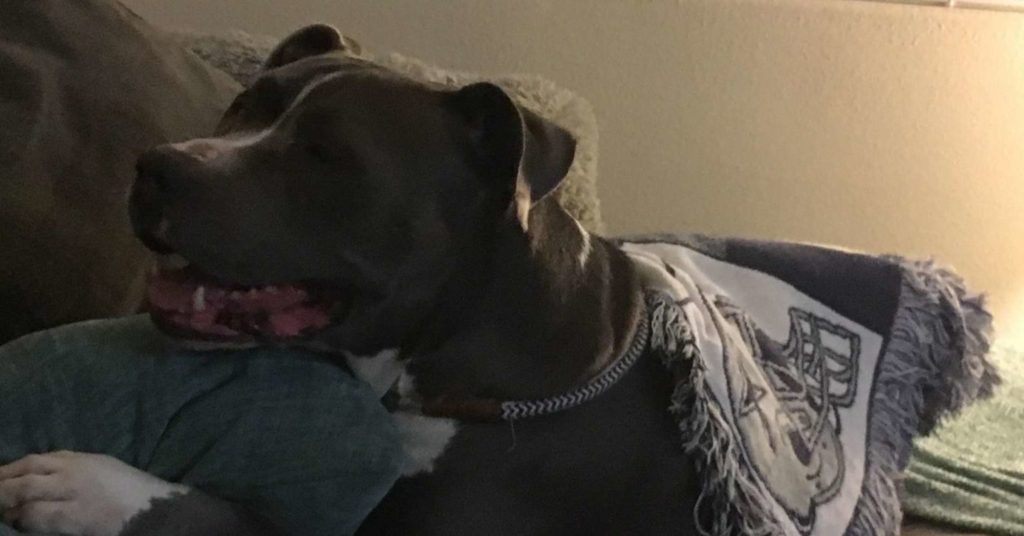 At home, McKay gave Blue a bath and took him for a walk. Then he fell asleep on the living room couch.
"He seems to be making himself right at home," McKay said. "He has his spot on the couch."
Thanky to Jennicers love and care Blue has made so much progress and isn't the sad, whining dog anymore.