How to build a dog house
Building your dog a nice little dog house where he can chill and relax when outside seems like a great idea. Well, until you realize you don't know how to build a dog house! But can it really be that difficult, right? Good news, it's actually not! And I can show you how to build a dog house that your beloved pup will love. You will also have a great do-it-yourself project that will be a lot of fun! And besides this, building something on your own can be very rewarding, you'll be proud of yourself for sure! And don't worry or feel discouraged if something doesn't go as planned, you can fix everything!
Also read: How To Leash Train A Dog?
Now, without further ado let's dive right into the tutorial on how to build a dog house!
How to build a dog house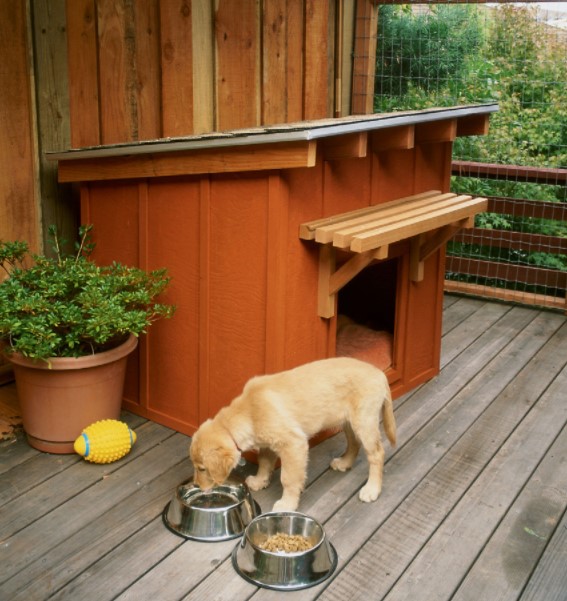 Building a dog house doesn't have to be difficult nor expensive. This is a dog house any beginning-to-intermediate woodworker can make for about $200!
This is what you will need to make this awesome dog house:
Materials to build
Tape measure
Pencil
Square
Protractor
Circular saw
Paintbrush
Electric drill
Tin snips
Hammer
Materials
2 sheets of 3⁄8-inch rough cedar plywood
1 sheet 5⁄8-inch exterior plywood
1 pound 11⁄2-inch deck screws
Three 8-foot-long redwood 2-by-4s
Four 8-foot-long redwood 2-by-2s
2 quarts exterior paint or stain
Twelve 8-foot lengths of redwood lattice
1 tube all-purpose panel adhesive
5⁄8-inch wire brads
Two 10-foot lengths metal drip edging
1 box 5⁄8-inch galvanized roofing nails
1 pack asphalt shingles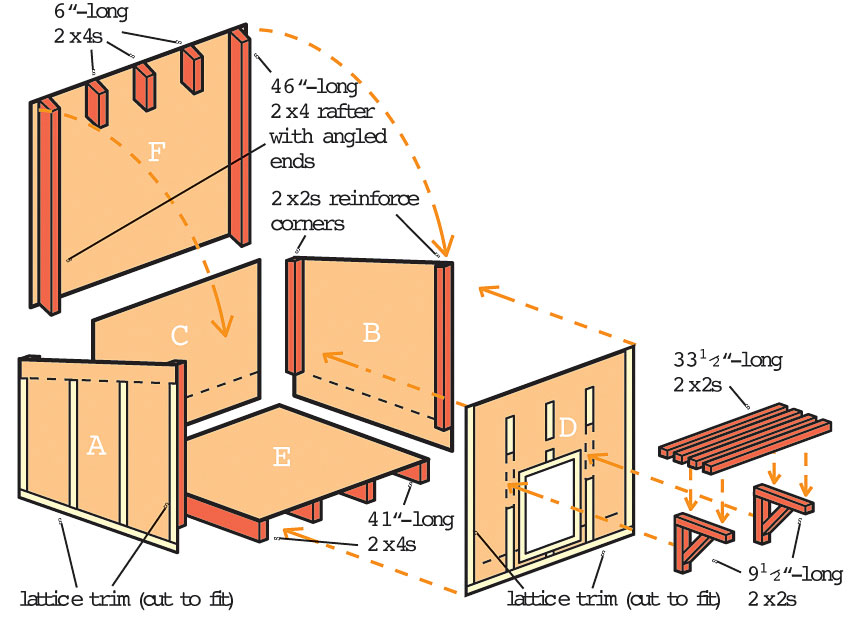 Instructions on how to build
Now that you know what you'll need to build this dog house, I'm going to explain to you how to build a dog house.
Also read: How To Trim Dog Nails? Step-By-Step Guide
Your first step in building a dog house will be following the diagrams, cutting, and painting the plywood sides (A and B). You'll also have to paint the panels for the rear (C), front (D), floor (E), and roof (F). To make it easier for yourself, later on, this would be a great time to ketch out the front opening for your dog house.

Your next step will be to cut and screw four 41-inch-long 2-by-4s to the underside of the floor panel so it sits off the ground. Please, make sure that the floor height really matches the sketched front opening's bottom (41⁄8 inches from the base of the front panel). If it doesn't match, you can adjust the sketch and then following it cut out the opening.

Your next step will be to screw the panels together. This is fairly difficult, that's why I have a little tip for you. To make it easier reinforce each side-panel corner with one 2-by-2 that will run from the floor to 1⁄2 inch from the top edge. Then, screw the side, front, and back panels to the floor!

We're halfway there! We're now working on the roof. Center the roof above the structure and use screws to attach two painted 46-inch-long 2-by-4 rafters that flank the exterior of the side panels.

The second to last step will be to build and from the inside attach with screws the arbor of 2-by-2s. Then, add the painted lattice trim with panel adhesive and wire brads 6 to 8 inches apart and paint over them.

And we're almost there! Now you just need to mask the roof edges with metal drip edging, attaching it with roofing nails. With roofing nails attach asphalt shingles. In this step, you should be working up from the roof's bottom end. And you're done! Your dog house is finished! Isn't it an amazing feeling to build something with your own two hands?
Also read: How to get a service dog: All questions answered
Conclusion
Building your first dog house might seem like an impossible or at least very difficult task, but it doesn't have to be! By doing a little research and having the right tools you can build a great dog house your dog will love! If you don't like this dog hose, there are so many great ideas and tutorials on the internet! And also, the whole world is in lockdown, I'm pretty sure you can use a little distraction from everything that is happening right now. And what could be a better distraction than a DIY project!