How to make a dog cake
Is your dog's birthday coming around and you would like to do something nice for him or her? Gifts are a given, but what about you make a delicious dog cake? The problem is that many dog owners don't know how to make a dog cake! By dog cake I mean a cake that will be safe for your fur-baby. You can't just use any flour or any ingredients. You need to be really careful what you put in your dog's cake!
But don't worry, we have all the DOs and DON'Ts on how to make a dog cake, and we have a few nice recipes you can try out!
How to make a dog cake?
Making a dog cake is easy and difficult at the same time! It's difficult because you need to pay close attention to which ingredients you're using. It's easy, well, let's put it like this there is no icing or any special decoration you have to worry about.
Choose wisely
The probably most important thing you need to remember is which flour you can use to make a dog cake. Choose a type of flour that is best for your dog's health!
You might think to just use white, all-purpose flour. However, the problem with this flour is that is extremely processed and low in nutrients. After all you want your dog's cake to be nutritious as well! Instead of white flour choose something like whole grain flour, like whole wheat. It will be much healthier for your dog. Many dogs are sensitive to grain or are just on a grain-free diet, if that's the case with your dog too then go with non-grain flour like coconut or lentil.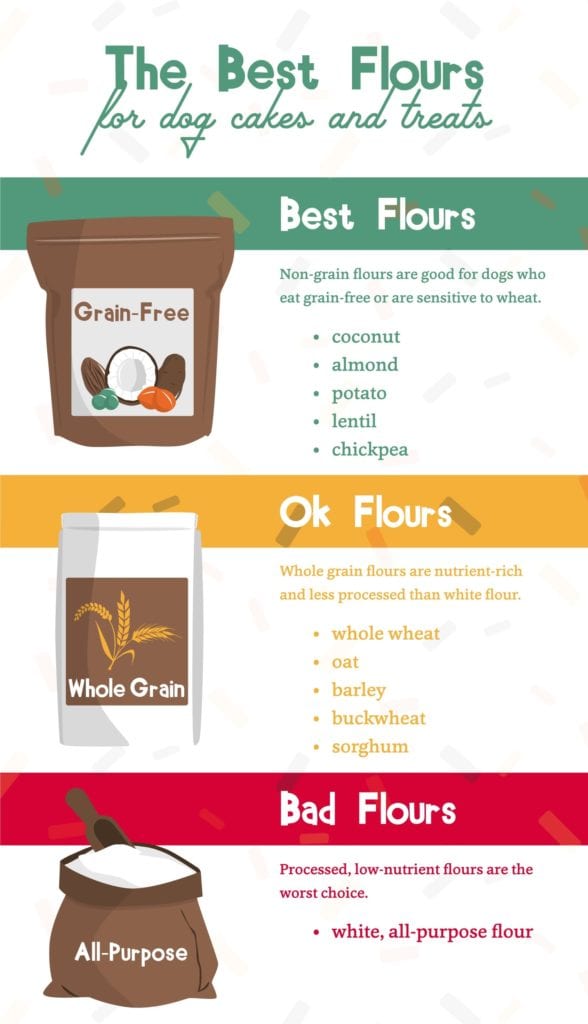 Other safe ingredients
You will be using human food when making a cake for your dog. But now every ingredient that is safe for humans is safe for dogs. You need to choose wisely. Some safe ingredients are blueberries, strawberries, apples, bananas, or carrots! Some completely unsafe ingredients are chocolate, avocados, cherries, and grapes, so please don't put these in your dog's cake!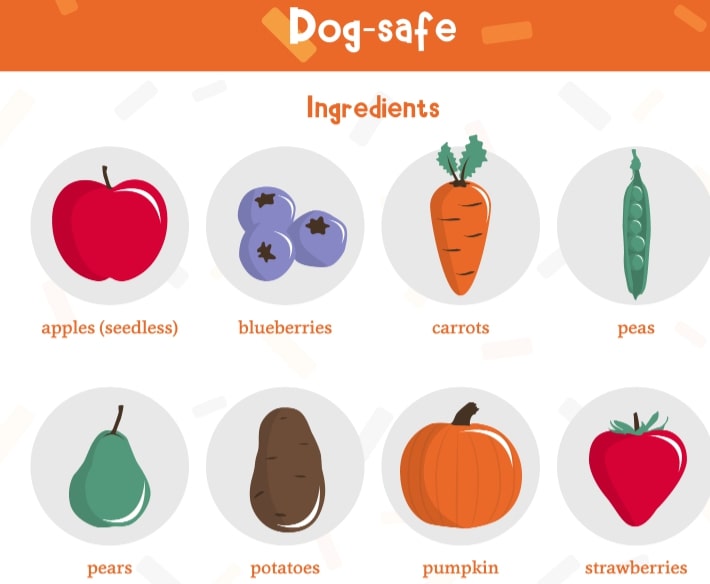 Frosting
If you're already going that extra mile and making a cake for your dog from scratch, you might as well decorate it! But, you guessed it, you can't just use ordinary frosting. You have to use something that is safe for your dog.
You could for example use low-sugar yoghurt, pumpkin puree or apple sauce, your dog will love that! If these aren't an option for you or your dog maybe doesn't like these, you could use bananas, sweet potato puree or even mashed potatoes. It sounds gross to us, but trust me, your fur-baby will love it! You could also use coconut oil, peanut butter or honey in very small amounts.
Recipes
Now that that is out of the way and you know which ingredients you can use, let's jump right into the recipes!
Coconut and berry cake
This sounds so delicious that I would even eat it! It's fruity and very refreshing. This is a delicious but also healthy recipe.
Blueberries and strawberries are rich in antioxidants and Vitamin C which are all great for your dogs health. And then we have also coconut oil which is good for digestion and enhances your pet's coat!
The ingredients you'll need
1½ cups coconut flour
3 tablespoons coconut oil, melted
¼ cup blueberries
2 eggs
2 tablespoons honey
Frosting
¾ cup plain yogurt
2 tablespoons honey (optional)
Strawberries and blueberries (topping)
Natural food coloring (optional)
Directions
First, you need to preheat your oven to 350℉. Then, mix together honey, eggs and melted coconut oil. When that is mixed stir in the flour and blueberries.
Grease one 4 inch springform pan with coconut oil. Fill with batter and bake for 20-25 minutes, until the center is firm. When it's done remove it from the oven and let it cool.
For the frosting, mix together yogurt, honey, and food coloring. Frost cake and decorate with berries.
Pumpkin Peanut Butter Dog Cake
If your dog is a big fan of peanut butter then he will love this cake! The cake itself is very easy to make and you probably have all the ingredients already at home!
The ingredients you'll need
1 cup oat flour
1 cup pumpkin puree
¼ cup peanut butter
2 tablespoons honey
1 teaspoon baking powder
1 egg
Frosting
½ cup nonfat yogurt
¼ cup peanut butter
Mini dog treats for decoration (optional)
Directions
First, you will need to preheat your oven to 350℉. The next step is to mix together the pumpkin puree, peanut butter, eggs, and honey. Then stir in flour and baking powder.
When you've done that grease tins with coconut oil and fill with batter. Bake for 20-25 minutes until the center is firm.
For the frosting, mix together yogurt and peanut butter. Once the cake has cooled, frost and decorate with dog biscuits.
You can find these and many more amazing recipes at Personalcreations.com.