Dog coats and dog clothes, in general, have become very popular in recent years. So many big brands, many designer brands, are making luxury dog clothes! The same goes for Moncler. In the fall of 2019. The Italian luxury fashion brand that is mostly known for its skiwear now has a line for dogs. A Moncler dog jacket line!
Besides making warm puffer jackets for humans, Moncler is now also making luxury jackets and coats for our beloved caninec.
ALSO READ Small Dog Clothes: Adorable Petite Styles
Now, just like the jackets for us human come with a hefty price tag, the same goes for the dog jackets as well! We're not going to lie to you, they are very expensive!
But, you only want the best for your dog, right? And the Moncler dog jacket is definitely the best you can get out there!
Moncler dog jacket – Our favorite picks
Unfortunately, these dog jackets aren't available on the Moncler site anymore, however you can still find them on sited like SaksFifthAvenue and Nordstrom.
ALSO READ Designer Dog Clothes: For The Bougie Canine
1. Colorblock Puffer Dog Jacket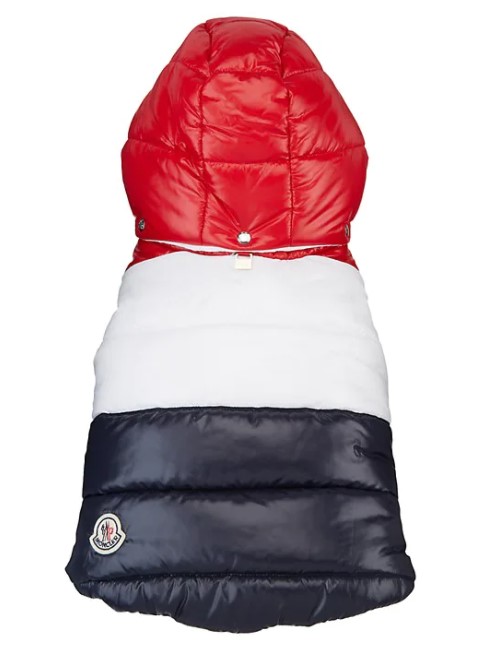 The Colorblock Puffer Dog Jacket is perfect for the fashionable pooch.
This jacket will keep your little friend warm and stylish. The jacket features a removable hood, snap closure and colorblock detail.
Besides this, the Colorblock Puffer Dog Jacket is special because of its:
ALSO READ Cheap dog clothes – Easy DIY ideas
Removable hood
Sleeveless
Snap button closure
Colorblock
Made out of nylon
Spot clean
Made in Italy
The Colorblock Puffer Dog Jacket will also cost you a little fortune. You can get it at SaksFifthAvenue and it costs 575 dollars!
2. Quilted Dog Vest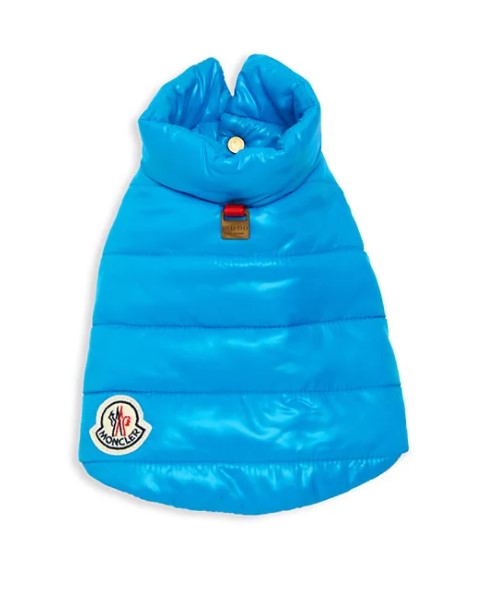 The Moncler Quilted Dog Vest comes in two adorable colors, blue and pink! The vest is crafted from signature nylon laque that will keep your beloved pooch warm.
ALSO READ Dog Clothes: How To Choose And Buy The Right One?
The vest comes with a snap closure so it's easier to put it on, and it's lined.
The Moncler Quilted Dog Vest comes also at a big price. You can get the vest on SaksFiftsAvenue and it costs 425 dollars.
3. Dog Sweater Hoodie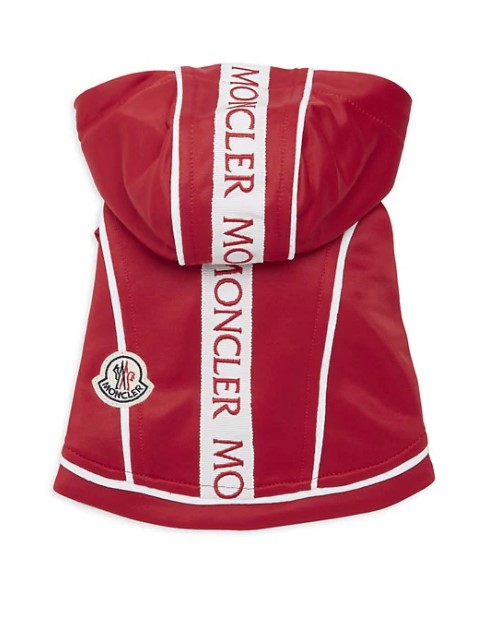 If you don't want to get your dog a jacket, you could buy him or her the Dog Sweater Hoodie from Moncler.
The hoodie is crafted with embroidered logo that keeps your beloved pooch warm. It also comes with two fashionable colors, black and burgundy!
ALSO READ Christmas Dog Collar for a Merry Holiday
You can get the Dog Sweater Hoodie on SaksFifthAvenue and it costs 475 dollars.
4. Mantella Dog Rain Jacket
The Mantella Dog Rain Jacket is a must for fashionable dogs! This cute and translucent doggy raincoat features easy-snap buttons and a water-resistant finish.
ALSO READ Personalized dog harness: A DIY project for you!
Besides this, the rain jacket also features:
Removable hood
Ribbed stand collar
Long sleeves
Ribbed cuffs
Snap button front
Drawstring hem
You can get the Moncler Mantella Dog Rain Jacket on SaksFifthAvenue. This rain jacket comes in two colors, blue and yellow, and costs 455 dollars.
5. Knit Dog Jacket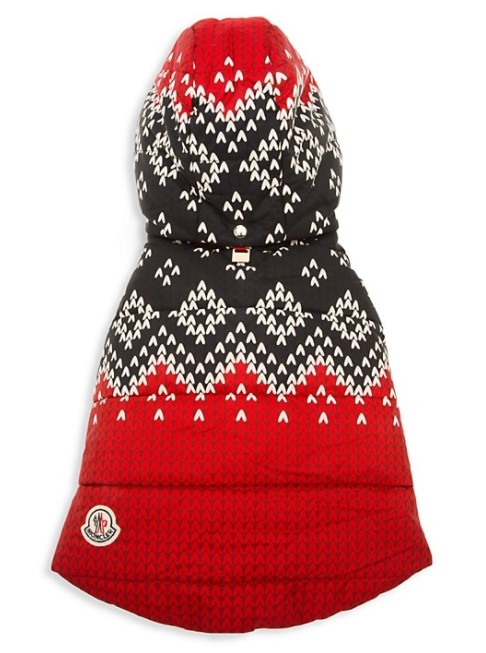 The Moncler Knit Dog Jacket comes woven into a rustic pattern. We can say that this dog jacket is lovely in every possible way.
ALSO READ Merry Christmas dog pajamas for a cozy holiday
The Knit Jacket is made out of nylon and it comes with an attached hood. This jacket is probably also the most expensive one on our list.
You can get the Moncler Knit Dog Jacket on SaksFifthAvenue, it costs a whopping 575 dollars!