Natural Dog Company Skin Soother
Taking care of our dogs is our duty. Just like they protect us, we need to protect them too. Protecting them doesn't always mean from a person or other animals. Sometimes protecting them means taking care of their skin and paws. There are so many soothing balms for your dog's skin, one of the best being the Natural Dog Company Skin Soother.
However, the Natural Dog Company Skin Soother, depending on the size you need, might be a bit expensive. But don't worry, you can in fact make your own all-natural dog balm.
Natural Dog Company Skin Soother – Make your own
The Natural Dog Company Skin Soother is a great, very effective balm. All of the positive reviews of dog owners prove that. So we would always suggest buying the original.
However, we do have a DIY recipe for a very good soothing balm. This balm is not only great for your dog's skin, but for yours too!
Let's first see what is in the original balm.
According to the Natural Dog Company, the ingredients they use are organic, plant-based, and never compromised. They use only the highest quality and natural healing properties Which is exactly what makes their products effective and safe.
Some of the ingredients they use to make their Skin Soother are:
Lavender
Chamomile
Frankincense
Sea Buckthorn Oil
Myrrh
All of these ingredients play a big role in calming and soothing irritated dog skin. For example, lavender has anti-inflammatory properties. It also helps reduce itching, swelling, & redness. Then the Sea Buckthorn Oil which is full of antioxidants, Vitamins C & E helps treat burns & wounds.
Besides the above-mentioned ingredients, the company also uses cocoa butter, sweet almond oil, coconut oil, safflower oil, candelilla wax, vetiver, niaouli, benzoin, Vitamin E for making their famous balm.
Making your own DIY balm
As you can see, the original balm from Natural Dog Company is definitely a great option with safe, natural ingredients. However, if you stil wish to make your own balm then here's the recipe.
Its a soothing skin balm with coconut oil, olive oil, and vitamin E made by Brendid.
This all-in-one balm is basically great for everything! It soothes scrapes, bug bites, irritations, dry hands, scratchy elbows, irritated feet, chapped lips, and cracked cuticles. It's basically great for any kind of skin irritation.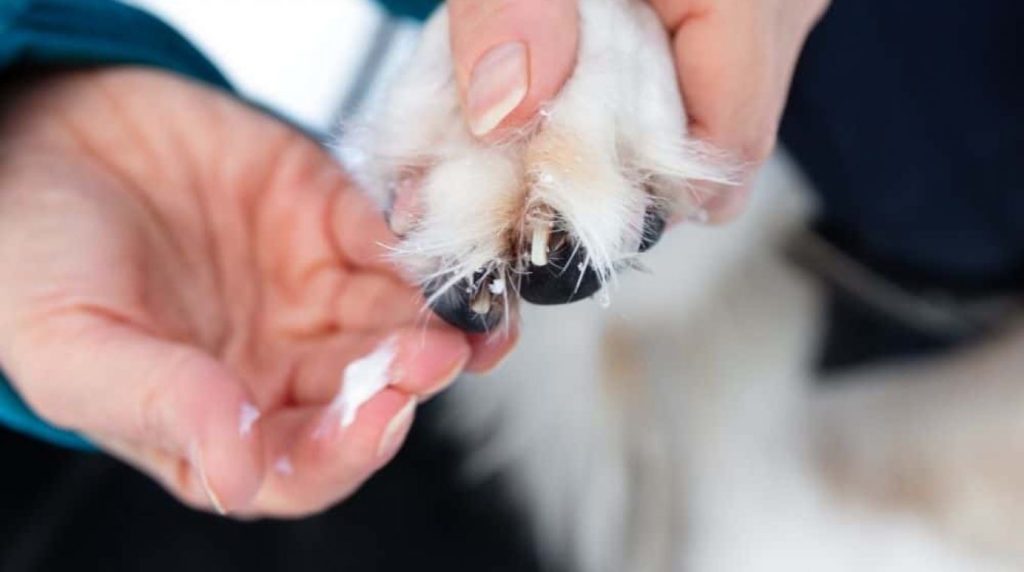 Besides this, it's super smooth and easy to rub into the skin.
Ingredients you will need:
1/4 cup white beeswax pastilles
1/3 cup virgin coconut oil
1/3 cup almond oil
1/2 Tbsp vitamin e oil
You can of course add chamomile or lavender oil into the balm too!
How to make the balm:
To make the all natural soothing balm first place beeswax and coconut oil in a glass jar.
To mix these two oils melt them on high power in the microwave for about 30 seconds. Stir the mixture and put it back into the microwave.
Heat the mixture up in 30-second increments and after each heating interval stir the mixture well.
If you don't have a microwave or you don't feel comfortable using one for this step you can also place the jar in a pan of hot water over low heat and allow to melt while stirring.
After about 2,5 to three minutes in the microwave the mixture should be completely melted. This is when you add your almond and vitamin E oil, then heat for 30 more seconds. You can also add other oils if you feel like it.
After this step, all you have to do is pour your balm into small jars and let it cool completely before using it.
Conclusion
To conclude, taking care of your dog and its skin is one of your duties as a pet parent. If you see your dog suffering in any form, you need to help them. Even if it's just little scratch.
There are so many great soothing dog balms you can purchase, however, if you don't feel like buying one you can always make one and help your dog feel better!
If you like DIY projects just as much as we do, then check out our page for more ideas. Some of the great health-related DIY ideas we shared with you in the past are:
We also have instructions for different practical DIY projects: