Off leash dog park
Your dog will be happy no matter to which park you take them. They love fenced-off parks where they can run freely. But just imagine how much they would love a completely off leash dog park?
A park where they can truly feel free and do what they want. They can play with other dogs, they can run around and explore. Doesn't that sound great?
In the US there are actually so many great and exceptional off-leash dog parks where you have to take your pooch!
We have put together a list of our three favorite parks where your dog can have the time of its life!
Off-leash dog park – Places you have to visit
Now, before we start with our list, we want to remind you that many accidents can happen at the dog park so the safety of your dog (and other dogs) should be your number one priority.
Having your dog up to date with their vaccines, making sure your dog knows the basic commands is crucial.
Also, be prepared for every situation. Always have with you a fully charged phone, a water bottle and bowl, collar with ID, poop bags, and an air horn in case you need to break up any dog fights.
Now, without further ado let's take a look at the best off leash dog parks in the USA.
1. Shaggy Pines Dog Park (Grand Rapids, Michigan)
The Shaggy Pines Dog Park is the best dog park in Michigan, and for a very good reason! This 15 acre park is located just minutes from Grand Rapids and is full of pine trees, rolling hills, and wide open fields where your dog can play with other dogs.
It's important to know that this park is membership-based, but it's definitely worth it. Before you can join and gain entrance to this off leash dog park, every dog actually has to pass a behavioral evaluation and be up-to-date on vaccinations!
The park is full of attractions, including a dedicated digging area called "doggy mountain," a one-mile jogging trail and a swimming pond with a deck, as well as a store and coffee and treat bar for us humans.
The best part is that this doggy park actually offers a dog shuttle service. This means that a staff member will pick up your dog, take them to the park and bring them home for you! How amazing is that?
Besides this, according to the park's official web site, the park also offers:
15 acres of completely fenced in grounds
One-mile jogging/hiking trail
Trails are lighted and plowed for evening and winter use
Two large 'dry' dog areas when you don't feel like dealing with 'muddy paws'
Plenty of benches and tables for relaxing
'Doggy Mountain' a large dedicated sand pile for climbing and digging
Large human-made dog swimming pond
'Sunset Deck' overlooking the pond complete with music and lounge chairs
Strategically located water stations
Dedicated, enclosed small dog area specifically for dogs under 30 pounds
Special events area for agility training, obedience classes and community events; birthday parties!
Self-serve dog wash tubs and drying areas
Doggy store
Coffee bar and lounge area
2. Thousand Acres Dog Park (Troutdale, Oregon)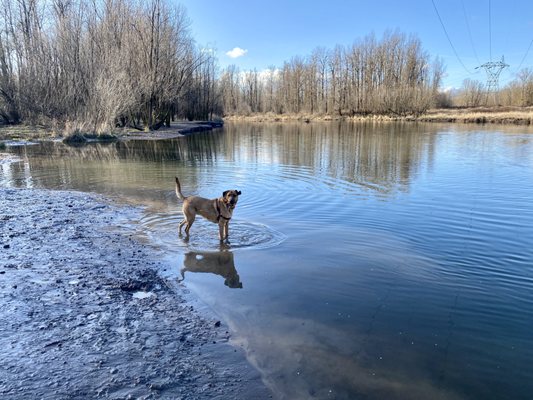 The Sandy River Delta Park, also known as Thousand Acres, because of its size, is a true paradise for dogs. It's an off-leash park that will definitely tire out even the most energetic dogs!
The park has 1,400 acres of open field, wetlands, blackberry bushes, countless trails, and two rivers where your dog can play fetch, splash around, and run free.
It features long wooded walking paths and water access for splashing and swimming. Besides this, the trails are open to mountain biking, birding and horseback riding. So, it's not only great for dogs who will get plenty of stimuli and socialization, but for you too!
3. Dog Wood Park (Jacksonville, Florida)
Dog Wood Park is a 25 acre privately own off-leash dog park. This dog park is great because your dog can truly wander and explore without any restrictions, and you can enjoy the beautiful nature.
The centerpiece of the park is a two-acre swimming lake that boasts its very own beach. It also has an agility section and a small dog area.
With so much play space it's inevitable that your dog gets covered in mud. But, don't worry about your car seats. The people at Dog Wood park have a free rinse station on site.
However, if you're feeling a but more fancy, there is a self-service warm bath option. Brushes, towels, shampoo and ear cleaner are all provided for a fee of $8-9.
For what it offers the Wood Park is actually pretty cheap. The fee is $11 for the first dog and $1.25 for each additional dog.
You can also get an annual membership for $275 per dog. Included in this price is the access to members-only events and training sessions.
Conclusion
These three amazing off leash dog parks are definitely our favorites, but there are so many more to explore.
Of course, for the majority of the best dog parks you will have to pay a entrance fee, but it's definitely worth it. Your dog, and you too, will have a great time.
It's a great way for your dog to explore a new place, and for you to enjoy nature, go on a hike, run or just relax while watching your dog enjoy itself.
If you're thinking "But, I haven't found an off leash dog park near me…". Don't worry, we've got you covered.
Here are some other great off-leash dog parks to check out:
Shawnee Mission Off-Leash Dog Area – Shawnee, Kansas
Thornberry Off-Leash Dog Park – Iowa City, Iowa
Point Isabel Regional Shoreline and Dog Park – Richmond, California
Zilker Park – Austin, Texas
Newtown Dream Dog Park – Johns Creek, Georgia
Madison Square Park Dog Run – New York City, New York
Quiet Waters Park – Annapolis, Maryland