Finding the right collar for your dog can be difficult. There are so many things that you need to take into consideration: their size, breed, personality and how comfortable there are while wearing that specific collar. If you are the proud and lucky owner of a pitbull you might find it especially hard to find the right dog collars, as they are such a unique breed.
However, we are here to help! Our team found the best pitbull dog collars that you can order on Amazon. They can be delivered to your door in a couple of days, and if they for any reasons don't meet your expectations — you can always return them!
Here are some of your favorites Amazon finds:
Adjustable Leather Spiked Studded Dog Collar
Your pitbull can be fashionable and cute while wearing one of these colorful spiked faux leather dog collars!
Our favorite is definitely the pink one, as it takes us back to those late middle school emo-punk phases we all went through. And why not let our dogs experience them as well.
Here's what the seller says:
"The spiked collar is made from good quality microfiber leather which soft and sturdy. And the studs prevent your dogs/cats from chewing collar or being attacked around the neck to some extent. Safety and comfort for your dog are ensured.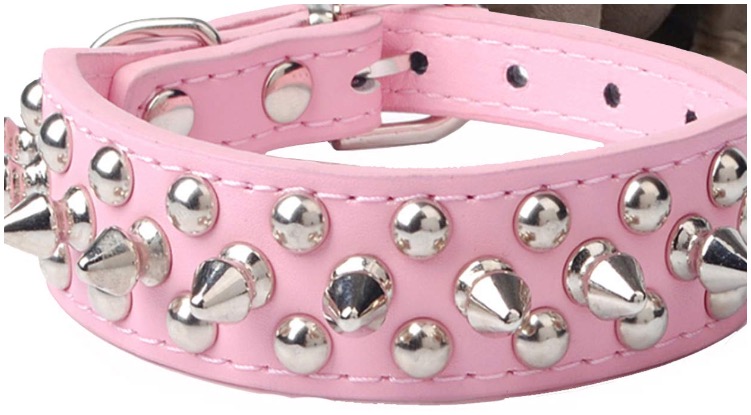 To some extent, Your dogs could not destroy the collar or be being bitted around the neck because of the spikes. And you have no need to deal with their punctures and neck abscesses from rough animal fights. Gives them an added protection for their neck during cat/dog war play time!"
And that's not all, you will also get a free small squeaking ball with every purchase. Can it get any better?
Dogs Kingdom Leather Black Spiked Studded Dog Collar
If your dog is a complete badass but still has a lot of class, then this is the collar for him! We have some spikes here too, but in an elegant gold colored look. That will not only look expensive, but absolutely fierce as well.
You can choose between two colors of the faux leather, while the spikes are golden on both of them. Out absolute favorite definitely is the black one, as it's not only a statement piece, but also an eye catcher while not being all in your face.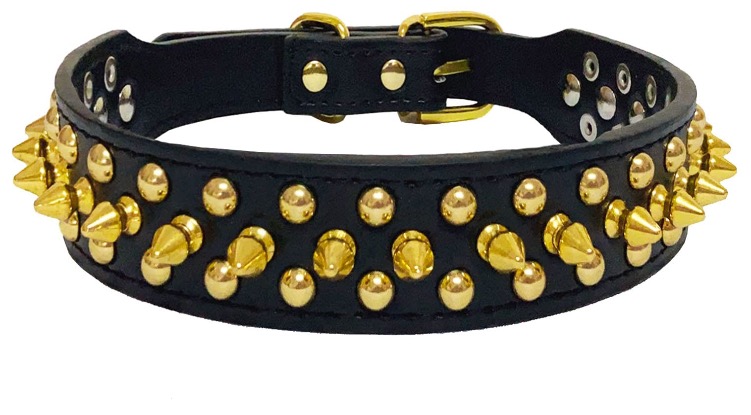 The description says:
"Durable studded dog collar is made of good quality PU microfiber leather and gold spikes. Your pet will love his new necklace and parad around showing it off. He will be a big hit! Awesome collar!! and makes your puppy look like a little badass! Absolutely, you will get lots of compliments on it.
The spikes are not overly sharp, so it doesn't hurt your pet's skin, and the studs could prevent your animal destroying the collar. It's great for small to medium dogs, if they're playing with larger/huge dogs. Keeps them safe from both intentional and/or unintentional damage."
Dog Collar for Large Dogs, Heavy Duty Nylon, Stainless Steel Hardware
If you are all about simplicity, you might fall for this one. No spikes, no unnecessary additions — just a simple and clean look!
The materials are of good quality and you can totally rely on the fact that this pitbull dog collar will be durable even for the most hyperactive dogs.
The colors are simple, with a mix of black and red in addition to silver hardware. A great everyday dog collar that your pitbull will enjoy wearing.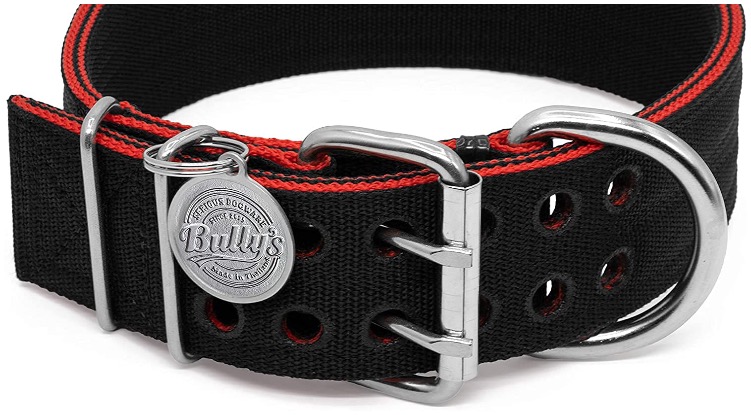 Here's what the seller says:
-Heavy Duty Nylon Dog Collar with super durable construction is extremely tough
-Tactical Grade Materials are light weight and comfortable, perfect for training
-Stainless Steel hardware will not rust or tarnish
-Washable, Adjustable, and Extra Wide for added comfort