dog shoes for summer
With the arrival of summer, high temperatures come, but also trips to the beach. We know that the best time in the summer is on the beach, but we are sure that our dogs think the same. However, although their paws are good thermal insulators and it is not a problem for them to walk for a long time, we need to protect dogs from possible problems. The solution for hot days are dog shoes for summer.
If you think that buying dog shoes is a waste of money, you are wrong. It is known that in summer many make parties on the beach and leave a lot of broken glass. Your dog's paws are not resistant to glass so a dog can very easily injure itself. Then, hot ground can damage your dog's paws. Or, simply the discomfort of walking on hot ground makes the dog uncomfortable. Dog shoes for summer can help you avoid all possible problems and enjoy the summer with your furry friend.
Features to look for in dog shoes
Firstly, shoes needs to be rugged. This protects dogs' paws from sharp objects, heat, but also mud and rubble. Secondly, if your dog is not very happy when wearing shoes you need to find ones which you can put on easily and also take off. It would be nice to find yellow, pink or green shoes or shoes any other color with reflective strips. This way you can keep track of where your dog is going during the night. If you are more of a guy who loves hiking and mountaineering during the summer, this type of footwear is a great choice for that as well. Just make sure they are breathable because dogs need comfort too.
Dog shoes for summer
1. HiPaw Summer Dog Boots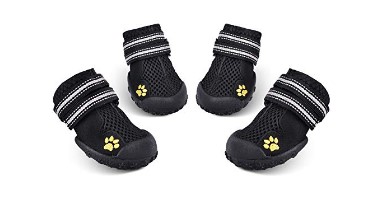 These dog shoes are the best value for money. There are two types: summer and winter. Summers are airy, light, and comfortable, and winters are thicker and warmer. The sole of these shoes is non-slip so your dog can safely climb rocks. If your dog has skinny paws, there is a possibility of squeezing the shoes so that they will not fall off. The manufacturers thought of the smallest details, so they placed rubber on the front to protect the nails. If you have a small dog these shoes are not a choice for you. They are intended for medium and large dogs, the smallest number is 4 and the largest is 8.
2. Ultra Paws Durable Dog Boots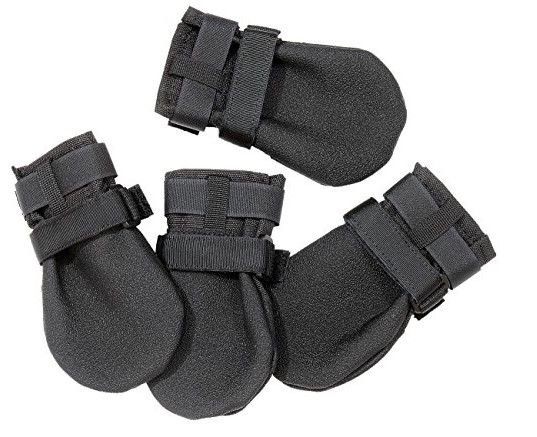 These shoes come in several sizes and suit all types of dogs and you can choose between black and red. Their great benefit is that they you can wash them in the machine so that after each adventure the dog has clean shoes. They are made of super-strong nylon and are resistant to sharp objects. They are waterproof and work in all conditions, no matter if it's wet or dry, hot or cold.
3. RuffWear Grip Trex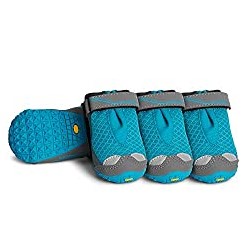 These dog shoes are the most durable shoes you can find. They are primarily made for hiking rough terrain, but can also serve as heat protection. They are made of mesh material that provides breathability. The inside is rubber, so you need dog socks to wrap it. Their only drawback is the price. These shoes are the most expensive in their range but the quality justifies it.
4. PawZ Dog Boots Rubber Dog Booties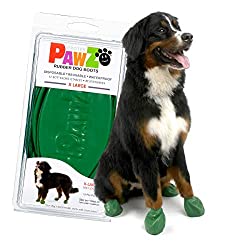 These shoes, as you can see, are different from the others. All other shoes are made of traditional materials, and these are made of rubber. You can find them in 7 different sizes and in different colors. They are waterproof and heatproof, and thanks to the rubber they do not fall and do not slip. Their price is very acceptable, but that is why they do not last long. Their longevity is not even close to other shoes. Also, because of the rubber it is a little harder to put them on.
5. Walkee Paws Waterproof Dog Leggings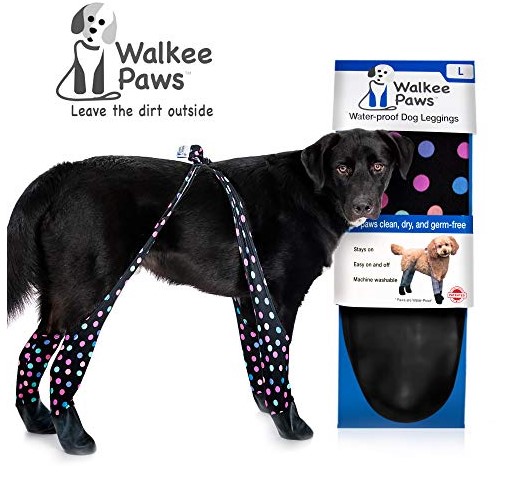 We know, they look a little weird. However they do a really good job. Your dog's paws after wearing these will be dry and clean no matter the conditions. They allow the dog much more freedom than other shoes. The material of these shoes is long-lasting and can be machine washed. The dog will not be able to lose the shoe because they are all connected and it is impossible for them to fall off.