I'm not going to lie, I am a terrible chef when to comes to human food. However, dog treats are a completely different story! While my cooking might make my friends run for the hills, my dog would tell you that I make the best, most delicious treats!
And because I love making treats for my baby, I decided to share with you my favorite easy dog treat recipes. The best part is they all require only 5 ingredients or even less!
Fancy chicken treats
This treat recipe does require 5 ingredients, and it might take you more than half an hour to make. But the look on your puppy's face will make it all worthwhile I promise!
Ingredients:
1 cup cooked, finely diced chicken
1/2 cup rice, cooked & mashed
3 tablespoons rice flour
1 tablespoon parsley
1 egg
Any silicone mold
Instructions:
Preheat oven to 350F. Then mix together all ingredients and stir well. Spoon the mixture into your silicone molds and bake for 20 – 30 minutes, until tops are golden brown. Allow to cool, remove from molds and let your pup enjoy these delicious treats!
Frozen apple dog treats
This one is super easy and doesn't even involve any cooking, but it is great for a hot day!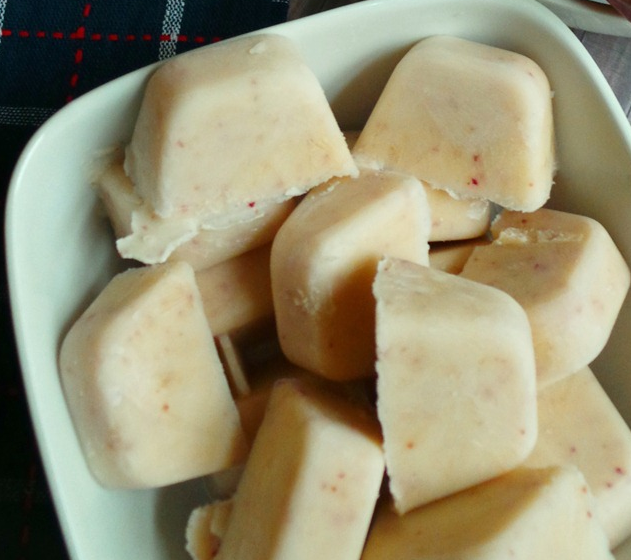 Ingredients:
2 Apples
1 Cup Greek Nonfat Plain Yogurt
Water
Instructions:
Slice 2 apples into small pieces but remove the seeds and the core. Mix the apple slices, yogurt, and a splash of water in a blender and blend until you get a liquid consistency.
Pour the mixture into an ice cube tray and freeze for a few hours or until hard.
Extra tip: You can put the treats into an airtight container and store them in the freezer.
Diabetic dog treat recipe
Unfortunately, a lot of dogs are diabetic. But don't worry, there are amazing treat recipes for diabetic dogs as well! The one I have for you today is super easy to prepare takes only 15 minutes to cook.
Ingredients:
½ cup whole wheat flour
2 eggs
1 ½ pounds beef liver, cut into pieces
Instreuctions:
Preheat your oven to 350 degrees and line a 10×15 inch jellyroll pan with parchment paper.
Place the liver into a food processor. Pulse until finely chopped. Put it into a bowl, and stir in the flour and eggs using a wooden spoon. Spread evenly in the prepared pan.
Bake for 15 minutes in the preheated oven, or until the center is firm. Cool, and cut into squares or fun shapes with a cookie cutter. The treats will have a consistency similar to a sponge. The treats can be stored in an airtight container in the refrigerator.