We all know the catchy tagline "Taste the rainbow" and to which candy it belongs. Skittles of course! This colorful candy is probably the most popular non-chocolate candy in the US. But many dog owners wonder can dogs eat Skittles?
Skittles are so tiny, a few pieces won't harm your dog, right? If that's what you're thinking too, then you couldn't be more wrong!
Sorry to break it to you, but Skittles should in fact, just like many other candies and human snacks, not be given to dogs.
In this article we're going to take a look at the ingredients of Skittles and why this candy isn't good for dogs.
Besides this, if you'd like to learn if other favorite human snacks are safe for dogs you can check out our other articles on the topic of food:
Can dogs eat jelly? Here's your answer
Can dogs eat caramel? Is it safe?
Can dogs eat Doritos? Here's the truth
Can Dogs Eat Spam? This Is What You Need To Know
Can dogs eat Skittles – What you should know
To understand why Skittles aren't good for dogs we first need to take a look at the ingredient list. What are Skittles basically made of? We're taking the Original Skittles as an example.
Ingredients:
Sugar, Corn Syrup, Hydrogenated Palm Kernel Oil, Less Than 2% Of: Citric Acid, Tapioca Dextrin, Modified Corn Starch, Natural And Artificial Flavors, Colors (Titanium Dioxide, Red 40 Lake, Yellow 5 Lake, Yellow 6 Lake, Blue 2 Lake, Blue 1, Blue 1 Lake, Yellow 5, Yellow 6, Red 40), Sodium Citrate, Carnauba Wax.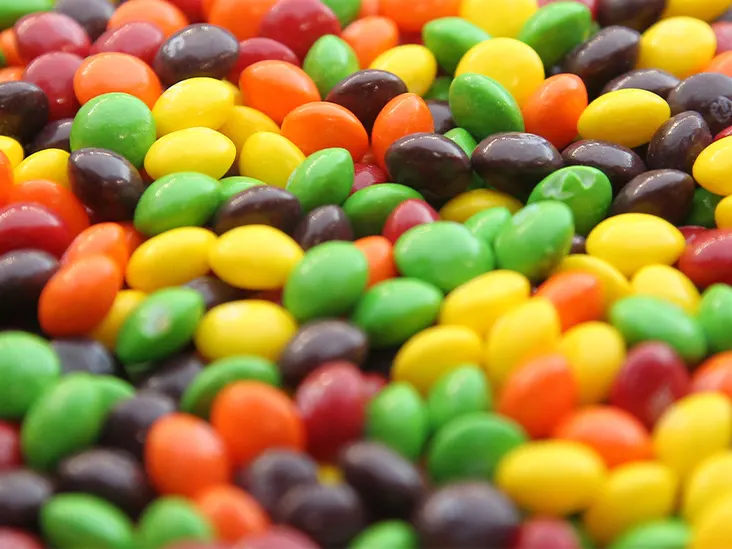 What is it that you notice? A lot of sugar, chemicals, dyes, and so on. Basically, nothing that could in any way benefit your dog.
ALSO READ Dog spay incision lump: What it is and what to do
Besides this there are many known allergens on the ingredient list such as corn, wheat, dyes. It's proven that all of these can actually cause abdominal pain, itching, skin infections, and hair loss.
Now, of course, there are also no ingredients that can be toxic for your dog. However, Skittles do contain large quantities of processed sugars and food colors. Both of which can be hazardous to dogs (and humans too!).
Why sugar is bad
Sugar is the first, ingredient on the ingredient list of Skittles. As you might already know, sugar is definitely not good for dogs to consume in large amounts. There are so many health problems dogs can suffer from only because they are sugar during their life. The biggest issues are dental problems, weight problems, and developing diabetes.
There are of course short-term health problems related to sugar intake too. If your dog eats too much sugar he or she could potentially suffer from:
ALSO READ My Dog Ate 10 Mg Melatonin! What To Do?
Increased blood sugar
Vomiting
Diarrhea
Loss of appetite
In these cases please immediately contact your veterinarian for further instructions.
Conclusion
In conclusion, to answer the question can dogs eat Skittles. Yes, they can, but the better question is should dogs eat skittles.
Generally peaking there is no toxic ingredient in Skittles that might harm your dog. However, Skittles are also full of sugar. Which isn't toxic, but it's not good for your dog either.
There is absolutely no need for your dog to eat Skittles. They have no health or nutritional benefits, this candy could only harm your dog's health in the long run.
There are so many health issues like tooth decay or diabetes that can develop because of long-term sugar consumption.
You can check out our articles on other safe and unsafe foods for dogs: