The brand Carhartt has many items for dogs in their assortment, but everything they're selling is also super expensive (a rope toy for over 20 dollars?). But, that must mean their items are high-quality, or? On their website, you can find a Carhartt dog jacket for around 45 dollars, which isn't cheap. So, we could assume it's good quality, right?
Now, in a perfect world that would probably be true. Expensive things would mean quality. But, in the world, we live in that's not the case sadly. There are so many overpriced items that aren't worth one-third of the price.
We got a bit philosophical, but what we want to say is that price doesn't mean quality anymore. You could find a dog coat on Amazon for 15 dollars that's better quality than a 50 dollar coat. But what about the Carhartt dog jacket? Are they worth the money?
In this article, we'll take a look at all the reviews of the Carhartt dog jackets to find out if they are really worth the money.
Carhartt dog jacket – Reviews
Before we get into the reviews, let's talk a bit about dog coats and if your furry friend really needs one. Every dog has a coat and with it natural protection against the cold. This is why some people are against putting on coats on dogs. But, not all dogs are dressed in a raincoat or winter coat just for fun and fashion.
Generally speaking, healthy dogs don't need a coat for walks outside. But, for old or sick animals, and breeds with short fur and no undercoat, a dog coat can be useful. With those dogs, a coat makes sense because their fur alone can't keep them warm.
But, before you buy a dog coat, you should make sure that it's made out of light, skin-friendly, and breathable material. You also want your dog's coat to be water-repellent. So, obviously, your handmade wool coat or a simple cotton coat are not water-repellent and don't really make much sense.
Also, your dog's coat should fit well and shouldn't constrict any part of the body or rub the skin. But it shouldn't sit too loosely either, because then it won't keep your dog warm enough or your dog will get stuck on bushes.
Description of the coat
The Carharttdog chore coat is made with firm-hand duck canvas and a water-repellent coating, which protects your pup in wet, windy weather. The quilted liner adds warmth, while improved tabs at the neck and chest make it simple to take on and off.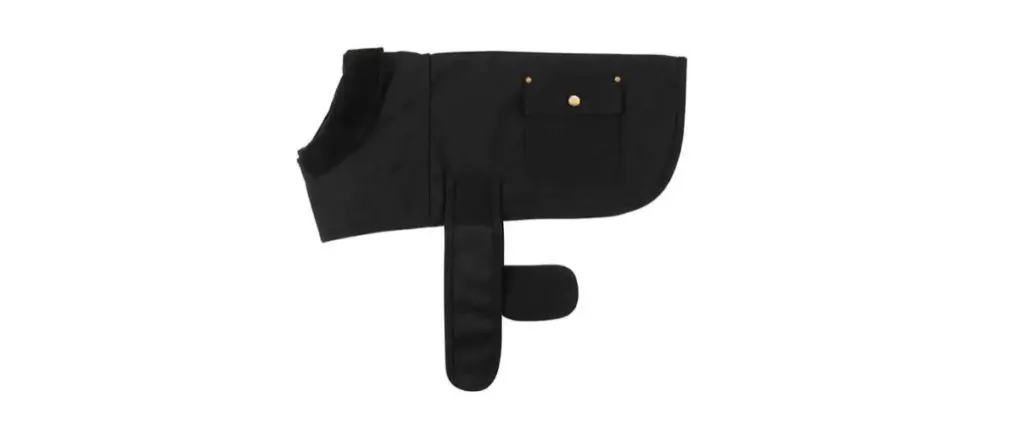 Some of its features include:
12-ounce, firm-hand, 100% ringspun cotton duck with water-repellent coating
Quilted nylon lining for warmth and easy on and off
Corduroy-trimmed collar tucks into coat
Two rivet-reinforced pockets; Carhartt label sewn on pocket
Fully-adjustable hook-and loop neck and chest tabs
Sizes: S-XL
Colors: dark brown, army green, orange and black
Also, this coat has velcro closures at the neck and chest, as well as two functional pockets for treats, bags, and other walking supplies. According to many reviews, this coat is true to size, but you should still measure your dog well before ordering. Depending on the size it costs between 40 and 45 dollars.
Carhartt reviews
On Carhartt's website, the reviews are mostly positive with an overall rating of 4.7 out of 5 stars. Which isn't shabby at all. But let's see what the reviews say.
The first issue many people had with this coat is that it wasn't long enough, not even the biggest size.
The first person said:
"This is an attractive, high quality, heavy coat that is easy to put on and take off with two wide strips of velcro. The only thing I wish is that it was longer, from neck to butt because when Tyson, who is 127 pounds, is standing it comes to his waist and so his lower back still is exposed to cold and rain. I got the largest size."
Another person had a similar experience.
"Good coat, but I do wish it was an inch or two longer cover more of the back and butt. Shields against wind but wish is was a little more padded/insulated for cold weather."
And the third person said:
"It's too short for the XL size! It's a good match every where but the length on the back- would love it to be 40+inches."
So if you have a longer dog, then this coat might not be for them.
The second issue many people had with this coat is that it was firm, uncomfortable and not suited for walks.
"This coat is very stiff. My dog refused to walk with it on. Also, and this is a huge oversight, there is no opening to hook the leash on a harness. Most coats have a slit where you can attach the leash to a harness worn under the coat. I'm returning it."
Another person had almost the same issue:
"I have a German short hair pointer and this coat does not fit. The legnth is right, but since she's got a deep chest the lower chest strap is just awkward. The back of the coat bounces up and flips up all the time. She can be walking around smelling things or going potty and it'll flip up. Also it has no belly or chest protection so if she lays down on the concrete or snow..purpose defeated. Three stars because the coat is super nice itself, seems like I'd be very nice for a short hair in the cold Idaho winters if it would stay put."
The third bad review said:
"This "coat" is not a winner. It's stiff has too much Velcro. Velcro snags the inside nylon lining. The pocket is virtually unusable due to the stiffness of the material. Not even a cute coat..although I was going for warm and dry Will be returning."
And lastly, we have a very dissapointed buyer:
"The blanket is very short on the sides, so it doesn't cover much of the rib area. No opening for harness either. I will be returning this – it was long enough but didn't begin to cover the sides of the dog and therefore would not offer enough warmth."
Positive reviews
Now we don't want you to think that the Carhartt dog jacket is a total fail (nor do we want to get sued by the company, but we also want you to know what some people found bothering.
There are of course many positive reviews.
I" have looked for way too long trying to find one that will fit my very large Danes. We went as far as looking into horse blankets, which were too big and wanted them somewhat warm when going outside in Wyoming weather. These are perfect, the boys love them!"
"Deer Hunting season is in a couple of weeks here in Minnesota. Don't want Waylon to get shot in the woods. He's all set. I have a matching orange jacket. I don't wanna get shot either. His vest does not interfere with potty time! Waylon is 50 pounds – Large fits him perfectly."
"This is a really nice jacket and seems to provide some warmth for our coonhound on chilly walks."