Corgis are the favorite breed of Queen Elizabeth. And honestly, it's not hard to see why. These dogs are cheerful, full of life and funny. But if this royal dog breed isn't exactly what you are looking for, maybe you should consider a cross between a Cowboy Corgi and another breed. Why not get the best of both worlds? A Corgi mix could make all of your dog dreams come true.
And trust us — there is a crossbreed for every lifestyle. You just have to make the most realistic choice. But good news is that every one of them is devoted to its owner, endlessly loving and a great companion.
Crossbreeds may not be recognized by the American Kennel Club (AKC) but that shouldn't worry dog owners who aren't interested in taking part in dog shows. There are plenty of other Kennel Clubs specifically created for designer dogs.
So let's dive into the most popular Corgi mix dog breeds, shall we?
Chihuahua Corgi Mix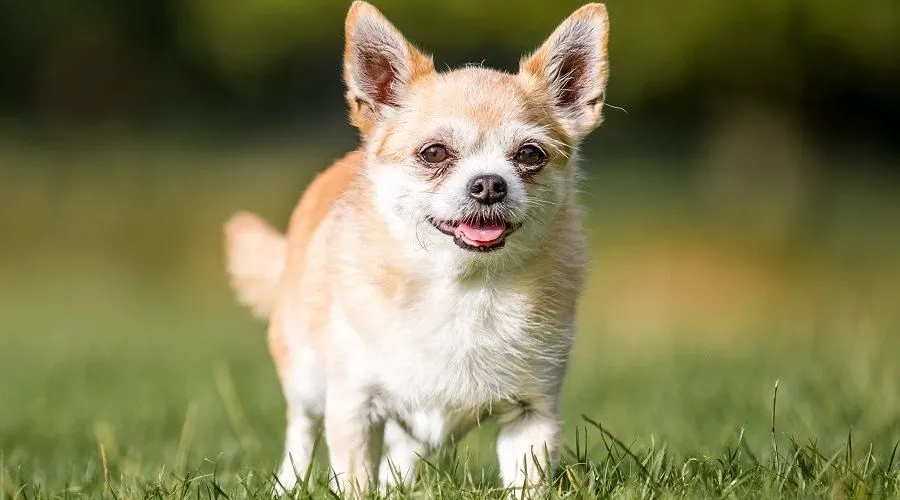 Like their name suggests this is a mix between the Chihuahua and Welsh Corgi. So, the Chihuahua Corgi Mix puppies look like a combination of both parent breeds. This crossbreed weighs between ten to 20 pounds. Their height ranges from seven to twelve inches at the shoulder.
These dogs have a medium or long double coat which consists of two layers.
These dogs require moderate to average grooming. Their shedding is moderate, depending on the inherited maternal and paternal genes.
The Chihuahua Corgi mix is ​​well-behaved and very social. They are friendly and outgoing and love everyone. Besides that, they fit right into any family, big or small, and make great family companions. Intense loyalty to its family is like second nature to these pups.
The Corgi Chihuahua mix is an intelligent dog. This characteristic is an advantage for owners who want to train their dogs. This means, the Chihuahua Corgis want to learn and they want to please you. So, the combination of these traits makes training them easier compared to other dog breeds. But, the one tip we have for you is to have treats on hand, food will motivate them even more!
The Corgi Chihuahua Mix has a life expectancy of 12 to 14 years. Crossbreeds are usually healthier than their parent breed. The most common health problems the Chihuahua Corgi mix are: Allergies, hip and elbow dysplasia, skin problems, patellar luxation, tracheal collapse, eye diseases.
In conclusion, the Corgi Chihuahua mix is a great dog. First, they don't need a lot of space. Secondly, they are great with everyone.
Corgi Husky Cross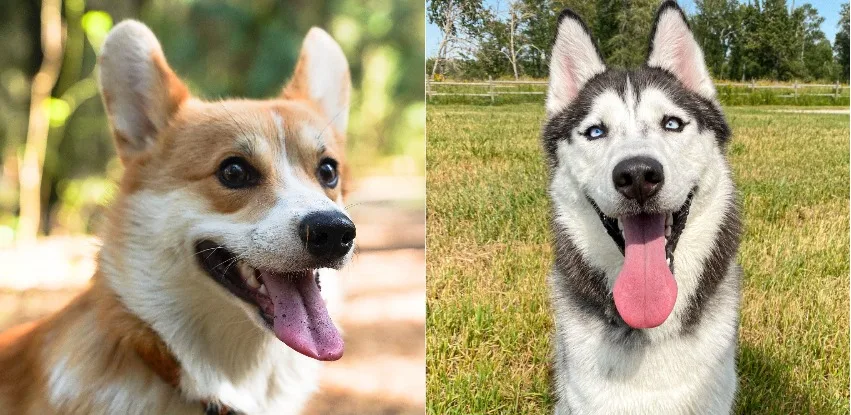 A Corgi Husky mix is a cross between the Siberian Husky and the Welsh Corgi. The mix is also called Horgi. The Horgi is a small dog. They are between 13 and 15 inches tall and weigh between 20 and 50 pounds.
Now, it isn't easy to say how they will look like. The Horgi is a designer dog. So we can't know for sure how they'll end up looking. They can look like a mix of both parent breeds. Or they can look more like one parent breed or the other.
For example, they can be red, sable, fawn, or tan, like their Corgi parent. Or they can be grey, black, or agouti like their Siberian Husky parent.
What is sure is that they will have a thick coat that is medium or long. The Corgi has a very thick coat. The Husky has a double coat. Both breeds shed a lot. So you can expect the Horgi to shed a lot too.
The cross of these two breeds is a loyal and smart dog. They are sweet and loving, but they don't make good guard dogs. They are just too nice!
But, they do love to bark. So you will have to work on that from early on. Also, work on socializing them. Let them meet as many people and animals as possible. It will help them grow into calm and collected dogs.
Because they are so loyal they hate being left alone. They might even end up chewing on your furniture or shoes if you leave them alone for too long.
Both the Husky and Corgi tend to put on weight easily. So you will have to be careful how much you feed your Horgi.
German Shepherd Corgi Mix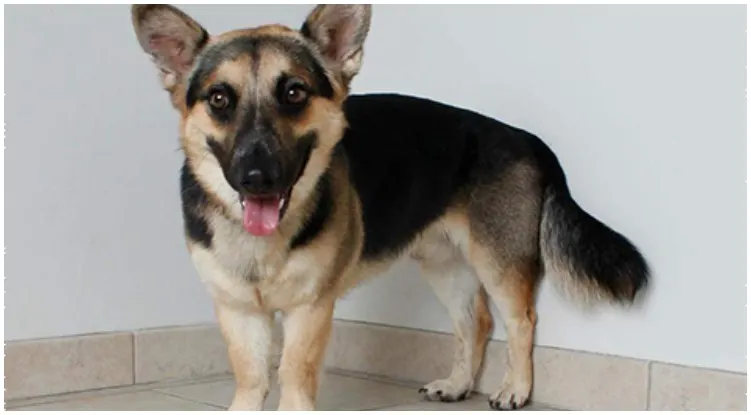 Corman Shepherds go by several names, including the German Corgi and the Corgi German Shepherd. Despite their unfortunate status as a designer breed, you may find these adorable dogs in shelters and rescues.
These pups are really excellent family pets, though they can also manage in smaller spaces like condos and apartments because of their size, provided that the owner is an incredibly active person. They have a tendency to guard and be stubborn, so the Corman Shepherd may sometimes get aggressive towards strangers.
Since the German Shepherd Corgi mix is a relatively new designer breed, there are few standards when it comes to size. Most weigh in anywhere between 20 to 70 pounds and range in height from twelve to 15 inches at the shoulder. However, many can be smaller or larger.
Many Corman Shepherd enthusiasts describe their mixed breed dog as a spunky, goofy, loving pup who has a lot of energy to burn. Previously said, led us to the fact that a Corman owner has to be an active person who is ready to spend a lot of time with his pup.
The Corman Shepherd breed is predisposed to some of the same conditions that the Corgi and German Shepherd also have. While most are generally healthy, some may be prone to a few health issues. Most common ones are obesity, hip dysplasia, cataracts, back problems.
Just like with any dog breed, your chances of getting a healthy dog are higher when buying from a certified breeder.
Dachshund Corgi Cross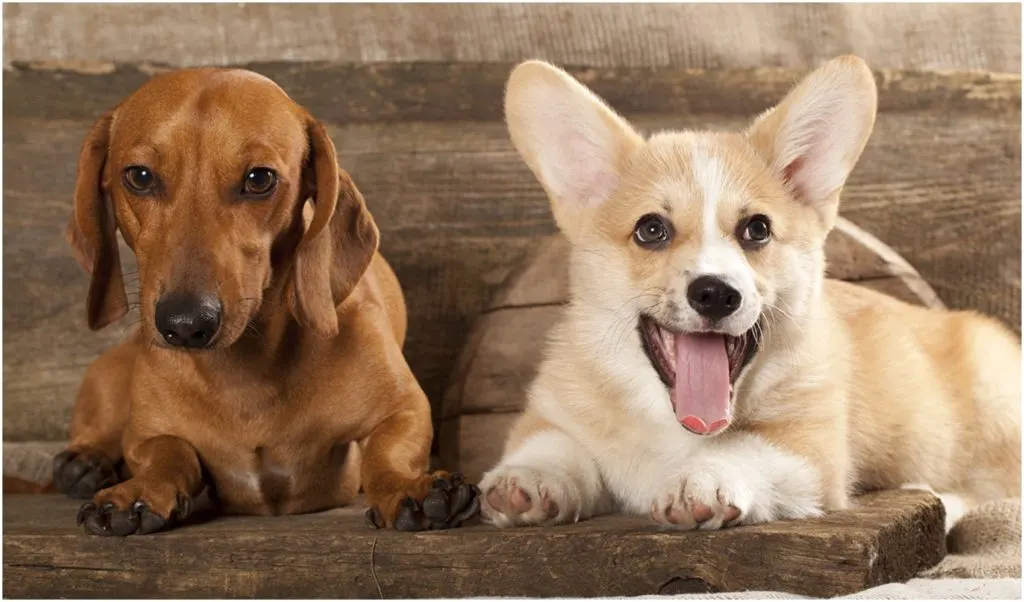 Loving, loyal and intelligent, the Corgi Dachshund mix loves nothing more than being with his family. But on the downside, they can be quite possessive. That's why it's important to socialize them from an early age.
Since he comes from two hunting breeds, he is always looking for something to pursue. That's why you have to be careful when he's off the leash.
Both the dachshund and the Welsh corgi are known to be loud dogs, so this mixture is probably the same. Dachshunds were bred to bark underground so that their masters know where they are.
When it comes to their size, Dachshunds and Corgis are pretty similar.
The Corgi and Dachshund are actually of a pretty similar size. Their crossbreed will be somewhere between 9 to 11 inches tall, and weighs between 20 to 30 pounds.
With an expected lifespan of 12 to 15 years, the parent breeds of this mixture are generally healthy.
They are prone to back problems and obesity. So be careful when it comes to their diet, because they can't do excessive exercise.
Golden Retriever Corgi Mix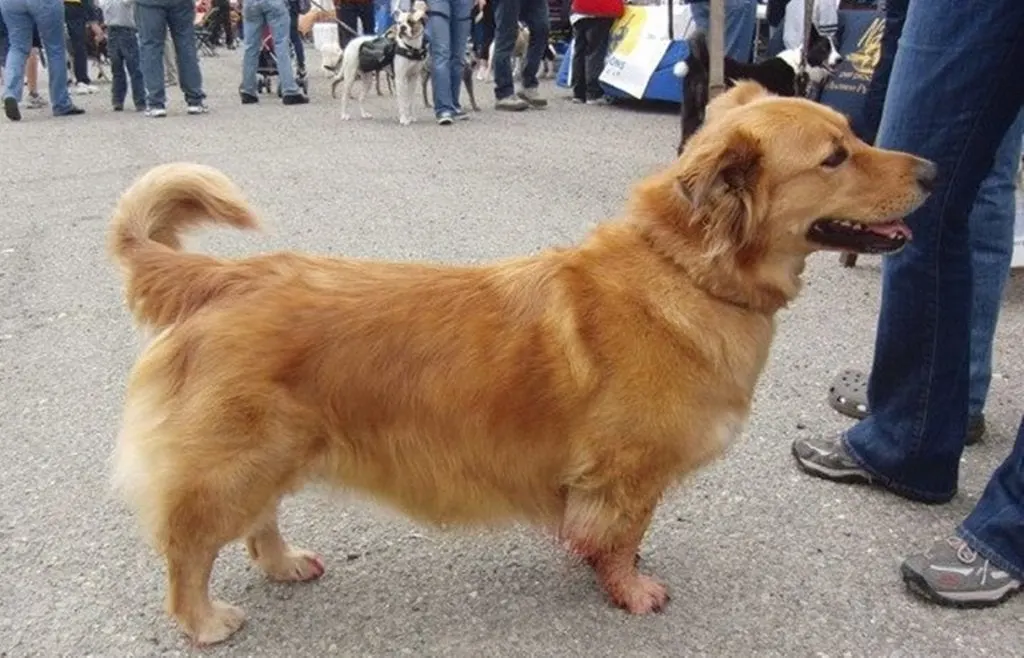 Golden Corgis are a mix of the Golden Retriever and Corgi. These two breeds are both friendly, so they are great for families with children. Also, their advantage is size, because Golden Corgi is usually a medium-sized dog.
Golden Corgi's coat comes in several colors. The main coat colors include brown, black, golden, tan, red fawn. Their coat is medium length. Golden Corgis stand from 10 to 18 inches tall at the shoulders and weigh between 30 and 75 pounds.
Since Golden Corgis have long double coats, they will need weekly brushing and regular bathing to keep their coat healthy.
Golden Corgies are active during their puppy years, but when they get older they usually just want to cuddle with you. They can live in a flat because they do not need a lot of activity.
Golden Corgis are high-energy dogs. Therefore, they need plenty of exercises and physical activity to stay healthy and happy. Generally, Golden Corgie will need at least a one-hour-long walk and few active play sessions per day.
Since Golden Corgis are a mix of two highly intelligent dog breeds, Golden Retriever and Corgi, they are extremely intelligent dogs. Therefore, with little patience and persistence, you will easily train your Golden Corgi.
Expect to pay around $1000 for a Golden Corgi puppy.
For more info read our full article about the Golden Corgi.
Corgi Poodle Cross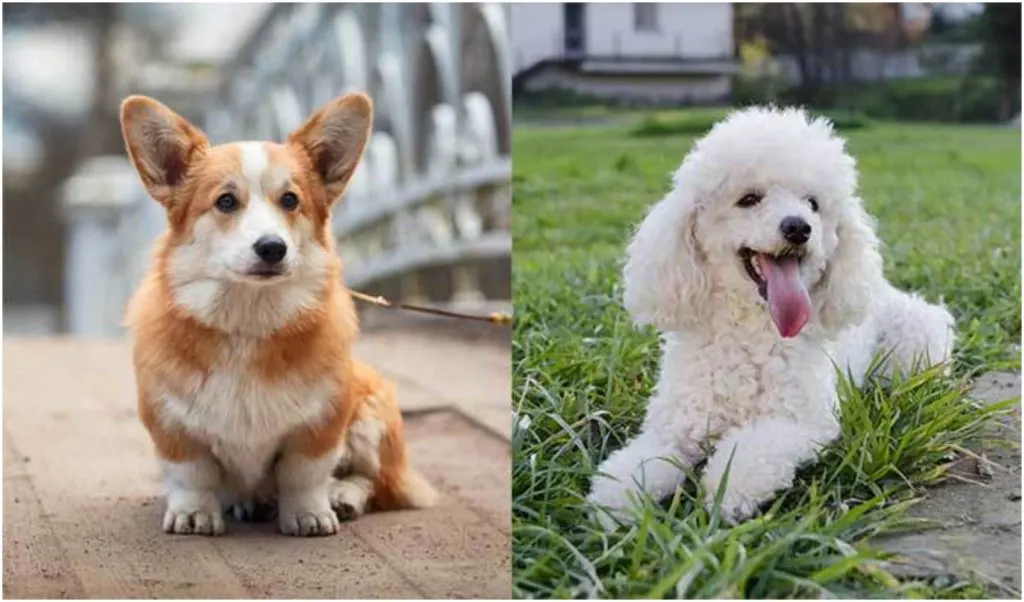 The Corgipoo is a mixture of a Pembroke-Welsh Corgi and a Miniature poodle, hence the cute name! With very short, strong legs and an incredible amount of energy, the Corgi Poodle mix is not for people who like to take things slow.
The Corgi poodle cross is a relatively new mixed breed. That's why it's so hard to predict how they will look and act like.
Corgipoo puppies could be more similar to either one of their parent breeds. So that's why it's so important to know both breeds: The Corgi and The Poodle. By taking a look at the parent breeds you can have an rough idea on how your pup will look like.
The Pembroke Welsh Corgi is a lovely, loving and lively dog. They make fantastic family dogs, and love their family. On the other side of the cross, the poodle stands high and elegant.
They are very active themselves and make them very intelligent companions with a very proud appearance. Since both dogs have similar facets in their temperament, you can be sure that the Corgipoo is a very sociable, smart and active dog.
The Corgipoo can inherit health problems that prevail in both parent breeds. Therefore, it is important to know what genetic problems both the corgi and the poodle suffer from.
Degenerative myelopathy in dogs is a problem that can affect the corgi, a disease of the spinal cord that causes paralysis.
Corgi's are also at risk from blood diseases such as Von Willebrand disease. One problem that can affect both the corgi and the poodle is progressive retinal atrophy. Another genetic disorder that can affect both dogs is hip joint dysplasia.
Corgi Labrador Mix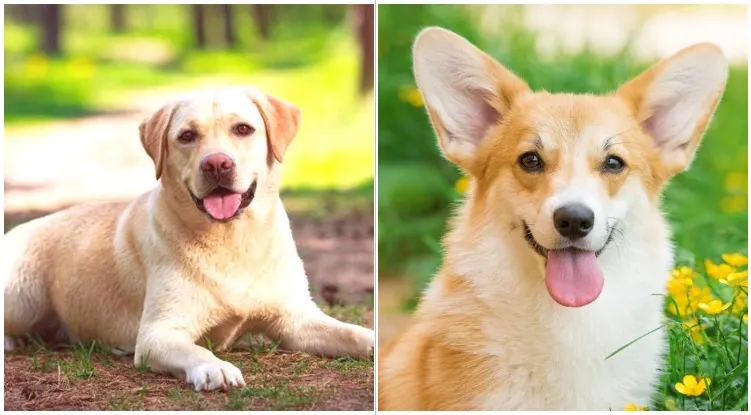 The Corgi Lab mix is also known as the Corgidor. Like you can probably already guess, this is a crossbreed between the Corgi and Labrador Retriever. In most cases, this is a medium-sized, even tempered, enthusiastic and friendly dog. They inherit some of the best traits from each parent breed.
In most cases, the Corgi Lab mix look similar to a Labrador with the short legs of a Corgi. Despite their unfortunate status as a designer breed, you may find these dogs in shelters and rescues.
When it comes to Labrador retrievers the males are between 22.5 and 24.5 inches tall, and weigh between 65 and 80 pounds. Corgis are between 10 and 12 inches tall and weigh between 22 to 31 pounds. The Corgi Lab mix is believed to me somewhere between these measurements.
They are friendly and enthusiastic dogs, but can be restless too. Make sure you give them a lot of attention and exercise, to tire them out. That way they won't fall into their destructive behaviors.
Corgis are very prone to developing hip dysplasia, degenerative myelopathy and progressive retinal atrophy. All of these conditions can be prevented with regular exercise and a healthy diet.
Labrador dogs can suffer from various hereditary eye disorders, and hip and elbow dysplasia (joint conditions that can be painful and lead to mobility problems). Eye testing and hip scoring of dogs prior to breeding is therefore important.
The Corgi Lab mix will be less prone to those health conditions than his parents, however, they are still possible. Most of them will still live a long and healthy life with a life expectancy of 12-14 years.
Corgi Beagle Cross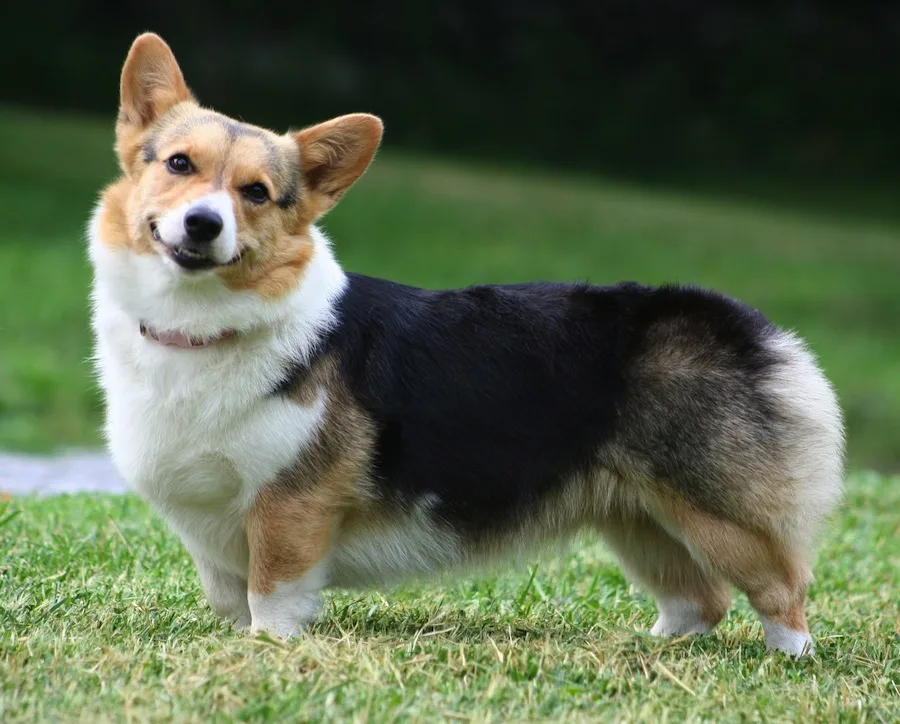 A Corgi Beagle mix will have a short, low build and long floppy ears. They will have a corgi-type coat with colors similar to both parents. But, they might have more white up on the neck or legs.
Beagis are between 10 and 16 inches tall and weigh around 10 to 20 pounds.
Beagis are great with children, so they can be a family dog. They love attention, like their Corgi parents. So living with children who will shower them with attention is a dream come true for them.
They are also very loyal, so they will do anything to make you happy and show you how much they love you.
The Corgi Beagle mix is great for athletic families too. Because they have a lot of energy, they'll be able to go on runs and hikes with you.
ALSO READ: What is the difference between a Corgi and a Cowboy Corgi?
One issue you might have with them is their sassiness. Both the Corgi parent and the Beagle parent are a bit stubborn and bossy. So there is a very big chance your Beagi puppy will be too.
The lifespan of a Corgi Beagle mix is around 12 to 15 years. And, they are fairly healthy dogs. Of course, it is possible to inherit some health problems from their parent breeds.
Corgis are very prone to developing hip dysplasia, degenerative myelopathy, and progressive retinal atrophy. All of these conditions can be prevented with regular exercise and a healthy diet.
The most common health issues in Beagles are hypothyroidism, hip dysplasia, glaucoma, and epilepsy.
The Corgi Beagle mix puppy costs between $200 to $600.
Corgi Pomeranian Mix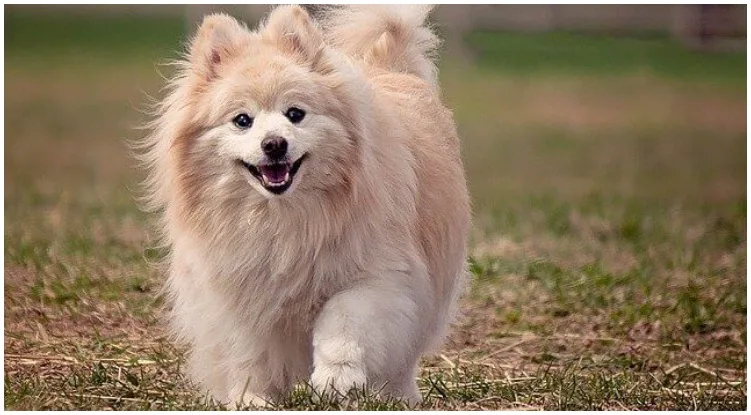 Corgis and Pomeranians are both incredibly cool breeds. Small dogs with big personalities and even bigger hearts! But did you know that there is a crossbreed between these two? The Corgi Pomeranian Mix dog is still waiting for an official name, but until then we have some suggestions. How about the Coranian? Or maybe the Pomgi?
The Corgi Pomeranian Mix dog breed is pretty rare and unusual, so you'll have to do some research to find a breeder. The price will depend on your breeder, and the region you live in. But in most cases you will have to pay somewhere between $800–$1,200 for one of these puppies.
Corgi Pomeranian Mix dogs can inherit the characteristics of either one of it's parent breeds, the Corgi or The Pom. That's why you never really know what you get with crossbreeds. Some will end up looking more like a Corgi, while others will look more like a Pomeranian.
The Corgi Pomeranian mix are smart dogs with a lot of personality and sassiness! They are full of energy, and that's why it's so important to keep them active. Corgi Poms also have strong herding instincts, so smaller pets may end up being herded around the backyard.
The usual rule is that mix breeds are healthier than their pedigree counterparts. However, on the other hand — there is still a slim chance that they could inherit a disease either one of the parents is prone to.
Most Corgi Pom puppies will live a long and healthy life, with their life expectancy being between 12 to 16 years.
The Corgi Pom is a sassy and adorable breed. So why not learn even more about them.
Australian Shepherd Corgi Cross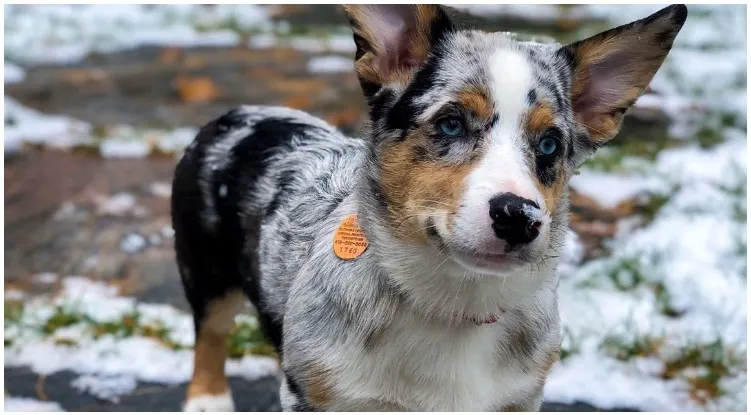 Aussie Corgis may sound like a wild combination, however, these energetic canines could make all your dog dreams come true. Especially if you don't already have dogs at home. Because they definitely don't have the easiest time getting along with other canines. However, with the right training and a lot of patience, you could even overcome that.
Just like with every other crossbreed, you can never be a hundred percent certain what you are going to get. The Aussie Corgi Mix can inherit characteristics from either one of their parents. And as his parent breeds are pretty different, there are many variations of this crossbreed.
This crossbreed became increasingly popular lately, so the price became higher as well. You can expect to pay somewhere between $800 and $1,200 for an Aussie Corgi puppy.
Their high intelligence can be a blessing and a curse when it comes to training them. Because there is a thin line between being smart and being unbelievably stubborn. It's up to the way you approach your dog, and how early you start the training process.
Crossbreed dogs are in most cases healthier than pure breeds. That's because there is a smaller chance for them to inherit the "unhealthy" genes of each parent. That's why, generally speaking, the Australian Shepherd Corgi Mix is a pretty healthy dog breed. However, there is still a chance that they inherit a health condition from either one of his parents.
Thankfully, Aussie Corgis or Auggie puppies are generally healthy dogs. Their life expectancy is between 12 and 15 years.