If you're a dog owner who loves the outdoors and loves riding your bike, you probably want to take your dog along for a ride. In order to do this, you can't just let your dog run next to your bike. You need a dog bike leash.
But, the problem is there are so many kinds of bike leashes. It's sometimes really difficult to find the right one for you and your dog. Truth be told, with so many options it really gets overwhelming.
ALSO READ Dog Carrier For Bike: Amazon Finds
Don't worry, we did a little bit of research, so you don't have to. We've made a list of the best dog bike leashes Amazon has to offer.
Dog bike leash – Our top picks
Before we get into our list, let's first take a look at how to know that a dog bike leash is really suited for your dog.
Sure, many dogs love running along while their owner rides a bike. However, the problem is that not every dog is suited to do that.
The first thing you need to remember is that these kind of leashes won't work for small breeds. Large and medium sized breeds on the other hands can benefit from a dog bike leash.
ALSO READ Dog Cart For Bike: Amazon Finds
Also, if you have a very large, very strong dog, you probably shouldn't get a bike leash either. This is for your own safety because if your dog is too strong there is the risk that he or she might pull you around and you could fall.
Secondly, if your dog isn't trained to even walk on a leash, then a bike leash won't work. Your dog is simply not disciplined enough to go on bike rides with you. You'll need to train your dog to walk on a leash, and then try a bike leash.
And lastly, your dog should be fully healthy if you want them to run along with you. The fact is, running along a bike is hard work, so make sure your dog is physically ready for that. It might not be a bad idea to consult your vet on whether or not your dog is ready for such an adventure.
With that being said, let's dive right into our bike leash picks!
1. Walky Dog Plus Hands-Free Bike Leash For Dogs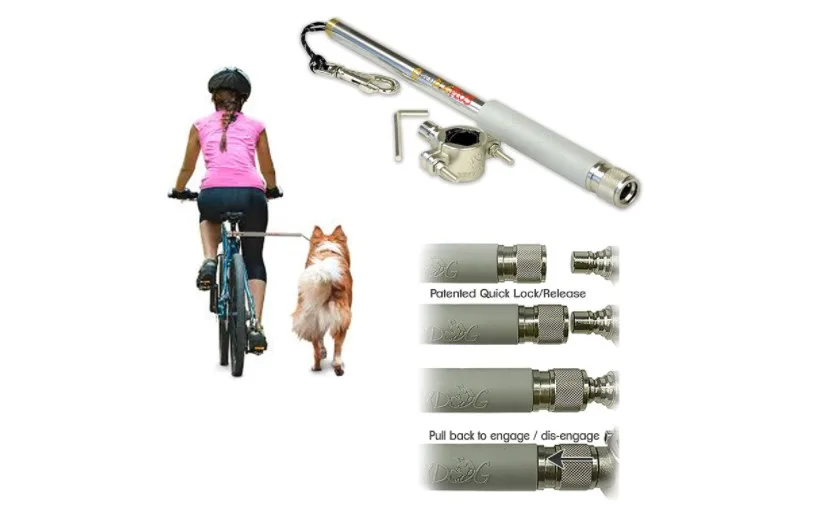 The Walky Dog Plus Hands-Free Bike Leash For Dogs is a one-size-fits-all gem. It's really a versatile bike leash that will definitely come in handy on your next adventure.
The leash is made out of high-carbon stainless steel and slots easily onto almost any bike in. According to the seller military-grade paracord was used in making this leash, which means that it can handle over 500 pounds of pull strength.
So, it's safe to say that this is a high quality leash. However, with the quality comes also a hefty price.
You can get the Walky Dog Plus Hands-Free Bike Leash For Dogs on Amazon and it costs around 80 dollars.
2. Shine Hai Retractable Hands-Free Dog Leash
The Shine Hai Retractable Hands-Free Dog Leash is another great leash. According to the manufacturer, this is a very versatile leash. It's retractable and it's ideal for running, hiking, and biking!
Even though this is a good leash in general, many experts agree that it shouldn't be used on large dogs. This is because it simply offers your dog too much play and freedom, and it could result in you being pulled off your bike.
ALSO READ Dog bike trailer: Fun way to bring your pup along
The leash has reflective stitching which will ensure that you see your dog even at a distance. Besides this, the leash stretches out to a full 82 inches. This means that you dog will have plenty of freedom of movement.
However, please remember before buying that this leash might not be perfect for biking with large, strong dogs. But it is an overall great leash to have.
You can get the Shine Hai Retractable Hands-Free Dog Leash on Amazon, it costs between 25 and 35 dollars. The price depends on the option you choose.
3. Best Dog Bike Leash – Bike Tow Leash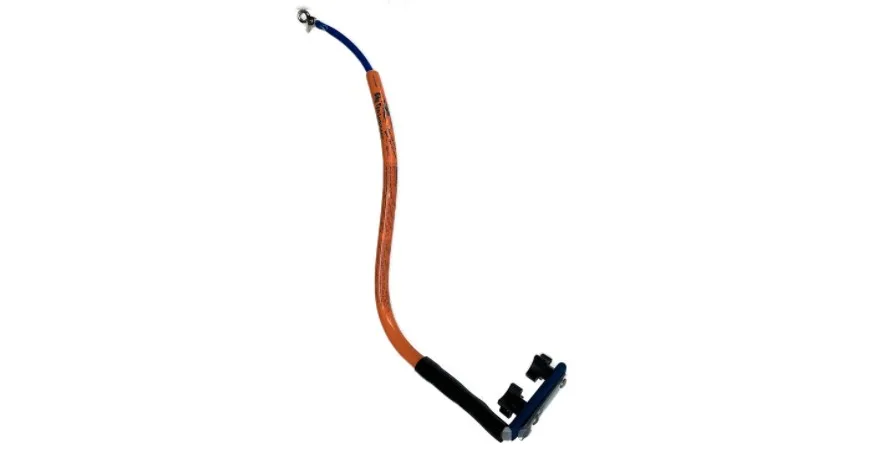 Lastly we have the Best Dog Bike Leash – Bike Tow Leash. As the name itself suggests, this really is the best dog bike leash you can buy.
This leash is actually fully ratified by the APA (American Pet Association), so you for sure know it's good.
Besides being a high quality leash, it's also super easy to set up. You simply need to attach this exercise leash to the left hand side of your bicycle or tricycle and the adventure can begin
The leash fits all breeds, no matter their size. From 10-pound pups to dogs weighing up to 185 pounds.
ALSO READ Should I Let My Golden Retriever to Run Beside Me While I Ride a Bike?
Here's what the manufacturer has to say about this leash:
"The Bike Tow Leash automatically reacts to the dog's movements as you would with an extra arm mounted low on your bike. It has a shoulder, elbow, and wrist resilient barrier between your dog and bike to protect and gently communicate bike direction and speed changes. The Bike Tow Leash's unique patented mast prevents the bike from tipping when the dog pulls, reduces any jolts, and gently trains your dog to stay in heel position."
The one thing that is not so great about this leash is the price. You can get the Best Dog Bike Leash – Bike Tow Leash on Amazon and it costs around 150 dollars.