A dog exercise pen is not on the "must buy" lists of many dog owners. However, they are very useful for many reasons! If you don't know what an exercise pen is, let us explain. Basically, playpens look like crates. Their purpose is to contain your dog, but they also give him plenty of space to move around and play.
In an exercise pen, your dog can play safely and you don't have to worry about them hurting themselves. Besides this, pens are also great because they are made of connecting panels. These can be be set up for use and then folded for storage when you don't need them anymore. This means that they don't take up a lot of space when not in use.
But let's take a look at what else makes exercise pens a must for every dog. We also have a few suggestions on which exercise pen to get.
Dog exercise pen
Playpens are meant for all dogs no matter their size. That's why they come in different sizes, various materials, from nylon and plastic to metal. Besides this, some also have mats on the bottom. The best part is, if you have an escape artist, you can get an exercise pen that has a cover! This way your dog can't get out!
Before buying
If you don't already own an dog exercise pen, then you should take a few things into consideration. There are so many options that choosing the right one can become quite a challenge.
So, before purchasing an exercise pen take these things into consideration:
The size of your dog. Obviously, the most important thing is to buy the right size. You don't want to buy an exercise pen that is too small! You also don't have to go overboard. Basically, you should give your dog enough space to play.
Do you have an escape artist? Do you have a dog that loves to just disappear? If they are a real little Houdini, take that into consideration too. In this case, get a pen that has taller sides and a cover.
Does your dog love to chew? If your dog chews up everything, then, you might need to consider a more heavy-duty exercise pen.
Indoor or outdoor? Where will you use the exercise pen? Some are actually made for the outdoors, while others are only for indoor use.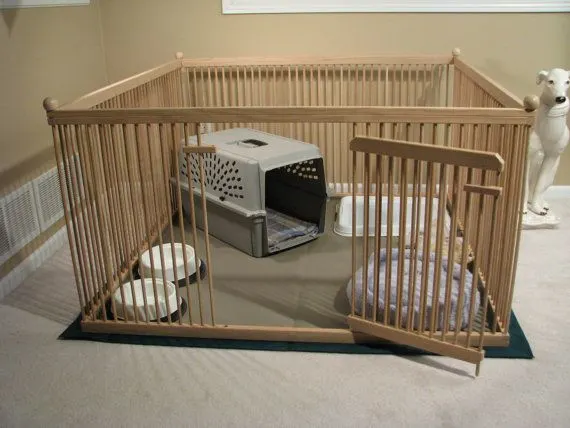 Easy use and storage. A mentioned above, pens are quite practical. You can just fold them up and store them. So, choose one that you can move easily. You also want a playpen that is easy to set up.
How adjustable does it need to be? There are many dog pens that can be adjusted by adding or removing panels. Which is very practical. You can also get one that pops up into only one size and shape.
Different material. Dog exercise pens usually come in metal, mesh, and plastic. Based on your dog's needs and habits you need to make a decision which to get.
Our recommendations
Now, we first have to tell you that dog exercise pens aren't cheap. In fact, they are quite expensive. But they are definitely worth the money, because your dog will use them for a long time.
We have put up a list of the best exercise pens meant for different types of dogs. Also, we have found one very good budget option too!
1. Richell Convertible Pet Playpen
The Richell Convertible Pet Playpen is a bit more expensive costing 210 dollars. This is because it's a multipurpose playpen. It's basically three pet products in one: a hexagonal or square pen, freestanding gate or room divider!
2. BestPet Pet Playpen
The BestPet Pet Playpen is a heavy-duty dog exercise pen. It's made out of metal, it's portable and easy to set up. Its durability, sturdiness, and size are a huge plus too! One downside is the cost, this exercise pen will cost you 184 dollars!
3. Pet Trex 8-Panel Pen
The Pet Trex 8-Panel Pen is a great budget option! It's a very safe, basic dog exercise pen that is easy to set up and store. This exercise pen costs only 41 dollars.