A veterinarian has reviewed and fact-checked this article.
Dogs often have all kinds of problems with their stomachs. There are times when you have diarrhea, and there are times when you have constipation or your stomach is a little upset.
Both ways, it can make you feel bad. If your dog starts to make a lot of gas, it can be uncomfortable for both of you! But there are some medications that can help! One of them is Endosorb for dogs, and it's a good thing to have.
As a result, it helps to ease the pain, cramps, and other unpleasant symptoms that come with diarrhea and another mild intestinal discomfort in dogs and cats.
A proven attapulgite, and even improved attapulgite, is what makes it so great. It's also an anti-diarrheal demulcent.
Endosorb for dogs – How do the tablets work?
What is Endosorb? Well it´s a supportive treatment of intestinal disturbances and health conditions such as:
digestive issues, such as diarrhea
abdominal symptoms accompanied by diarrhea, such as cramping and discomfort
relieves unpleasant signs associated with diarrhea
absorbs toxins in your pet's gut
helps improve your dog´s intestinal function
The easy-to-feed tablets of Endosorb will help your dog feel better whenever he is suffering from all kinds of digestive issues and discomfort. The tablets are easy to find, you don't need a prescription, and they will support the normal stool consistency of your dog.
But, as with all other medications, there are precautions to take. The most important thing to remember is that this is not a substitute for antibiotics or comprehensive medical treatment of the underlying diseases that cause diarrhea. And we need to state that it is for veterinary use only! Endosorb will not help if your dog has bacterial infections.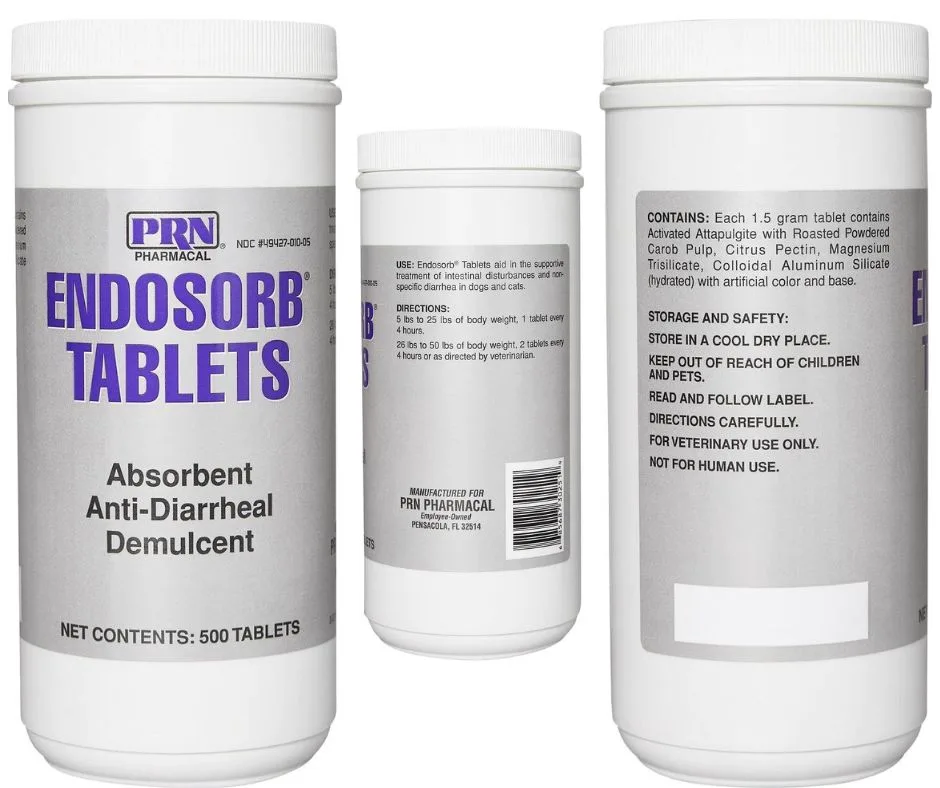 Ingredients – Product facts
Endosorb comes in two forms — oral tablet and Endosorb suspension 4oz. Both of them are for oral use only. The tablets may be a bit more practical, as they are less messy and you can hide them in a pill pocket or some wet food.
However, both of these two forms work equally well when it comes to absorbing toxins from your dogs' digestive system. Discuss with your vet which of these two forms would work better for your dog.
Endosorb's active ingredient is Palygorskite (Attapulgite activated clay). It's a mineral that provides adsorbent activity in the gastrointestinal tract, reducing fluid loss associated with diarrhea. Palygorskite works by helping your dog's stomach to absorb toxins and toxic material from your pet's gut. That way symptoms such as cramps, signs of diarrhea, and other minor intestinal discomfort are less likely to affect your pet.
There are other ingredients in a 1,5-gram tablet of Endosorb which you should be aware of:
Activated Attapulgite with Roasted Powdered Carob Pulp, Citrus Pectin, Magnesium Trisilicate, Colloidal Aluminum Silicate (Hydrated) with Artificial Color and Base.
The ingredients in Endosorb Suspension are:
Attapulgite Clay, Purified Water, Saccharin Sodium, Magnesium Trisilicate, Citrus Pectin, Polysorbate 80, Potassium Sorbate, Anethole, Methyl paraben, Propylparaben, FD&C Red 40 Lake, Magnesium Aluminum Silicate and Xanthan Gum. Citric Acid Anhydrous and/or Sodium Hydroxide added as needed to adjust pH.
What else should I know about Endosorb?
Endosorb has been flavored and sweetened to make for easier dosing. That way, your dog won't be afraid to take the medicine. For easier application, you can still give the tablets a sweet treat to help you get them in your mouth.
There are a lot of reasons why you should keep the tablets in a cool, dry place. They should never go bad or lose their ability to help your dog's digestive problems.
Tablets should be easy to find, and there are even some that can be bought on the internet. And you don't even need a prescription to get them, either. Even though, that doesn't mean that you should give them to your dog without first talking to your vet. Before giving your dog any kind of medicine, make sure you talk to a vet first. When giving your pet supplements, you should make sure they are safe for them first.
Your dog might need another medicine if its clinical signs don't go away after taking Endosorb for dogs for 2 or 3 days.
What's the right dosage of Endosorb for dogs?
It doesn't matter if you can buy Endosorb without a prescription. You should still pay attention to what your vet says. Only buy the pills if your vet says so. Your vet will tell you how much medicine to give your pet.
However, there are some rules that the manufacturers set out for how much you should be taking. Smaller animals and larger animals need different amounts of medicine. Here are the guidelines:
Tablets should be used in this way by the manufacturer: Cats and dogs live together. 5 to 25 pounds, 1 tablet every 4 hours. This is how it works: For dogs 26 to 50 pounds, two tablets every four hours.
Manufacturers say the suspension should be used this way: If you're feeding your cat or kitten, you should give them 2 teaspoons to 2 tablespoons every 12 hours. It's a good idea for dogs and puppies to have 1 tablespoon to 1/2 cup every 12 hours.
Your pet's health, condition, and weight all play a role in how much you give it. They say you should grind up Endosorb and put it in your pet's food twice a day. Make sure your pet has a steady supply of fresh water while you're giving him Endosorb. This drug can make him more thirsty, so you need to make sure he has water. Always read the label directions.
Does Endosorb need to be given with food?
The tablet can be taken prior to a meal.
It can be given during a meal by hiding it in a pill pocket or in wet food.
Here is some additional text that expands on this information:
It is important to follow the instructions provided by your veterinarian when administering this medication to your dog.
The tablet should be given at the same time each day to maintain a consistent treatment schedule.
If you have any difficulty giving the tablet to your dog, talk to your veterinarian for advice and tips on administering medication to your pet.
Always store the medication in a cool, dry place, out of reach of children and pets.
It is important to monitor your dog's response to the medication and to contact your veterinarian if you notice any adverse effects or if the condition does not improve.
Is Endosorb the same as metronidazole?
No, Endosorb and metronidazole are not the same medication.
Endosorb is a product that is used to treat gastrointestinal disorders in dogs, while metronidazole is an antibiotic that is used to treat a variety of bacterial infections. Although both medications are used to treat digestive issues in dogs, they work in different ways and have different potential side effects.
It is important to always follow the instructions provided by your veterinarian and to never give your dog any medication without first consulting with a qualified professional. If you have any questions or concerns about the use of Endosorb or metronidazole, it is best to speak with your veterinarian.
Is Endosorb an antibiotic?
No, Endosorb is not an antibiotic.
Endosorb is a product that is used to treat gastrointestinal disorders in dogs, such as diarrhea and vomiting. It is a combination of activated charcoal and kaolin, which absorb toxins and help to soothe the digestive system.
It does not contain any antibiotics and does not kill bacteria. Instead, it works by binding to harmful substances in the digestive tract and preventing them from being absorbed into the body. If your dog is experiencing a bacterial infection, your veterinarian may prescribe an antibiotic to treat the infection.
Precautions and additional resources
For oral use only. Not a Substitute for antibiotics or comprehensive medical treatment of the underlying diseases that cause diarrhea. Use under health care professional supervision and store tablets in a dark and cold place. Endosorb Tablets should not be given to pets who are allergic to ACE inhibitors. Pregnant or nursing females should not take Endosorb Tablets. Use this medication with caution in pets with kidney disease.
Also, remember that animals who are being given Endosorb should also have access to enough fresh drinking water in liberal portions. Don´t restrict your dog´s water access.
You should also know that this product can expose you to crystalline silica, which when airborne particles of respirable size are inhaled is known to the State of California to cause cancer.