Buying new toys for our dogs is very exciting. Searching the internet for interesting toys that will entertain our doggies, entertains us the owners! Lately, any robot dog toy has become quite popular among pooches and their owners.
Usually, dogs love their little robotic lookalikes, however, there is one Golden retriever puppy that absolutely loathes his new friend. Instead of being excited and intrigued, this little Golden retriever was actually jealous. He thought his owner brought home a new dog!
ALSO READ Star Wars Dog Toys: Amazon Finds
In this article, we're going to take a look at the cutest Golden retriever puppy and his jealousy tantrum. Besides this, we have found the three best robot dog toys on Amazon.
Robot dog toy – friend or foe
The toy this Golden's owner bought him barks and moves just like a real dog. This made the puppy believe he was dealing with a real dog!
Thinking their puppy would love its new toy the owners started recording the first meeting, however, it didn't go as planned.
ALSO READ Dog Toy: The Most Popular Dog Toys List
Instead of filming an excited puppy with his new favorite toy, they filmed his hilarious jealous reaction to the toy.
In the video, you can see the puppy walk into the room in order to investigate the new toy. Of course, he was at first quite curious. he even plays with the robot dog toy for a minute.
When jealousy takes over
However, when his owner stopped petting him and started petting the toy and saying "Nice puppy" the Golden retriever completely lost it and he showed his jealous side.
ALSO READ Dog Toys: Chew And Puzzle Toys For Canines
It almost looks like the little puppy got scared that he would be replaced by the robotic toy. He then decides that he's going to protest, and begins packing at the toy.
Once he had enough the little puppy just barked one more time and settled down in his owner's lap reminding her who her "good boy" is!
Where to buy robotic dog toys
If you would like to buy a nice robot dog toy for your pooch we have a few affordable suggestions for you.
ALSO READ Indestructible Dog Toys Made From Denim
We are aware that these toys tend to be on the more expensive side (some of which are 100 dollars and more) however, we have found some that are under 50 dollars!
Haktoys 2-Pack Flip Over Puppy Toy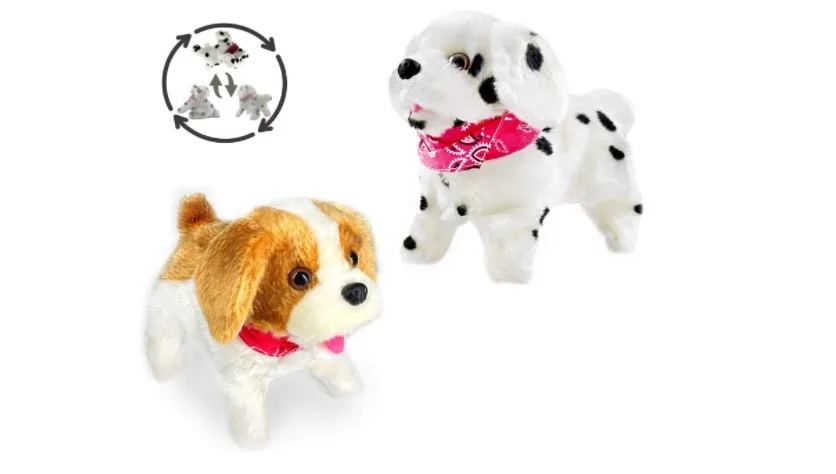 The Haktoys 2-Pack Flip Over Puppy Toy is not only a great option for your pooch, but would be an amazing present too!
These puppy toys can perform tricks and walk on carpet and hardwood floors. Each puppy is approximately 7 inches tall and newly upgraded and improved with premium quality fur and more durable materials! They even have mechanical barking features.
You should know that these toys require 4 'AA' batteries and a screwdriver to open the battery compartment.
You can get the Haktoys 2-Pack Flip Over Puppy Toy on Amazon for only 33 dollars.
Fisca Remote Control Dog Voice Control Corgi Puppy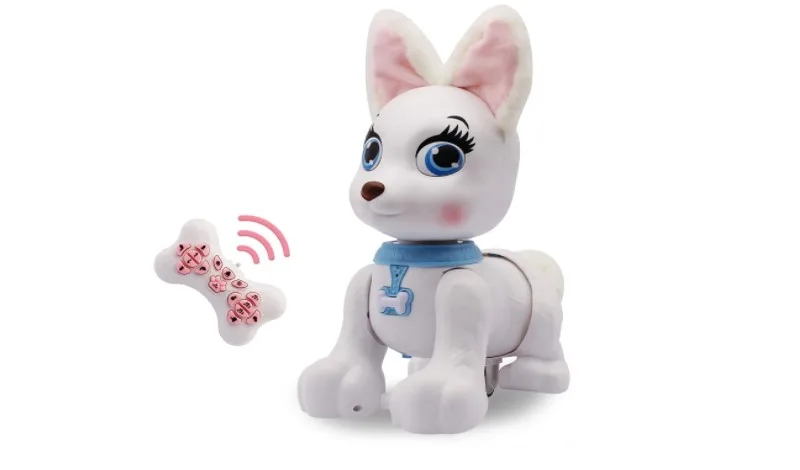 The Fisca Remote Control Dog Voice Control Corgi Puppy is not only adorable, but it has many functions too.
This robot dog toy has 8 voice commands:
Sing a song
Wag the tail
Please dance
You are so cute
Shall we go
Show time
Can I touch you
Walk a circle.
Besides this, it has remote commands such as walk forward & backward, writhing forward & backward, turn right & left, twist hip.
If you would like to buy the Fisca Remote Control Dog Voice Control Corgi Puppy on Amazon for only 40 dollars.