Is it really Christmas if you are not overly decorating your house and yard? We think not! Decorating your house and outdoors, even going all out and over the top, is a must during Christmas time. What is also a must for dog owners are outdoor Christmas dog decorations!
ALSO READ Dog ugly Christmas sweater: Our top picks
There's just something about decorating your house and garden with fun and maybe even a little bit tacky dog-themed décor. To be honest, there's nothing wrong with that. We are actually living for that!
We even want to help you on this journey. Now, we know that it's not that easy to find good decorations, especially dog decorations. That's why we're even going to tell you where to buy the best décor pieces!
ALSO READ Chocolate, pies, nuts: Christmas foods that you shouldn't let your Golden retriever eat
Outdoor Christmas dog decorations
We have found four very interesting décor pieces that would look great in any front yard!
1. Merry Christmas Yard Flag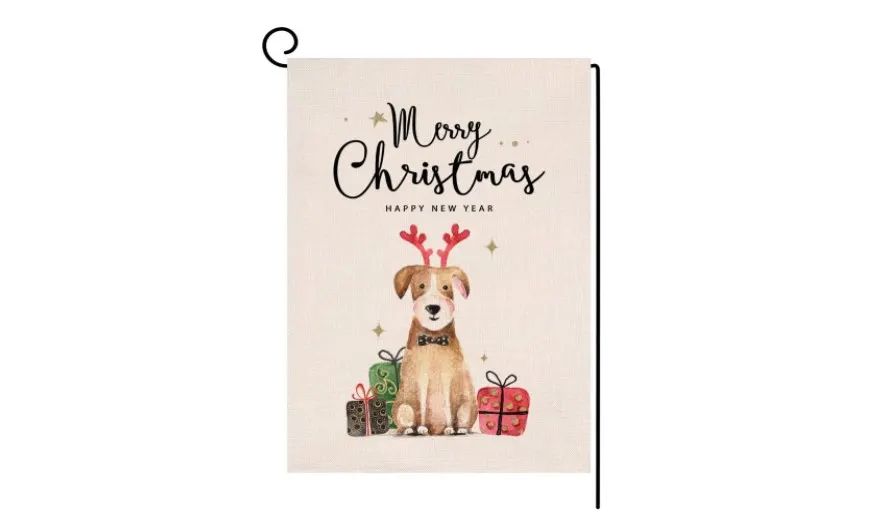 Let's start with something simple because those big, flashy décor pieces might not be everyone's cup of tea.
If you just want a touch of dog themed Christmas decorations then this yard flag which has a dog painted on and says "Merry Christmas" is perfect for you!
The flag comes in a smaller size (12.5″ x 18″) and will fit perfectly on any front door no matter if you're living in a flat or house.
Another great thing about this flag is that it's weather and fade resistant, so you'll be able to use them for many years.
You can get this Merry Christmas Yard Flag on Amazon, and it costs only 10 dollars. You can also get a personalized flag with your last name, which costs 20 dollars.
2. Metal Bobble-Head Dog Christmas Yard Décor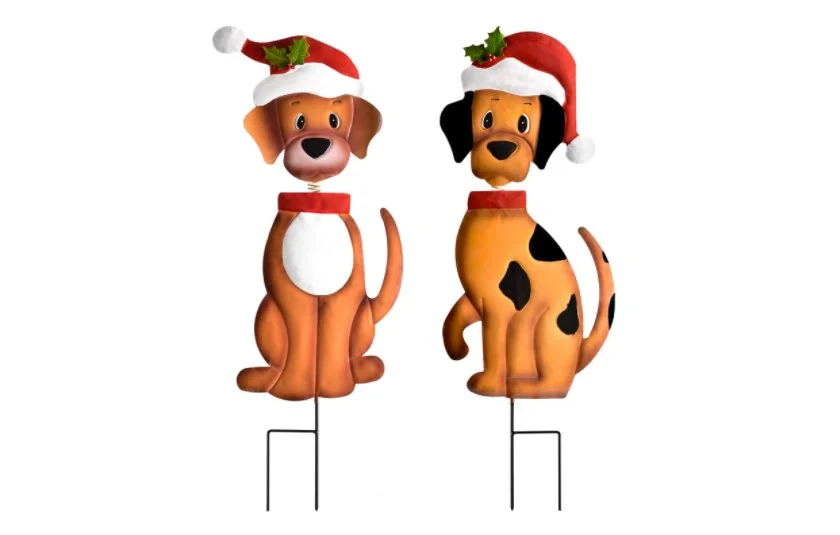 This Metal Bobble-Head Dog Christmas Yard Décor is definitely a piece of decoration you need! They are so easy to set up but look great!
The one thing we hate about Christmas decoration is how difficult it's to set up sometimes. But with this piece of décor you won't have that problem.
ALSO READ These Golden Retrievers Had The Best Christmas Day
This is because the figures have metal extensions which just need to be pushed into the ground. These dog figures will for sure spread a cheerful holiday welcome to your guests and neighbors.
You can get these colorful dog themed outdoor decorations on Amazon for only 35 dollars!
3. Inflatable dog Christmas decoration
This inflatable dog Christmas décor piece is definitely our favorite! It's big, cute and most importantly super easy to set up!
According to the manufacturer, it self-inflates at the moment when plugs into a standard electrical outlet! This is great because once you don't need it anymore, you can just deflate it and store it.
ALSO READ Golden Retriever Received A Puppy For Christmas, And It Was Love At First Sight
What's also great about this décor piece is that it has LED light and the stakes, tethers, and air blower are actually included in the package for quick and easy setup.
You can buy the inflatable dog Christmas décor on Amazon for less than 70 dollars!
Concusion
Christmas décor is fun, but big outdoor Christmas dog decorations are even more fun! No matter what piece you decide to buy, we're sure your neighbors and friends and family will love it!
Even if you didn't find on our list anything you like, there are so many options out there, so don't be discouraged if you don't find the perfect decoration on the first try!
ALSO READ Three Christmas dog treat recipes your fur-baby will love!
And don't worry it someone says it's too much, it's Christmas decorations, it's supposed to be too much!
Besides this, the only important thing is that it makes you happy, nothing else matters!