Is there anything more annoying than having to blow dry your pet with your own old, loud, and heavy blow dryer? Your precious pooch can't help but feel terrified because of the loud noise. Both of you will get annoyed, and don't get me started on how easily these blow dryers overheat. But all of that can be left in the past with the Uahpet 'Fluffy-1 Dog Hair Dryer'.
Characteristics
The Uahpet dog hair dryer is lightweight, portable, and fast-drying. The compact design of this pet hair dryer makes it ideal to not only use it at home but bring it with you when you and your pup are traveling as well.
But don't underestimate this pet dryer machine. It might be small, but its high-speed motor runs up to 106,000 rpm to generate airflow up to 50m/s, while still maintaining a pet-friendly temperature of 38.9°C. This is warm enough to dry your dog's coat quickly but still gentle enough to not dry out their skin either.
You can dry medium-sized dogs in only 15 minutes, and long-haired larger dog breeds in as little as 25 minutes. But this pet hair dryer is not only suitable for dogs. Cats enjoy this dog blower as well. And it can dry the hair of your long-haired cats in just 8 minutes.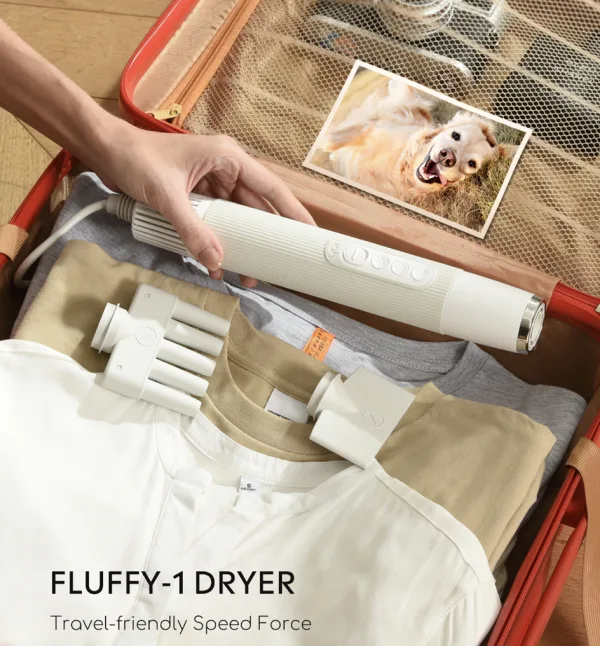 Noise
The one feature your pet will appreciate most is how quiet this dog force dryer is. The innovative straight air duct reduces noise to only 40-70dB.
You can choose from three speed settings, that allow you to dry your pet's fur faster, safer, and with less noise. The innovative technology of this dryer releases high-concentration negative ions when you use it on your animals, which makes their coat smoother, fluffier, and noticeably shinier as well. Your pet won't only feel better with this forced air dryer, but look better as well.
Nozzles
The 'Fluffy-1 Dog Hair Dryer' comes with three nozzles: 'Styling nozzle', 'Wide-tooth comb nozzle', and 'Concentrate nozzle'.
The first nozzle is the 'Styling nozzle', that with its flat design spreads the negative ions even further into your dog's hair to make sure its fur is as smooth as possible.
The 'Wide-tooth comb nozzle' is best for long-haired dogs, such as Golden Retrievers, as it allows the airflow to reach the root of your pup's coat.
The 'Concentrate nozzle' is pretty self-explanatory, it concentrates the airflow on one specific area of your dog's coat to add extra fluffiness. You can use it on your dog's tail and ears, to give him that extra puff and fluff.
Price
And the last thing that you as a pet owner will appreciate the most: You won't have to break the bank to get one of these bad boys!
Right now, you can get the 'Uahpet dog hair dryer' for as little as $84.99, with US free shipping! Yup, those annoying shipping fees are out of your way as well.
If you are still not convinced, the company tolerates a 30-day trial period, and if you, for any reason, don't like the product, you can return it to them without any questions asked. But we don't think you will even think about that after seeing how convenient the Uahpet dryer is.
You can buy it here.