In the last couple of years, the Yeti Dog Bowl has become a hit among dog owners! Everyone is getting them for their pooches. And for good reason. apparently, Yeti bowls are high quality and durable. They also have a nonslip ring at the bottom, which will make them more stable on your ground floor. Sturdy Yeti products generally have very high ratings, and mostly positive reviews. But Yeti bowls are also very expensive. However, reviewers claim that they are well worth the money.
However, Yeti fans may be disappointed as these bowls are not the main reason for this article. We're actually going to see which material is best for dog bowls and if the stainless steel material is even safe for your furry best friend.
While you're here, check out our other helpful articles:
Dog park: Safety tips you shouldn't ignore
What does dog water mean: What should dogs drink?
You can also read about which foods are safe for dogs:
Yeti dog bowl – what to know
According to the company what makes Yeti bowls so special is that it holds eight cups of water and treats. It's also built with double-wall, non-insulated stainless steel which makes it incredibly durable, easy to clean, and resistant to rust and roughhousing. So, you can put it in the dishwasher!
But, all of that comes with a hefty price. If you want the Yeti dog bowl for your pooch you'll have to pay around 50 dollars. You do get free shipping, free returns, and even a five-year warranty.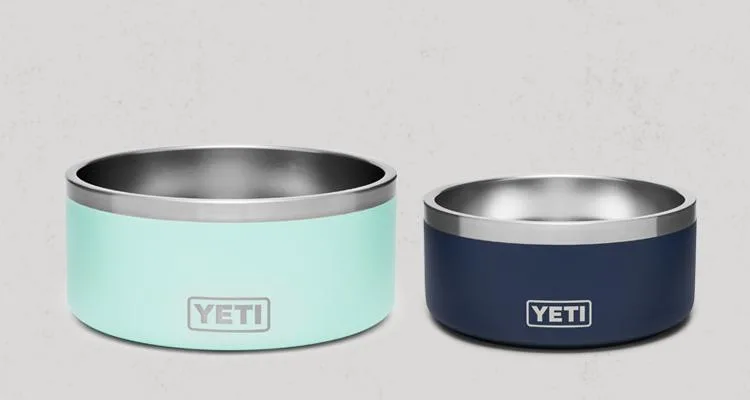 Other reasons why many people are getting this pricy bowl are:
BEARFOOT™ NON-SLIP RING – Won't budge — no matter how enthusiastically they eat or drink.
BPA-FREE – Keep your dog healthy and well fed with peace of mind.
DURACOAT™ COLOR – Built to last. No fading, peeling, or cracking here.
But, the main reason why people are buying Yeti bowls is that they are heavy. The Boomer 8 Dog Bowl for example weighs 1.9 lbs. So, it's less likely that your dog will knock them over and spill their food or water.
Now, the Yeti dog bowl sounds great and definitely worth checking out, but it's not the reason why I'm writing this article. It's the "stainless steel" part in the Yeti dog bowl description that made me think. Is stainless steel really safe for dogs? And is there a better material than stainless steel when making a dog bowl?
Which is the best?
Dog bowls come in a wide variety of shapes, colors, sizes, and materials. It is sometimes not easy to find the right feeding bowl for your dog (and cat). So what is the best and safest bowl to give your dog food and fresh water?
It's important to know what cheap materials can have an impact on your dog's health. So it's definitely important which bowl you get your dog. But, I also want to say that this doesn't only apply to dog bowls, we humans also have to be careful which materials we choose for us.
But, I'll explain to you what to look for when choosing the right bowl material for your pooch.
Firstly, size is important. The size of the bowl you buy depends on the size of your dog. Obviously, if you have a tiny Chihuahua you won't get them a bowl that is suitable for a Great Dane. You would get a smaller version. The general rule of thumb is that the bowl should be larger than the usual portion of food you give your dog. The same goes for your dog's water bowl.
Secondly, the material the bowl is made from. This is probably even more important than the size of your dog's bowl. There are so many kinds of dog bowls you can choose from. But which is the best? Plastic, glass, ceramic, or maybe even stainless steel?
Stainless steel
Stainless steel bowls not only look good and particularly elegant, but they are also hygienic, practical, and actually indestructible. This material will not leach potentially dangerous chemicals into your dog's food and water, like some plastics, aluminum, poorly glazed pottery, or old ceramic dishes.
So, they are easy to clean, very stable, and can withstand anything. Stainless steel bowls are usually dishwasher safe too. They come in all sizes, so they will keep bigger boys and smaller pups fed. Just make sure to choose the right size for your dog. Like we already explained, a large size dog requires a bigger bowl, while a smaller size dog requires a smaller one. The perfect size dog bowl will make it easier for you to determine the daily needs of your pup.
Downsides of Stainless steel
Stainless steel dog bowls are the least polluted by toxins, which will keep your dog's food safe, but they are not for every dog's taste. Some dogs won't like eating from a stainless steel bowl. Let's take my sister's dog Dig, the Golden Retriever as an example. When she got Dig she got so much stuff for him! All the lux toys, bowls and so on. She got him a super expensive bowl that was made of plastic on the outside and shiny stainless steel on the inside.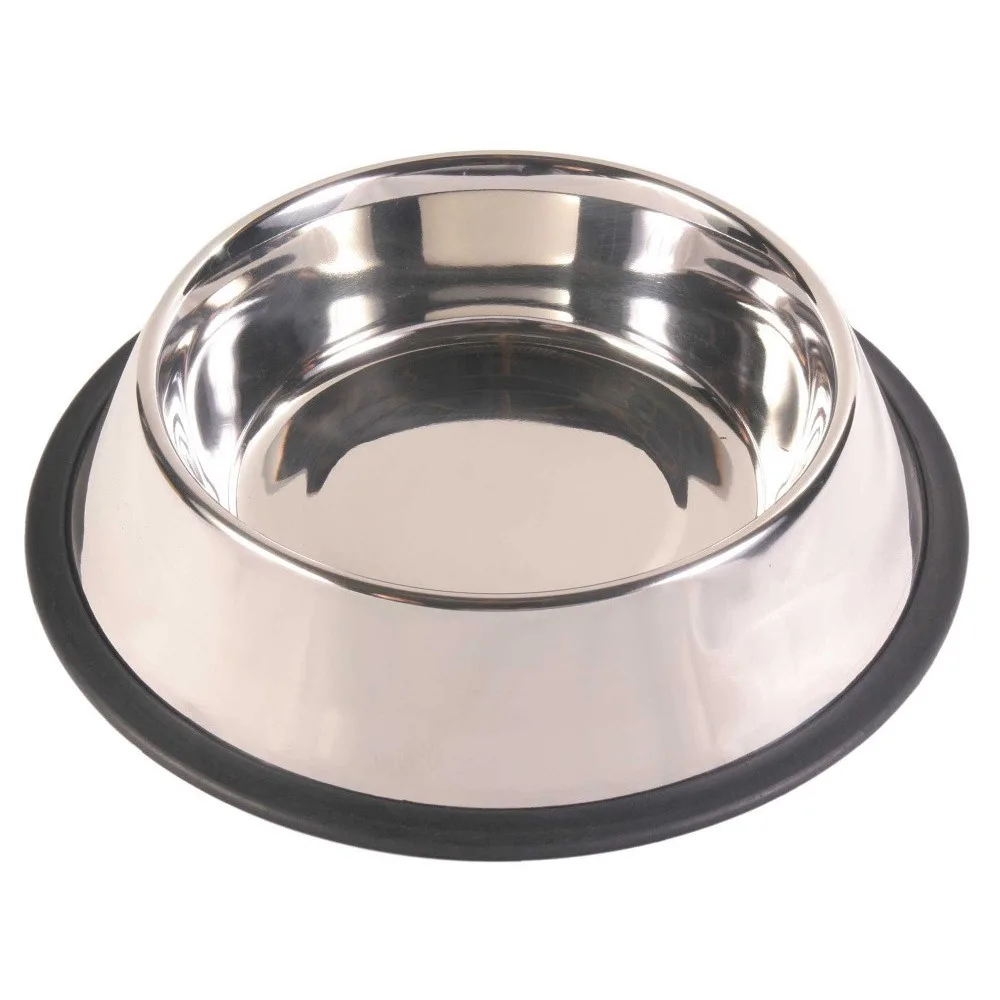 But, Dig didn't want to dig into his food. He just refused to eat! He kept tossing the dry food out of the bowl with his paw and ate it off the floor. To be honest, we didn't understand why, we just thought it was a puppy thing.
One day Dig's stainless steel bowl was in the dishwasher and my sister gave him his food in an old plastic bowl. Lo and behold, Dig ate completely normally and he ate all of his food.
Then my sister tested the stainless steel bowl once again. And Dig hated it. So, when you're buying a bowl for your dog, especially one that is as expensive as the Yeti dog bowl, test if your pooch will even want to eat out of a stainless steel bowl.
Plastic
Plastic food bowls certainly have many advantages and can be found in most households. They are colorful, inexpensive, and mostly dishwasher safe. In addition, they can withstand a bump or fall from the sideboard. And, most dogs don't have a problem eating out of them.
But, they are usually not firm to the bite, and you know that especially puppies and young dogs like to chew on their plastic bowls. The splintering material can then lead to injuries in your dog's mouth. But there are far more serious dangers lurking in plastic that you should be concerned about.
Plastic is made from crude oil and transformed into a completely new substance in a complex process. For it to have all the properties that make it so extremely diverse and useful for us, factories have to add plasticizers, stabilizers, colorants, fillers, reinforcing agents, flame retardants, and antistatic agents. And it is needless to say that some of these are toxic. The problem is that they can get released from the plastic and get absorbed by the body. The biggest problems are Plasticizers (phthalates) and bisphenol A (BPA), two substances that intervene in the hormonal balance and can affect the metabolism.
Definitely avoid plastic bowls which smell strongly of plastic and please never heat plastic dishes in the microwave. That's because when heated the toxic substances get easily dissolved and released into the environment AKA your or your dog's food. In addition to that, while they are a cheaper alternative, most plastic materials are not environmentally friendly, and stainless steel bowls will leave a smaller pawprint ecologically speaking.
Glass and ceramic
Ceramic dog bowls are a great option for anyone who wants a colorful, fun-looking bowl for their dog. But, they are also usually coated in a glaze, so before buying a ceramic bowl make sure the glaze is lead-free.
The advantage of this material is that it is extremely easy to clean and keep clean. Fired ceramic neither absorbs odors nor discolors. After all, the majority of all plates and cups in a household are made of ceramic.
But, otherwise, it's a safe option if your dog doesn't kick its bowl. Ceramic can easily get chipped and hurt your dog. They might ingest small pieces of the bowl. If your dog prefers a ceramic bowl, check it occasionally to ensure that it is not broken anywhere. That way you'll make sure that your dog doesn't get hurt.
Dog bowls that are made out of glass are even safer because unlike ceramic, glass non-porous. In addition to that, it's easy to keep clean, won't hold on to harmful bacteria or microbes. But, it can easily break and your dog can get hurt. So, just like with the ceramic bowls, make sure to check them regularly for any cracks.