Have you ever thought about the bed you get for your dog, or do you just buy the most affordable one? Now, we're not judging you if that's how you got your dog's last bed. But, we do want to explain to you why a good dog bed is important. When we say good dog bed, don't automatically assume that it has to be expensive. You can get great dog beds at Walmart too!
If you're wondering why it's important to choose a good dog bed, we'll quickly explain that. Your dog's bed is not only a cozy retreat but also stores their body heat that would otherwise be quickly absorbed by the floor. Besides that, when sleeping on a soft surface, joints, muscles, and bones are also spared, which reduces the risk of osteoarthritis in old age.
In this article, we'll show you our favorite dog beds Walmart edition! These dog beds aren't only great quality and comfy for your dog, they are also affordable.
But, before we get into Walmart dog beds, we have many articles on the best dog beds from other brands:
Kirkland Dog Bed: The Ultimate Choice
Dog Beds Amazon Finds For Every Breed
Waterproof Dog Bed: Benefits Of Having One
Bean Bag Dog Beds: Why They Are Good For Dogs?
Calming Dog Beds: How They Work?
Dog beds – What to look out for
Before we dive into our dog beds from Walmart suggesting, let's see what is that's important to know when getting a dog bed.
Whether round, oval, or square, it doesn't matter, what's important is to get the right size. You don't want to get your dog a bed that's too small or too big. Your loyal friend will feel less secure in a dog bed that is too large. On the other hand, sleeping in a bed that is too small will hinder them from stretching.
As a rule of thumb, the bed length should equal the length of your dog + 10 to 15 inches. This way your dog can have some room to move. Bed width should equal their height at withers (so paws to shoulder) 5 inches movement space.
When getting a dog bed, always measure the inside dimensions of the dog bed, that's where your dog sleeps. The external dimensions can be used for models without a clear bed border.
Once you have determined the necessary dimensions, you can now choose an ideal location for the dog bed in the apartment. But, keep the following in mind:
avoid drafts, because they are uncomfortable and can cause health problems
at night your dog needs rest, but during the day he shouldn't feel isolated from the rest of the family, so make sure to put their bed somewhere where they will get both.
if the dog bed is against a wall or in a corner, your furry friend will feel even more secure.
What else to consider
When it comes to choosing the right dog beds, it has a lot to do with preferences. So first observe where and how your dog likes to lie. You should know that there is a special dog bed for every preference:
If your dog likes to curl up, then models with a high border convey a feeling of security. On the other hand, models without a border are popular with dogs who want to spread their feetsies.
Smaller or older dogs can be intimidated by borders that are too high because they create obstacles. The solution: dog beds with entry sides or several open sides.
"Cave beds" are almost completely closed and offer maximum security, especially for smaller dogs. These can even be transported similarly to a dog carrier bag.
Many dog beds are padded with comfortable and inexpensive foam, which, can wear down over the years. In comparison, silicone and viscose foam fillings are more durable but are also more expensive. For particularly heavy dogs, a micro-bead filling is an ideal solution because these beads adapt to the shape of the body.
The cover of the dog bed should be washable, waterproof, and, if possible, scratch and bite resistant. Robust synthetic fibers such as nylon are the ideal choice. But leather and artificial leather are also extremely tough and easy to clean. If your dog doesn't like the smooth, cool material, just put a fluffy blanket on top.
Dog beds from Walmart – Our picks
Now that you know what to look for in a dog bed, let's take a look at our dog beds from Walmart list. Keep in mind that these are only our suggestions, and you should take them with a grain of salt. These dog beds might not be right for your dog, but use the tips we shared with you to find the ideal bed for your beloved pooch and its needs.
Furhaven Microvelvet Snuggery Burrow Pet Bed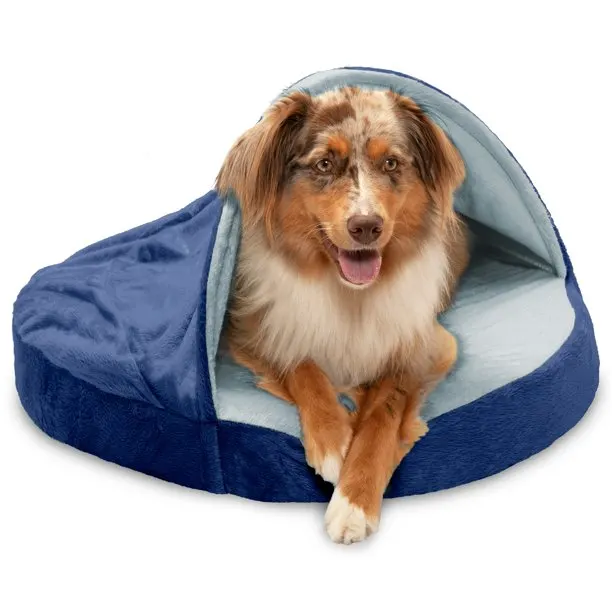 The Furhaven Microvelvet Snuggery Burrow Pet Bed is ideal for pets who love to burrow into blankets and other cozy spots. These dog beds allow your dog or cat to burrow and snuggle into the bed, with the top section of the bed acting as a soft, shapeable blanket. Of course, to fit your pet's sleep style perfectly, your dog can use the soft hood feature without the flexible plastic hoop. The best part is that it comes in four beautiful colors, and costs around 30 dollars!
Deluxe Orthopedic L-Shaped Chaise Pet Bed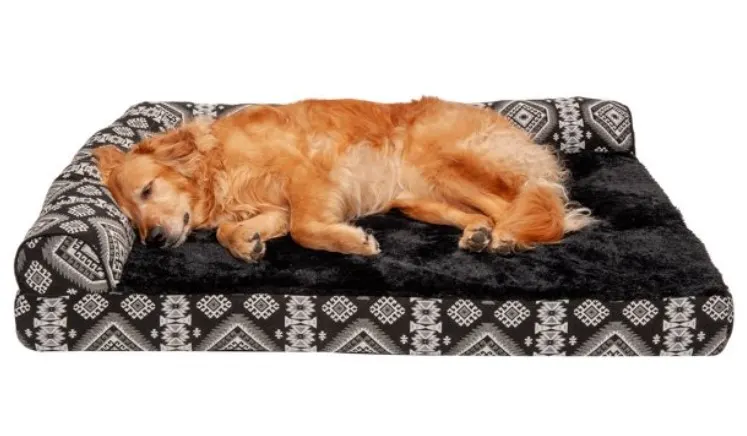 The Deluxe Orthopedic L-Shaped Chaise Pet Bed has a luxuriously soft faux fur sleep surface and stylish bolsters and gusset. Ultra-plush faux fur provides a snuggly soft sleep surface. The L-shaped bolsters support your pet's back and hips, providing additional support. The L-shape also provides the perfect nook for pets that like to nest into comfort. This dog bed is a bit pricier, it costs around 66 dollars.
Vibrant Life XL Tufted Dog Bed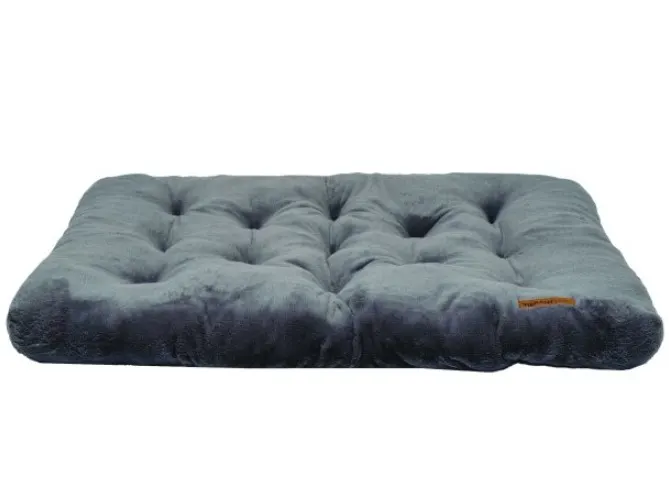 The Vibrant Life XL Tufted Dog Bed is perfect for large dogs. because of its tufted design no matter how heavy or large your dog is, the fill will stay in place. In addition to that, it features quick-snap fasteners which make it easy to fold in half and portable
Other key features of this dog bed are:
measures 38 inches wide by 48 inches long
tufted design to keep fill in place and lend your pet comfort and support
comes in many modern colors and designs
easy to fold in half and portable
In addition to all of that, the Vibrant Life XL Tufted Dog Bed is super affordable too! It costs around 30 dollars.