Who doesn't love relaxing to a good old Golden retriever movie and a bucket of "pup-corn" and their favorite snacks? So why not organize a Golden retriever movie night with your family? If you don't know which movies to watch, we got you, don't worry.
We've already told you about the movie "A dog's purpose". On our Facebook page (and group!), many people commented that this move made them cry like a baby (and I must admit, me too!). But there are so many amazing Golden retriever movies besides this that you have to watch and that will definitely make your movie night special!
And a little disclaimer, please prepare a big pack of tissues, you're definitely going to need them!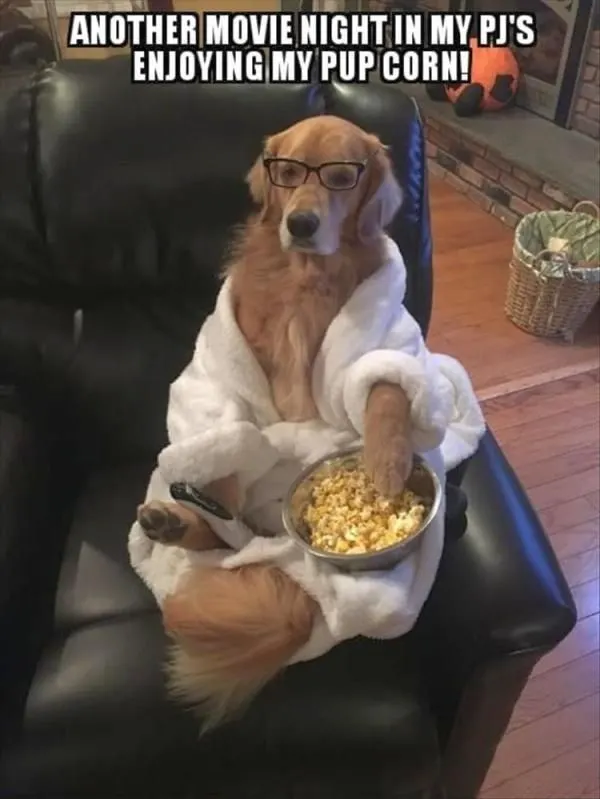 Golden retriever movie night
We've made a list of five beautiful movies, some will make you smile, some will make you cry but all of them will make you appreciate your furry best friend even more! Now let's dive right into all the best Golden retriever movies out there!
1. The Art of Racing in the Rain
The 2019 movie The Art of Racing in the Rain is not for weak hearts. I promise you, if you cried during A Dog's Purpose, you will be bawling your eyes out! Get your snacks, get your tissues, and don't say I didn't warn you! This movie is also one of our group members' favorites, so you know it is definitely worth watching it!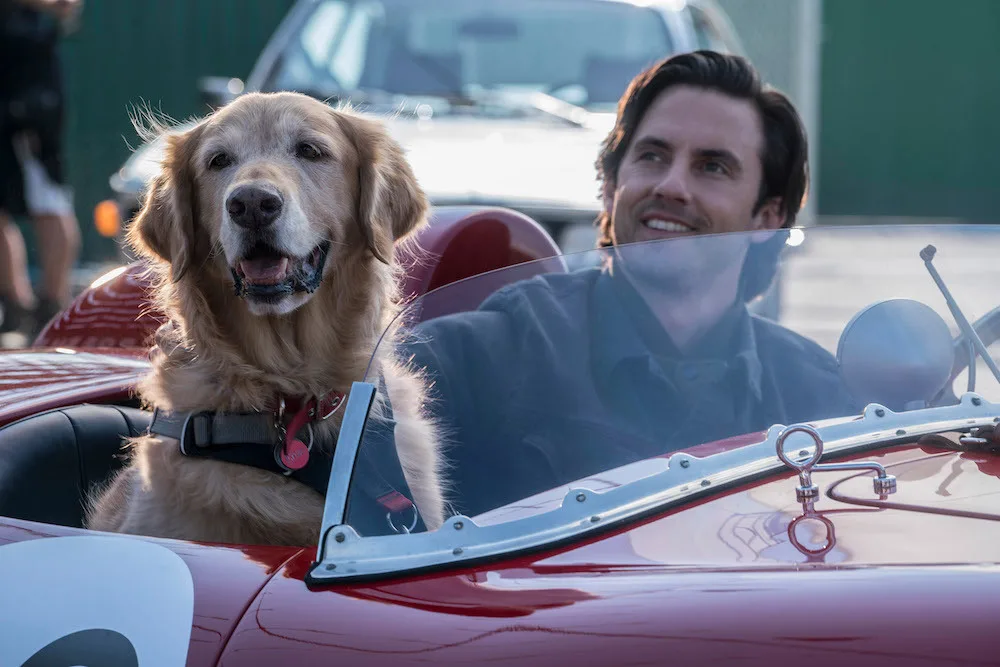 Many dog lovers believe that their four-legged family members actually understand language and everything they're telling them. That they can comprehend events, have opinions, exude loyalty, just like they are humans too. Well, in the movie "The Art of Racing In The Rain", we're following the story of an old dog named Enzo Swift. In the movie, Enzo shares thoughts about all the life experiences he went through and which prepared him to protect his family in times of greatest need.
2. A Golden Christmas
I know that it isn't Christmas time, but can a Christmas movie starring a Golden retriever ever be a wrong idea? I think not! This is definitely a must-watch 2009 Christmas romance movie!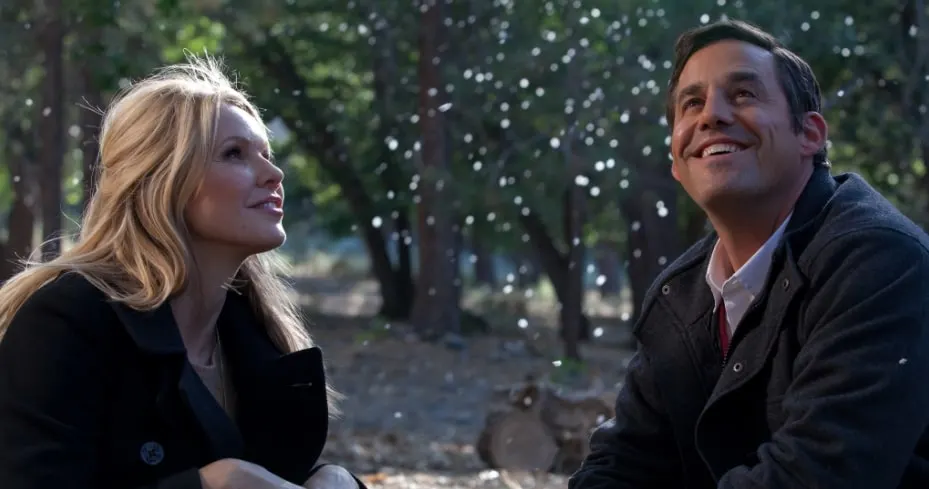 The movie is about two childhood sweethearts who bury a time capsule, with the help of their beloved dog. These childhood sweethearts grow up and lose contact. However, during the holidays they both return to their home town looking for a fresh start and. Upon meeting again they don't recognize one another and they don't hide the mutual dislike. This is when a Golden retriever comes into play. The good doggo takes it upon him to remind them of the past and finally bring them back together!
3. The Trial of Old Drum
If you want to watch a movie that will make you cry (a lot!) but that is also worth watching then The Trial of Old Drum is for you!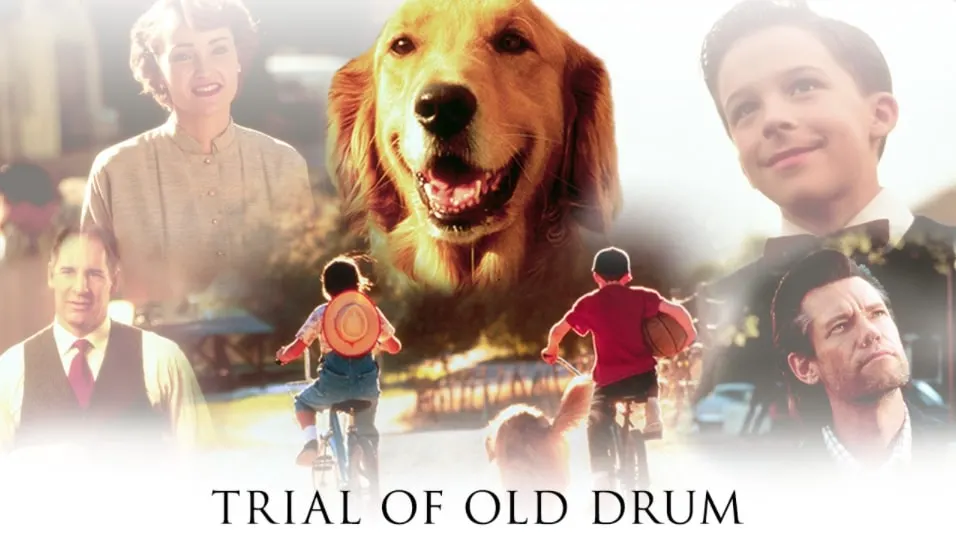 This movie is actually inspired by a true story set in Missouri. It tells the story of an orphan Golden retriever named Old Drum and his best friend a boy named Charlie. The two of them were best friends until Charlie's life is turned upside down when his cantankerous Uncle Lon accuses Old Drum of killing his sheep. The town is divided over Drum's guilt or innocence, and an old family wound begins to fester. Losing sheep in this part of the country is not taken lightly. Looking to rid the town of a sheep-killing menace, Lon files a lawsuit seeking to have Old Drum put to death. Desperate to save Old Drum, Charlie, and his father try to obtain the services of one of the state's best-known lawyers.
4. 10 Promises to My Dog
10 Promises To My Dog is a 2008 Japanese film based on a novel by Hare Kawaguchi. This movie tells the story of Akari Saito and her dog named Socks, two friends that supported each other as they grew up together. Kind warning, this movie will make you sob.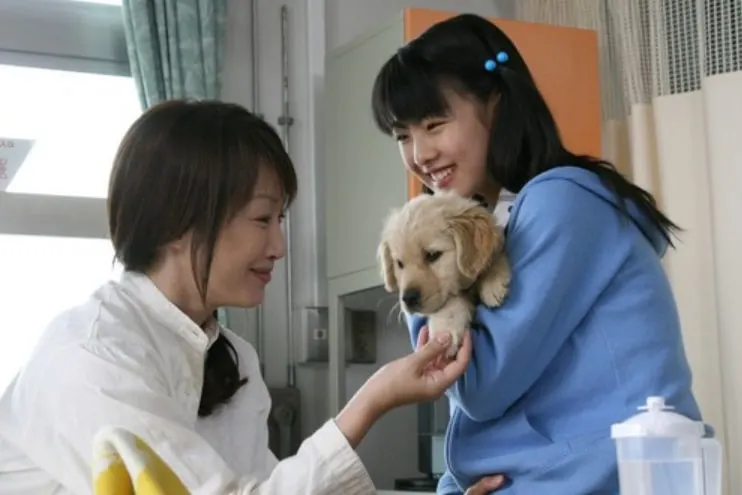 Akari just turned twelve and was trying hard to act strong after her mother suddenly fell ill, when a beautiful Golden retriever came into her life. She immediately falls in love with the puppy and names it "Socks" because the puppy's paws looked like it had white socks on. Akari and Socks were inseparable, spending day and night together. However, as Akari grows up, her feelings and interests change, and she distances herself from Socks. Year by year, their distance grows. She moves to a far-off city and leaves Socks behind to a childhood friend. However, one day Akari remembers the 10 promises that she had made to Socks and her deceased mother…
5. A Dog's Journey
What would be a list of the best Golden movies without "A Dog's Journey"? This movie is based on the 2012 novel of the same name by W. Bruce Cameron and is the sequel to the 2017 film A Dog's Purpose. This movie isn't technically about Golden retrievers only, but all dogs in general. However, because of the heartbreaking story and strong message this movie carries, we couldn't help but include it in our list.
Conclusion
There are so many amazing movies about dogs that can teach us so much about not only our canine family members but ourselves too. They also help us understand our dogs a little bit better and remind us of the grand love our dogs have for us. Being a dog owner isn't always easy, it comes with many challenges, but I am sure we all can agree that it is definitely worth it and an honor!