Cozy, warm, colorful pajamas are definitely one of the best parts of the holidays. Another great part of the holidays is buying and dressing your dog in Merry Christmas dog pajamas!
Now, some people will say it's torture for dogs to wear clothes. But we disagree. Some dogs have a very thin coat, so they need something to keep them warm during the cold winter night.
Buying clothes and pajamas for dogs is a bit difficult. First of all, the internet is simply filled with so many options. It's overwhelming! And second of all, good quality products are expensive. That's why we gave our best to find the most adorable dog pajamas for your pooch, that won't break the bank!
We know that Christmas is the time we spend the most money. We have to buy a lot of food, decoration, and gifts. So, don't worry, we found affordable but good-quality Merry Christmas dog pajamas.
If you need more Christmas-inspired dog stuff, then check out our other articles:
Without further ado, let's dive right into our favorite picks!
Merry Christmas dog pajamas – Our top picks
We know that it's not Christmas yet, but it's never too early to start shopping, right?! I mean, do you really want to be shopping five days before Christmas? Don't be that person!
Let us tell you what our goal with this article is. Now, our mission was to find the best dog pajamas out there. So, we have searched different online stores and sites in order to do exactly that. And we were actually successful! On Amazon of all places! What a surprise, right?
But before we show you our favorite dog pajamas, let's explain what you should take into consideration before buying. You might not want to get something from our suggestions, but you should know what makes good dog pajamas.
What to look out for
Honestly, there aren't many rules when it comes to buying dog pajamas. It's pretty simple actually, but at the same time, it's important to know these things.
So, before buying dog pajamas, please remember that your dog doesn't actually need pajamas to sleep in. But they can keep your dog warm when it's cold. They are especially right for dogs that have a thin or short coat. And also, pajamas can be a cute accessory and look on Christmas morning.
The most important criteria you should have when buying your dog pajamas is that they are comfortable. You don't want them to be too tight anywhere, especially around your dog's limbs and neck.
Secondly, your dog's coat will play a major role in deciding which pajamas to get. Does your dog have a thick coat, if yes you probably shouldn't go for extra warm, wool pajamas? Buy thin cotton pajamas that will just look cute and not make your dog overheat.
If your pooch has a thin coat, you can go for something warmer.
And lastly, if you're ordering online, please always make sure to measure your dog properly and follow the size chart. Sellers will always write the exact measurements, there's a reason for that! Not even human sizes are the same in all stores. Women will know that a Zara S is not the same as an H&M S.
So if you don't want to return your dog's Merry Christmas dog pajamas the next day you get them, measure your dog right! If needed measure them multiple times.
1. Klippo Penguins & Snowflake Flannel Pajamas for Dogs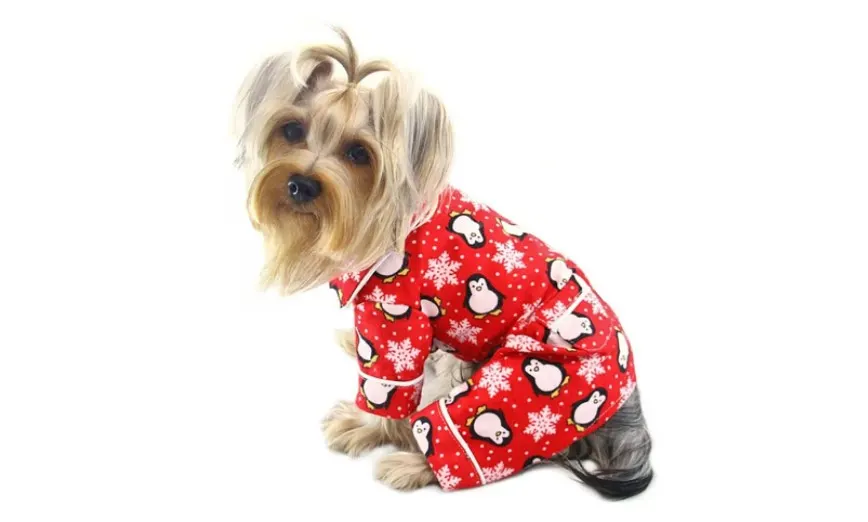 The first pajama on our list is the Klippo Penguins & Snowflake Flannel Pajamas for Dogs.
Do you remember how we said that dogs with a thinner coat need warmer pajamas? Well, this is the one! This pajama is perfect for dogs with a thin coat. It's the best pick for dogs that need extra warmth during cold, winter days, and evenings. So if you want to keep your pooch warm, these pajamas are the way to go!
Why? Well, the main reason why is that they are made out of super soft fabric and have penguins and snowflakes printed all over them. Does it get any cuter than that? We don't think so!
What's also great about these Merry Christmas Dog Pajamas is that they come with a Klippo ID tag attached to a D-ring at the top of the front opening!
You can get the Klippo Penguins & Snowflake Flannel Pajamas for Dogs on Amazon. And we told you we only have affordable pajamas. The price of this set ranges between 29 and 32 dollars, depending on the size you get. Obviously, if you have a smaller dog, you'll pay less.
2. PajamaGram Santa Suit Christmas Matching Family Pajama Set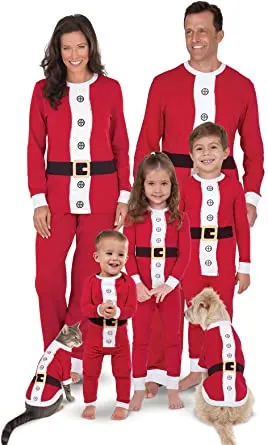 How about getting matching Merry Christmas Dog Pajamas for the whole family? It doesn't get any better than this, trust us!
The PajamaGram Santa Suit Christmas Matching Family Pajama Set is very high quality. These pajamas are made of 95% cotton and 5% spandex material. This means you, your family, and your dog will be very comfortable wearing them! You don't have to worry about that cheap synthetic material irritating your skin. This fabric allows breathability and flexibility making it super comfortable.
The pajamas themselves are Santa suit-inspired. They are a combination of red-and-white colors, with black prints for the button and belt replicas.
You can get the PajamaGram Santa Suit Christmas Matching Family Pajama Set on Amazon. These pajamas cost a bit more. The price ranges from 20 to 60 dollars, depending on who you're buying them for. Now, we know these are a bit more expensive, but given the quality, it's definitely worth it.
3. Fitwarm Cute Penguin Pet Dog Pajamas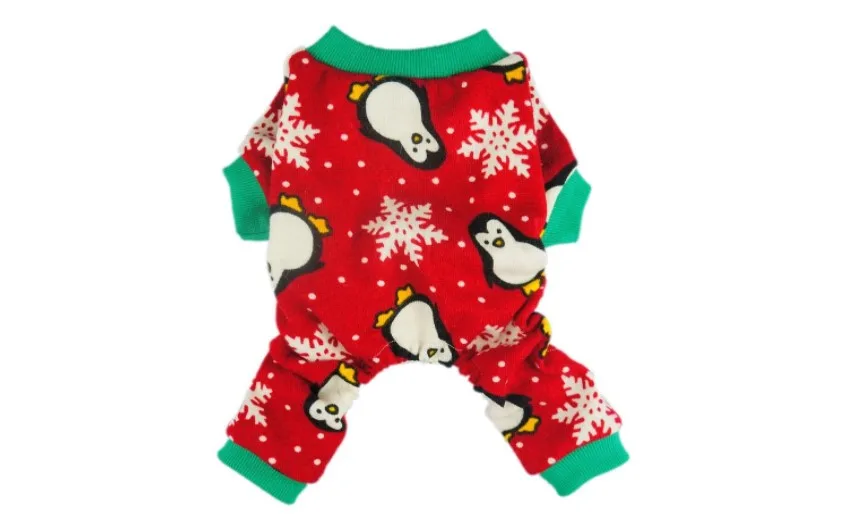 Our last set is the Fitwarm Cute Penguin Pet Dog Pajamas. This is another great option for your dog because they look cute and are comfortable.
These pajamas aren't only cute, but useful and practical too! The great thing about these pajamas is that they are made out of very warm, fleecy material. They are perfect for days with sub-zero temperatures.
These pajamas also cover all limbs leaving only the lower front exposed. But, don't worry about them being uncomfortable. The sleeves for the forelegs of this pajama are actually attached raglan-style which makes it comfortable for your dog to wear.
We have to say that these pajamas are probably the best quality pajamas out of the three on our list! One downside is that these pajamas are only available in small sizes.
You can get the Fitwarm Cute Penguin Pet Dog Pajamas on Amazon. These pajamas cost between 10 and 12 dollars, depending on the size you get.
Conclusion – Merry Christmas Dog Pajamas
Christmas is almost there and it's been a couple of hard years. We didn't get to see our loved ones enough, some of us were sick, life was full of worries. Luckily this nightmare is coming to an end and there is no better way to celebrate it than making your dog look extra cute!
To be honest, there's nothing that can make us smile faster than a cute little dog in an adorable outfit!
So, have fun and get our dog (and yourself!) a cute pajama set and enjoy the holidays. We all deserve it!