A retractable dog gate can probably be found in every dog-owner home. Especially if their dog is still a puppy. But have you ever wondered what these dog gates are good for? You are in a right place!
Well, dog gates are a great way to close off certain areas of your home so your puppy can't get in (or out). For example, you can put it on your front door, so your dog can't run away when you open the door.
But, that's only one reason why use a retractable dog gate. With it, you can also separate pets, set up a playpen, or make an extension to your dog's crate.
Retractable dog gate – What to know
Even though the concept of dog gates seems simple, there's a lot to know actually. If they are good for dogs and which to get only being some.
The retractable gate can be used indoors, on stairways, and also outdoors.
Is a dog gate the same as a baby gate?
You've probably seen ads where people sell a baby safety gate as a dog gate. Don't worry, it's not a scam. Basically, the purpose of a dog gate and a baby gate is the same. So, a retractable gate can work both for babies and doggos. That is if you're dog is small to medium-sized and if they're not jumping.
Here you have to determine what your needs are. Why do you need a dog gate, which problem do you want to solve? And how durable should your gate be? For example, baby gates can sometimes be more durable.
This is because the manufacturers took into consideration that babies will pull, tug, push and try to make the gate into a toy. So they have to make baby gates even more durable.
So, make sure to do good research on a gate before purchasing.
Which is the best?
Unfortunately, there is no best retractable dog gate. There can only be a gate that fits your needs the best.
What you need to take into consideration is what your biggest problem is. Do you need a mesh dog gate that won't have any gaps and can easily be transported? One of the best mesh dog gates may be this one.
Or do you maybe need a wide dog gate to block off whole rooms? Or maybe you also have a cat and need a gate with a little door frame for your cat?
Basically, you can find a dog gate for any function. But it's up to you to determine what you need it for.
What to consider when buying
So, there is a gate for every problem a dog owner can have. But, what should you consider when choosing the best retractable dog gate for you?
The first point to consider is if you'll be using the dog gate, look for Perma indoor or outdoor, or maybe both? Or will you maybe use it for stairs?
Secondly, how wide should the dog gate be? What is the maximum width the gate should extend to? Dog gates are usually either 55 inches wide or 71 inches wide.
Thirdly, how high do you need it to be? There are dog gates that are tall or extra tall. The most common height is 31 inches high, 33 inches, and 4 inches.
Lastly, which material should it be made of? You can choose from a mesh dog gate, where the barrier is made out of mesh. There are also plastic dog gates and wooden gates. The best option of material you should go for depends on where you'll use the gate, indoors or outdoors.
Our recommendations – Top picks
It's difficult to find the right anything in this world. We have so many great options that choosing becomes a challenge. Lets take a look at user experience.
But, we have a few recommendations that might make your life a bit easier. We will try to explain pros and cons of every product.
1. Carlson Extra Wide Walk Through Pet Gate with Small Pet Door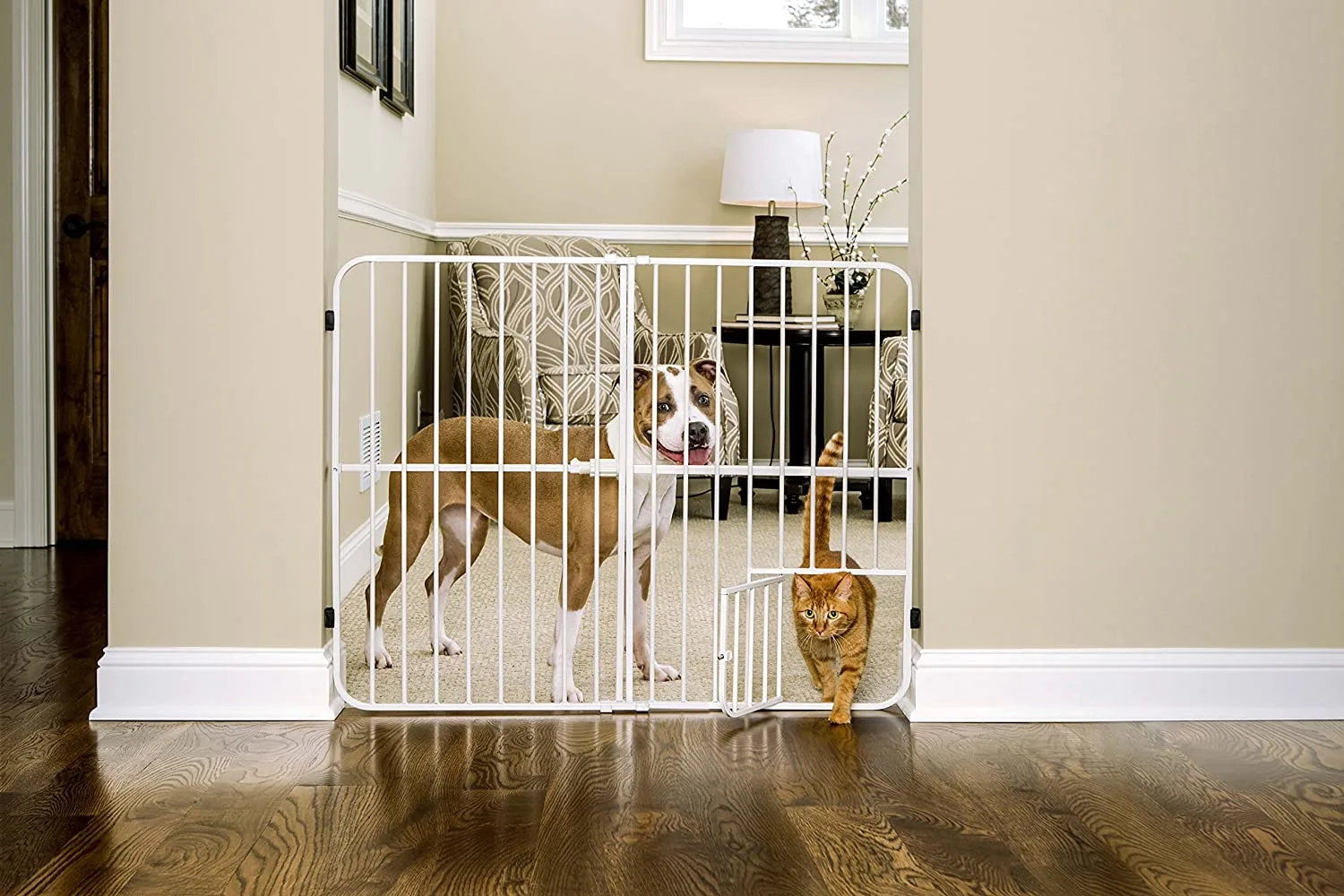 This dog gate is perfect is you have a cat at home since it has retractable baby gate.
The Carlson Extra Wide Walk Through Pet Gate with Small Pet Door is an overall great product, especially if you have another pet in your home.
With the small door, you can keep your dog from exiting or entering a certain area in the house. But, at the same time, your cat can move freely. You can change that with a simple hand operation. This goes for both, top and bottom doors, for either opening and closing.
It can expand between 29-36.5 inches wide and stands 30 inches tall. It's both easy to set up and install, offering a pressure mounting hardware design that will keep your pet gate in place.
2. OWNPETS Dog Screen Door, Inside Door Flap
If you want your dog to still be able to walk out into your fenced-in back yard then the OWNPETS Dog Screen Door, Inside Door Flap is the right dog gate.
Users rated this 'doggy door' screen door almost 2,000 times, giving it 4.5 out of 5 stars. They praise it for the ease of installation, convenience and love it for the time it saves!
The self-closing doggy door is also lockable in case you do not want your pup getting out.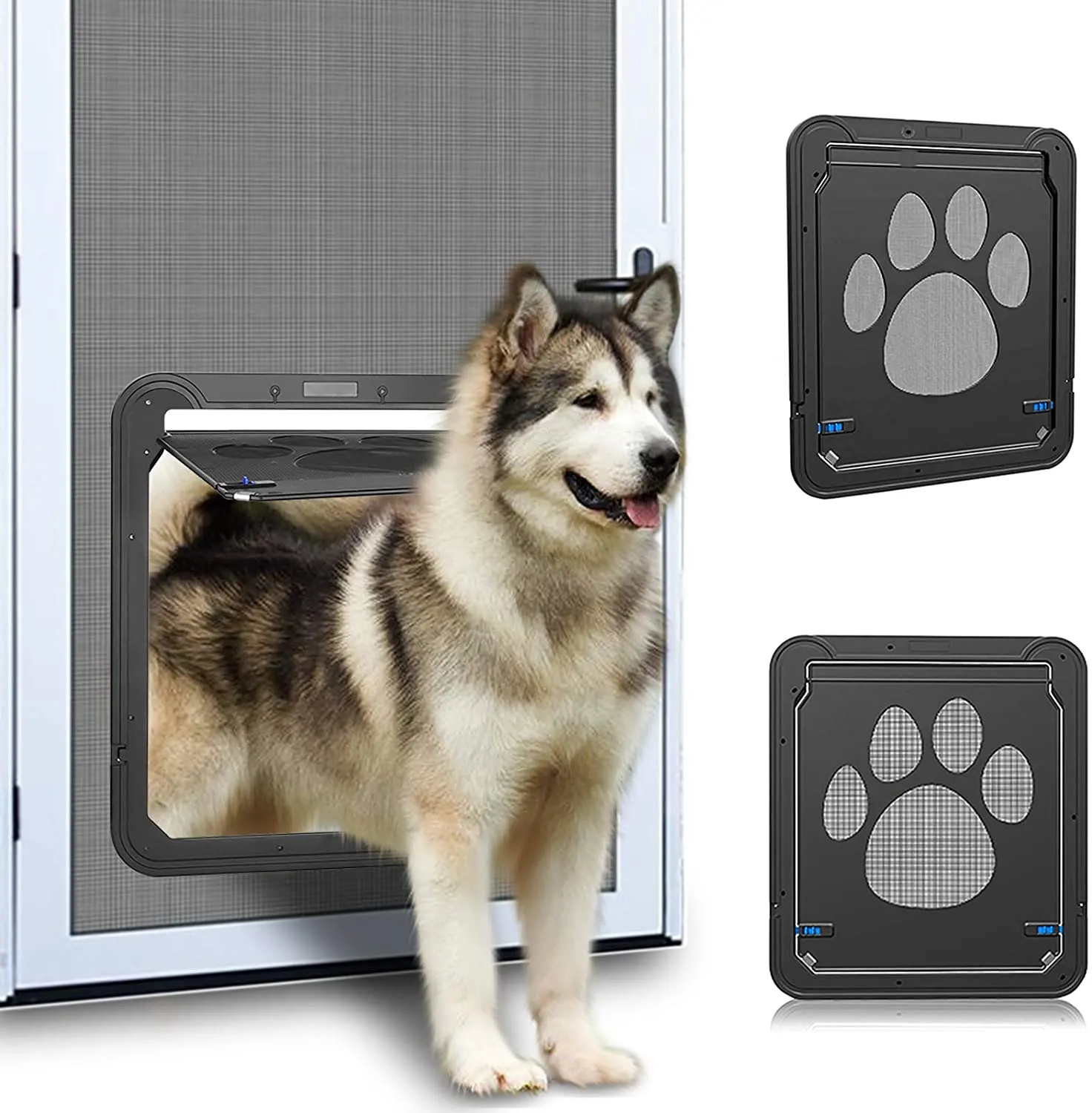 It's perfect for medium size to larger dogs, so basically if your dog is around 60 pounds. Other characteristics:
Inside size: 14x12x0.5inch
Outside size: 16x14x0.5 inch
Self-Closing & Lockable
Made of high-quality ABS material
3. Pet Safety Mesh Dog Gate
If you don't want heavy gates with bars, then the Pet Safety Mesh Gate for Dogs with mesh design is the right option! The retractable mesh gate won't let your dog walk around however they want and it's super easy to use. The fit openings will suit every dog.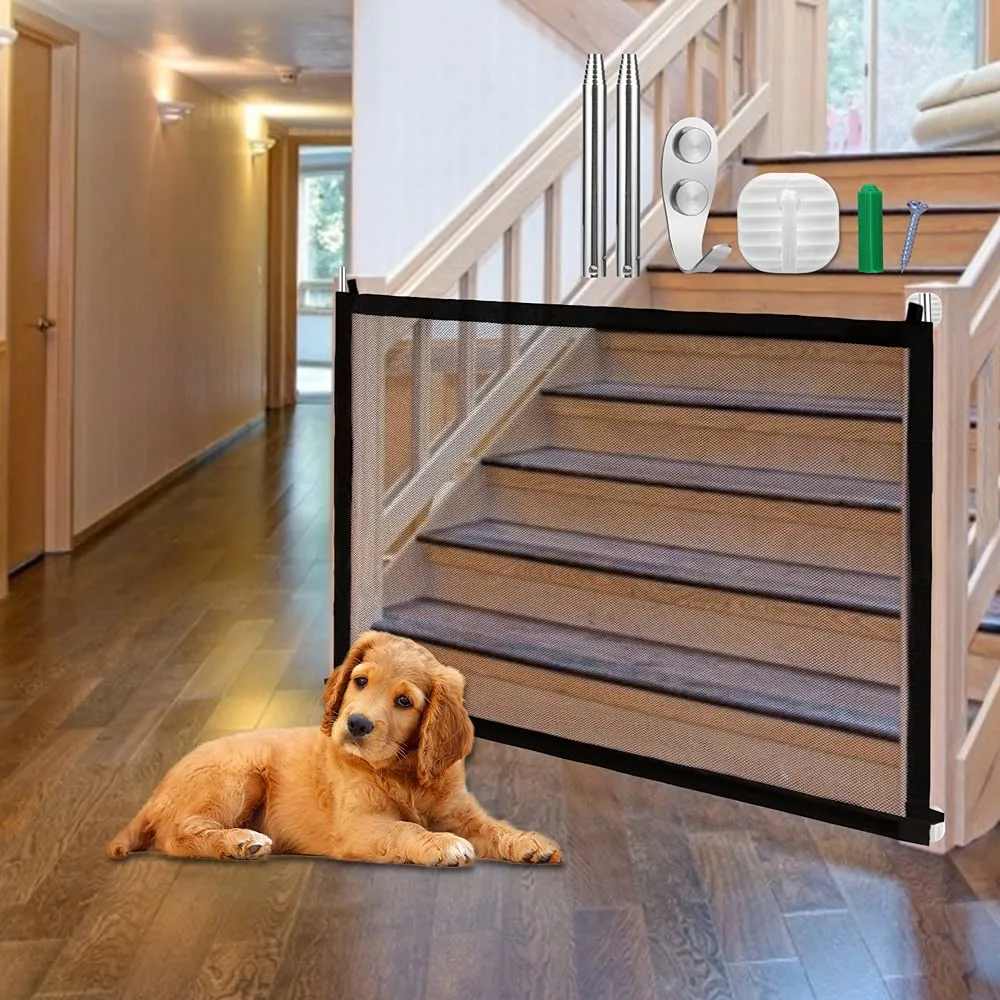 What makes this gate a good gate:
Made of woven mesh fabric
Extends up to 28′ inches times 44′ inches
Perfect for the smallest dogs or a new puppy
No tools are required for setup
Fast installation
Built to withstand Elements in every climate – year round

Rustproof and weather-resistant – durability at its finest

Designed to give your pets their own space and keep them safe while outdoors

Pressure mounted gate is perfect for top and bottom of decks

No need to ever remove this gate – the walk through door lets others have easy entry and access while your pet stays put

wide entryways
The full Amazon title would be: Retractable Baby Gate, Mesh Baby Gate or Mesh Dog Gate, 33″ Tall, Extends up to 55″ Wide, Child Safety Gate for Doorways, Stairs, Hallways, Indoor/Outdoor (Black,33″x55″).
Super Safe 36.6″ Tall because taller is safer. Fits narrow and wide openings from 18″ to 55″.
No threshold when open means risk of tripping has been eliminated.

Install at top and bottom of stairways, in doorways, patios, hallways… indoor and outdoor use.

2 sets of mounting brackets allowing the alternate usage at two different locations. Child and pet safe.

Can be operated with one hand. If not needed roll it up. Minimal space requirements.
Additional advice and what to look for when buying the best outdoor retractable dog gate
Look for safety gate awards

Easy purchase is something you want to go for

Available today is always a good option to be sure that you are buying first hand product

Look for the favorite features you expect from the product

Everybody is searching for a lower price but also try not to look only those, because you can get so much more for additional few bucks, at least in the United States, United Kingdom, Australia and Canada.

Be sure to check locking mechanism and that retractable gate fits your needs .