Our pets are not only our pets. They are our friends, our family. That is why the loss of a pet is a very painful experience. What is also painful is when someone we care about loses their pet. We can feel the pain they are feeling. This is what recently happened to me. My best friend lost her beloved dog. I really wanted to make her feel a little better, I asked myself what to get someone whose dog just died?
ALSO READ Can You Feel A Microchip In A Dog?
When people lose their pets they grieve deeply, it's as if they lost a family member. During that grief period, they need you to comfort them, be there for them. One way to do that can be to gift them something meaningful. Something that will always remind them of their beloved pet.
In this article, I want to give you a few ideas on what you could gift your friend who lost their dog.
What to get someone whose dog died?
When my friend's dog died I didn't know what to do. I had no idea how to comfort them nor if I should gift them something. In hopes of finding something, any idea on what to give my friend I turned to the Internet. However, I didn't have much luck. That's when I decided to write this article.
ALSO READ My Dog Ate 10 Mg Melatonin! What To Do?
So, what to get someone whose dog died? Well, there are actually many options. In fact, the best gift ideas are actually DIY projects!
Photo album
I ended up gifting my friend a photo album filled with pictures of her and her beloved pooch.
My friend loved posting pictures of her dog on social media. I downloaded a bunch of those pictures and printed them out. I then bought a photo album and put the photos I printed out in it.
ALSO READ Spiritual Dog Names And Their Meanings
A photo album can be a great way for your friend to revisit the good times they had with their beloved dog.
You can also find meaningful quotes about dogs and write them down under some of the pictures. Either way, your friend will love it for sure!
Special frame
If you don't want to make a whole album, you can make a personalized picture frame and print out just one picture that is especially dear to your friend.
You can buy a simple picture frame and decorate it however you like. You can even write a nice, motivating message for your friend on the frame.
ALSO READ How to get a dog unstoned: "Help, my dog is high!"
However you decide to decorate it, your friend will love it and appreciate you for making it for them.
Pet portrait
If you are a good painter you can paint a portrait of your friend's dog. However, if you're anything like me and can't draw for the life of you, then maybe you can pay someone to paint it for you. However, you will probably have to provide a picture of your friend's dog.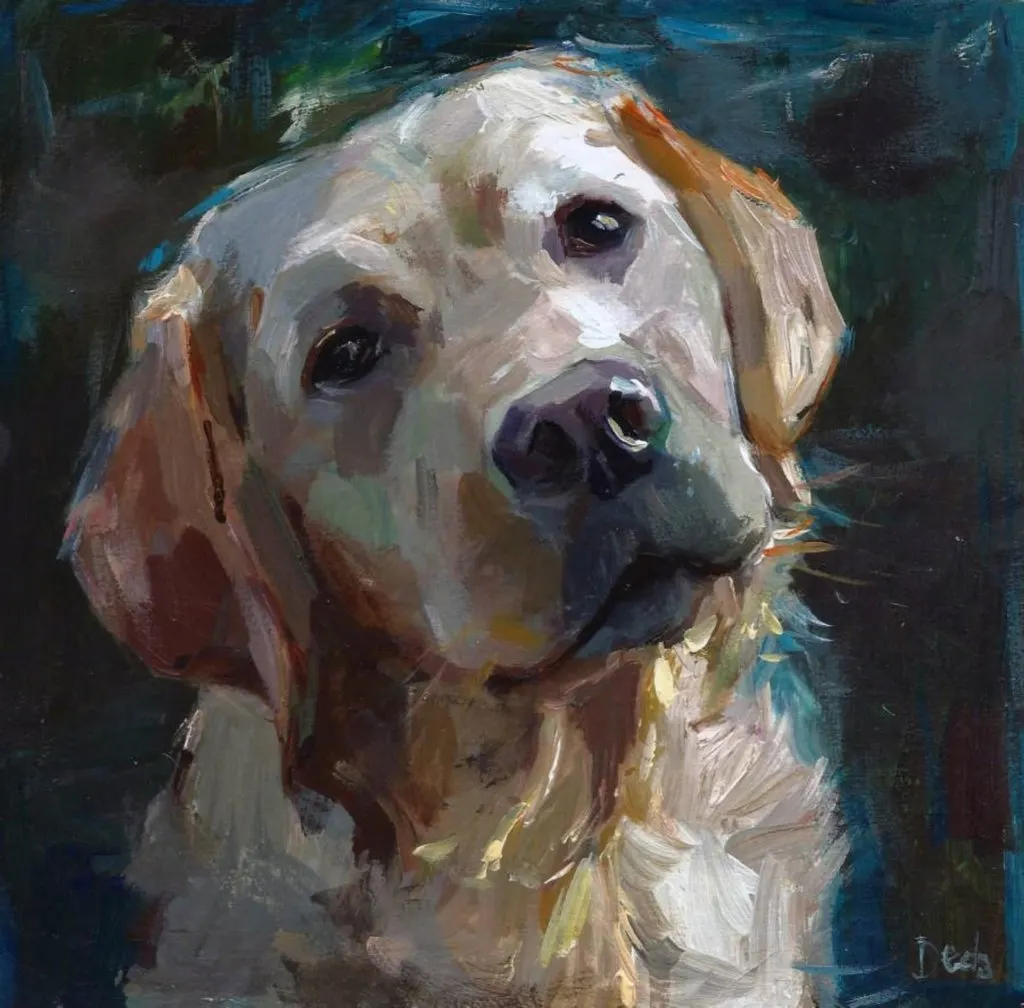 Another thought would be to have someone paint a painting of your friend with their dog together!
ALSO READ Dog coloring books for adults: Relax and de-stress
Just imagine their smile and happy tears in their eyes when they see their beloved dog's face.
Personalized christmas tree ornament
Holidays seem to be the most difficult time after losing a pet. During this time it helps to be surrounded by loved ones, and mementos of loved ones who have passed away. The same applies to dogs as well.
ALSO READ Natural Dog Company Skin Soother: DIY balm
To help ease your dog's grieve you could make them a personalized Christmas ornament. You can either make one yourself, or you can have someone make one for you.
Conclusion
There are many things you can gift a friend who is grieving their dog's death. However, just being there for them and emotionally supporting them is the best gift you can give them.
Let your friend talk about their pet however much they want, let them cry, let them grieve.