The Australian Shepherd and the Bernese Mountain dog are known to be two absolutely amazing family dogs. They are loving, affectionate, goofy, protective and endlessly loyal. But imagine crossing these two together. It isn't to hard, is it? The Australian Shepherd Bernese Mountain Dog mix is a dream come true for all active dog lovers. However, to understand this hybrid dog better, we have to take a closer look at his parent breeds.
Australian Shepherd Origin
Australian shepherds, despite their name, didn't actually originate in Australia, but in the western United States around the time of the Gold Rush in the 1840s.
A picture of an Australian Shepherd dog smiling
Australian Shepherds are very happy, active and full of energy
These dogs were originally bred to herd livestock, so they were used on farms (they still are!). Aussies are very intelligent, full of energy and are the happiest when they have something to do. They love helping their humans, no matter what the task is.
Only back in 1993, the breed was recognized by the AKC.
Bernese Mountain Dog Origin
Berners' origins are from the mountainous regions of Switzerland. These dogs herd cattle and protect them from predators, but they have also worked hard. Berners are known worldwide due to their ability to pull many time their weight.
Berners played a crucial role in the two most important Switzerland's products: cheese and chocolate.
Unfortunately, with the increasing mechanization, Berners was redundant. As a consequence, their numbers dwindled and the overall quality of the breed was poor.
However, things changed when Profesor Albert Heim stepped in to save and improve the breed. After a short time, Berners was once again one of the favorite dog breeds.
Bernese Mountain Dog arrived in the USA in 1926, when a farmer from Kansas brought a pair of Berners to work on a farm. The first Bernese Mountain Dog was AKC registered in 1937.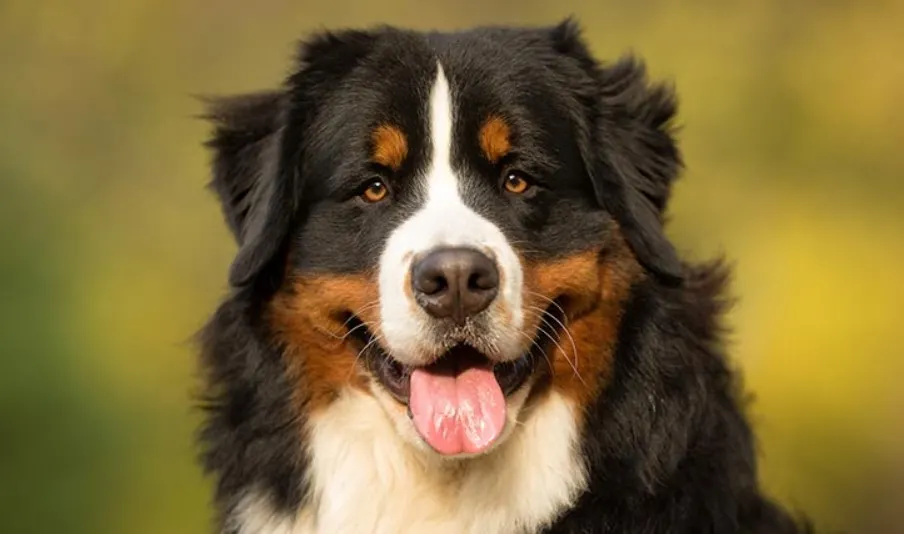 Australian Shepherd Bernese Mountain Dog Origin
Just like with any other crossbreed, it is hard to say when the first hybrid dog was created. Chances are that it was back in the nineties when most of our beloved crossbreeds saw the light of the day for the first time.
Personality of the Australian Shepherd
Because they were bred to be dominant and control livestock, Australian Shepherds tend to be a little pushy and commanding with humans too. That is if you don't give them firm and confident leadership. So, it's safe to say that the Aussie might not be the best choice for first-time or scared owners.
Besides this, because of their nature Aussies are quite loyal to their family, however they tend to be a bit standoff-ish with strangers. From early on you will have to work on socializing your dog.
Personality of the Bernese Mountain dog
Berners are gentle giants of the dogs' world. They are affectionate, tolerant, calm, and intelligent. Typical Bernese Mountain Dog is protective, but not aggressive. Berners can be shy and reserved around strangers, other dogs, and animals. Therefore, it's important to work on early socialization and introduce your puppy to new people, dogs, and animals.
Personality of the Australian Shepherd Bernese Mountain Dog mix
The personalities of these two dog breeds are pretty similar. So it's not too hard to predict what their crossbreed will act like. The Australian Bernese is a loving, affectionate and protective family dog. He will make sure that you and your family are safe. Their energy levels are insane, and they need a lot of exercise. So if you have a busy schedule and live in a small apartment in a busy city, this isn't the dog for you.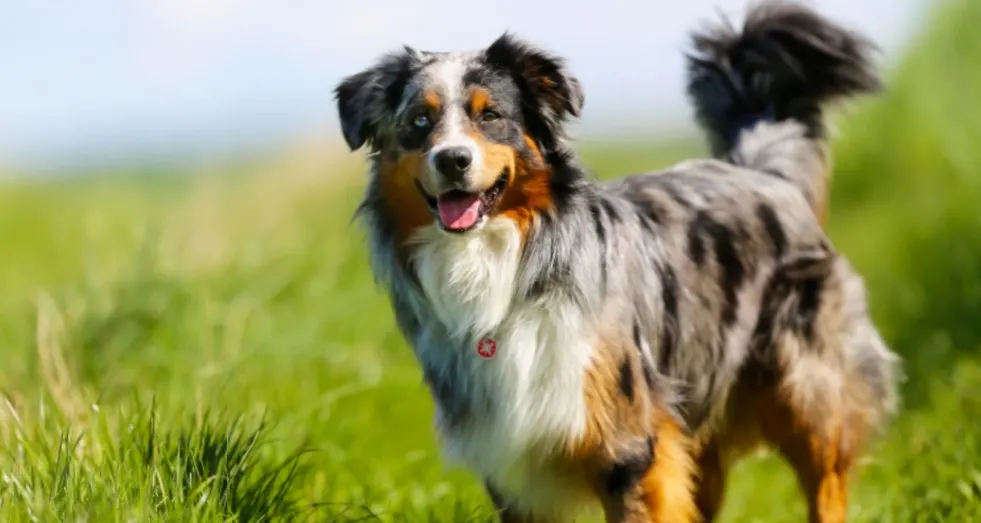 Appearance of the Australian Shepherd
The Aussie is a medium-sized, very athletic dog.
The males are somewhere between 20 and 23 inches tall at the shoulder. The females on the other hand are between 18 and 21 inches for females. When it comes to their weight, males weigh between 50 and 65 pounds, whereas females weigh somewhere between 40 and 55 pounds.
He comes in many different colors, the most common ones being:
blue merle
red (liver) merle
solid black
solid red (liver).
They may also have white markings and/or tan areas. Their coat is medium long and can be straight or wavy.
Their eyes come in many different colors, but often they will have piercing pale blue eyes.
Appearance of the Bernese Mountain dog
Berners are strong, large, sturdy, and powerful dogs.
Male Berners stand at 25 to 27.5 inches tall and weigh between 80 and 115 pounds. On the other hand, females stand at 23 to 26 inches tall and weigh between 70 and 95 pounds.
Bernese Mountain Dog has a thick double coat. The outer coat is long and dense, while the undercoat is wooly. The coat typically comes in tricolor (jet-black, white, and rust).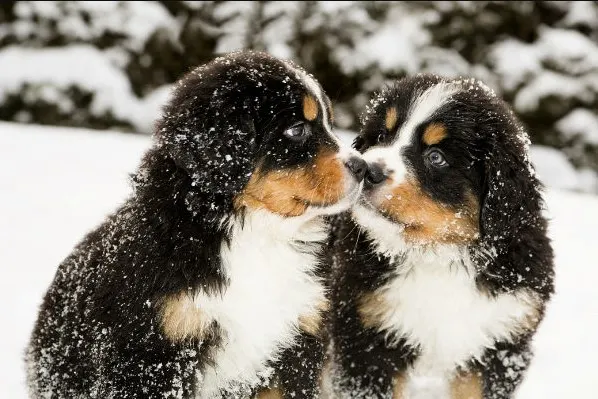 Appearance of the Australian Shepherd Bernese Mountain Dog mix
It's hard to say what this hybrid dog will look like. But it's clear that it's going to be a larger pooch. These two dog breeds are pretty similar appearance wise too. They often come in three colors and have a medium length, straight to wavy coat. The crossbreed could look more like either one of his parent breeds. If he leans more on the Australian Shepherd side, he will probably have blue eyes and will be medium large. Bernese Mountain dogs have larger bodies, and most commonly dark brown eyes.
Health of the Australian Shepherd
Generally speaking this breed is quite healthy, however just like any other breed they are susceptible to certain diseases and illnesses such as:
Hip Dysplasia
Elbow Dysplasia
Epilepsy
Deafness
Osteochondrosis Dissecans (OCD)
Progressive Retinal Atrophy (PRA)
Allergies
Cancer
Health of the Bernese Mountain Dog
Bernese Mountain Dog is a strong and healthy dog. However, due to irresponsible breeding, Berners have a higher risk of developing these health issues:
Hip Dysplasia
Elbow Dysplasia
Von Willebrand's Disease
Cancer
Progressive Retinal Atrophy
Gastric Torsion
Panosteitis
Health of the Australian Shepherd Bernese Mountain Dog mix
As you can tell from our previous section, these two breeds are prone to similar health issues. However, as a rule of thumb, crossbreeds are usually healthier than purebred dogs. However, you have to make sure to buy your puppy from a responsible dog breeder who produces healthy litters.
The most common health concerns are hip dysplasia, elbow dysplasia, cancer and retinal atrophy.