Our four-legged best friends love being outside. They love running around and playing, however, sometimes their energy goes over the roof and they slip out of control. In order to keep your dog safe in such situations, a dog zip line is the perfect solution.
With a zip line your pooch can run around and play but within a range of motion that keeps him safe!
ALSO READ Dog bike leash: Which one should you buy?
You might be thinking that you don't need a zip line for your pooch, however that's not true. Zip lines come in handy in many different situations, such as when you go hiking, while at home when your dog plays alone in the garden, or at a friends house.
We've done a little bit of research too, in order to find the best dog zip line for you.
Dog zip line – Everything to know
Let's first explain what a zip line even is. Basically, a zip line is a pulley system that hangs across an aerial cable. The special thing about it is that this areal cable stays with your dog as he walks, runs, sniffs, and explores the world.
We also have to say that this very useful system actually consists of two cables.
First, we have a runner cable that is tied between two posts or trees.
ALSO READ Slatmill For Dogs: Is It Good Or Bad?
Then, we have the pulley cable that is mounted on the runner cable and tied or attached to a dog's harness or leash.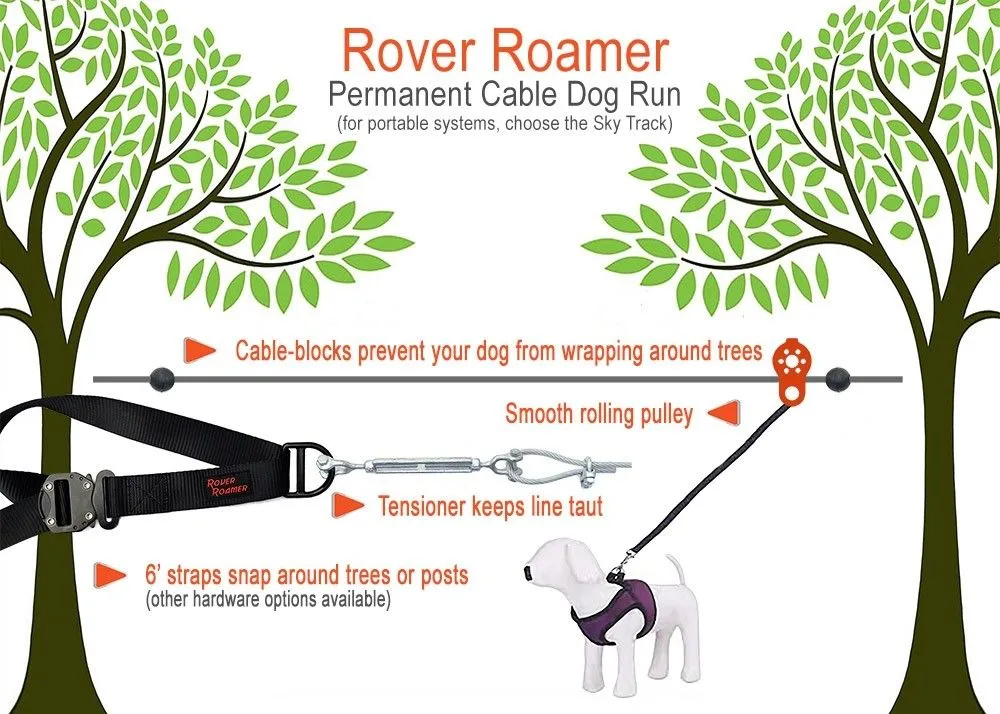 Why a zip line is useful
A dog zip line has actually many benefits, some of which we're going to write about.
Your dog is safe because it can't get strangled or wrapped around trees or posts. With a zip line, you won't have to go out constantly in order to untangle your dog.
Your dog will have a feeling like they can walk around freely and they will feel less strained.
If your dog likes to chew on its leash, the zip line is a great option. This is because the leash in this case is over your dog's head, so he is less likely to turn and chew it.
It limits tripping-related injuries for you or a member of your family or friends.
ALSO READ Dog Crocs: An Adorable Fashion Accessory For Your Dog
Dangers of zip lines
Of course, we also have to mention all of the dangers of a zip line. Even though this is a useful tool, it can be dangerous too.
You still have to supervise your dog while on the zip line. Otherwise, you're risking your dog being strangled. This can happen if the trolley cable gets tangled around your dog, cutting off his breath and blood circulation to the limbs.
Jack Russell terriers, Golden retrievers, Dalmatians, Irish setters, and other dogs that require a lot of exercise might not benefit from a zip line. These dogs are very curious, full of energy so the zip line can easily bore them because it limits them. This can, unfortunately, lead to destructive behaviors like excessive barking, digging, or even chewing their hair off.
Your dog isn't protected from animal predators like cougars, snakes, or hawks.
ALSO READ Dog Carrier For Bike: Amazon Finds
Which should you buy?
Now, if you want to get a zip line for your pooch, you have two options. First of all you can make your own, and secondly you can buy one.
We wouldn't recommend making a DIY version. It might be cheaper, however, you're still risking making something that won't work properly or you could injure your dog.
It's best to buy one, you'll know that's safe. We've found a few options for you.
1. Four Paws Walk-About Overhead Tie-Down
The Four Paws Walk-About Overhead Tie-Down is sturdy, rust-proof, and durable. This zip line is made from vinyl-coated aircraft cable which will keep your dog always safe.
ALSO READ Dog Cart For Bike: Amazon Finds
Besides this the cable is a 10-ft pulley that supports heavy dogs up to 50 lbs. One disadvantage might be that it does lose tension over time.
You can get the Four Paws Walk-About Overhead Tie-Down on Amazon and it costs around 40 dollars.
2. Boss Pet – Prestige Aerial Dog Run
The Boss Pet – Prestige Aerial Dog Run aerial dog run is made from vinyl galvanized steel used to make aircraft cable. This material is known for being strong and long-lasting.
The material can actually withstand a lot of tension without breaking or bending. The cable comes in three lengths making it perfect for dogs weighing up to 60 lbs.
You can get the Boss Pet – Prestige Aerial Dog Run on Amazon for around 30 dollars.
ALSO READ Dog bike trailer: Fun way to bring your pup along
3. PUPTECK Dog Run Cable
The PUPTECK Dog Run Cable is a very high-quality zip line for dogs. This zip line is 100 feet long which makes it ideal for super heavy pups.
The zip line is made out of 100% steel, which means that it can withstand a lot of tension. There's also a vinyl material that covers the cable and protects it from the elements.
Another great feature is that this product also consists of a shock-absorbent spring, which makes it even safer to use.
You can get the PUPTECK Dog Run Cable on Amazon and it costs