Hermes is a super expensive luxury brand. They sell clothes and bags to the rich and famous. You probably already knew that. But did you know that you can even buy a Hermes dog bed?
Yes, you read that right. Hermes offers luxury beds for our beloved canines. But are these beds even worth buying?
In this article, we're going to take a look at the dog beds Hermes has to offer and answer if they are worth the money or if they are completely unnecessary. After all, you can buy a good dog bed from Amazon for 50 or 60 bucks, so why pay 600 dollars for a Hermes dog bed?
If you're just looking for a nice dog bed for your canine, we have many other suggestions for you:
Kirkland Dog Bed: The Ultimate Choice
Waterproof Dog Bed: Benefits Of Having One
Bean Bag Dog Beds: Why They Are Good For Dogs?
Calming Dog Beds: How They Work?
Orvis Dog Beds: Quality, Tradition & Comfort
Hermes dog bed – Should you buy one?
In order for us to see if the expensive dog beds from Hermes are any better than the ordinary dog beds you'd get from the pet shop, we need to see what Hermes is even offering. What are their dog beds made of, how thick are they, what do you get for the hefty price of 600 dollars?
Right now Hermes offers three different dog beds, the price ranging from 630 dollars to 1,750 dollars (who would even pay so much?!).
1. Hermes $630 and $750 beds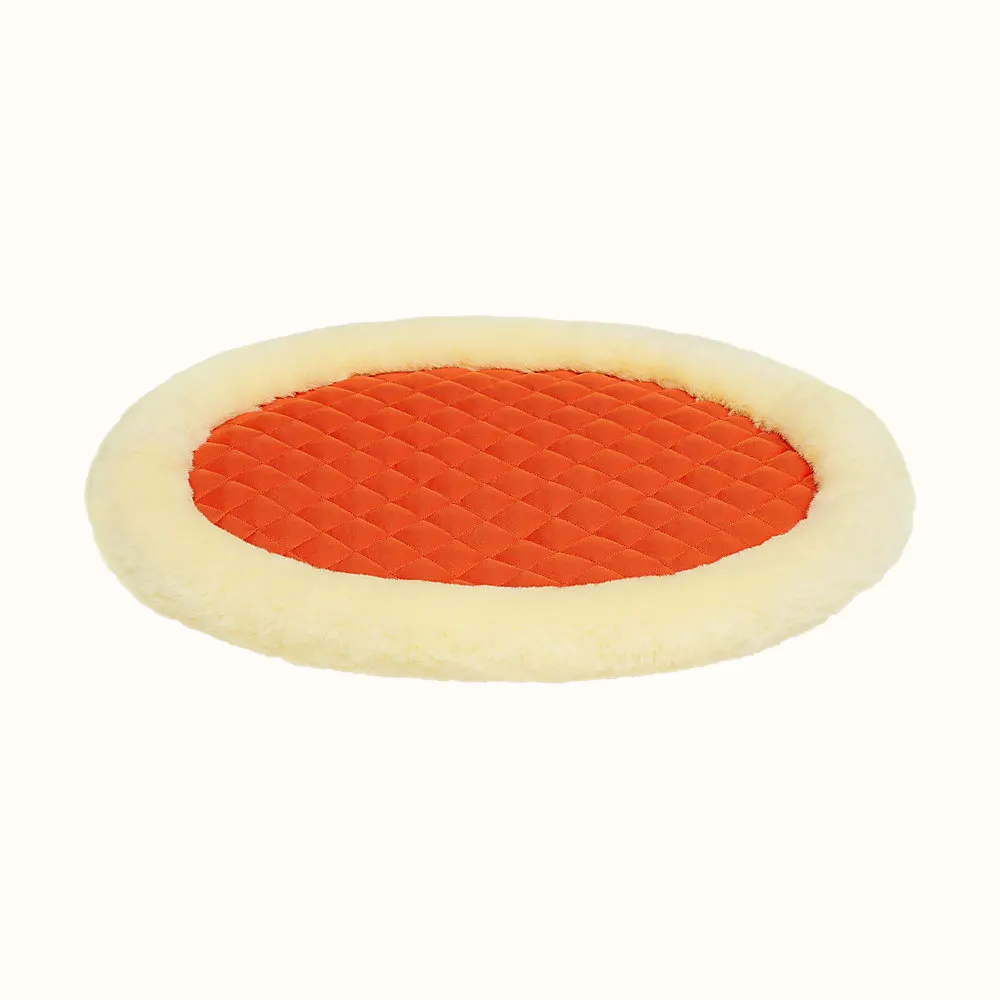 The first Hermes bed on our list is also the cheapest. Well, that is if you can even say that. This bed costs 630 dollars and here's what Hermes has to say about it.
According to Hermes, this luxury dog bed is machine washable. What's special about it (and why it costs so much) is because one side of it is genuine sheepskin which will keep your dog warm and cozy in the winter. The other side of the bed is a breathable fabric and it's great for hot summer nights and days. What's that breathable material that costs 630 dollars you ask? Well, it's 100% polyester.

Besides this, Hermes is proud that this dog bed is made in Switzerland. What's also important to state is that the bed is 18.1″ long and 23″ high.
When it comes to the second most expensive dog bed from Hermes, it has all the same characteristics as the 630 dollars one. The only difference is that it is 33.1″ long and 24.6″ high.
2. Hermes $1,750 Bucket Basket (Medium size)
Would you pay 1,750 dollars for a dog bed? Well, let's see what you would get for your money's worth.
Basically, you're getting a basket in oak wood. According to Hermes, it's inspired by the expertise of French barrel-making.
By buying this you're getting a two-sided machine washable cushion (aka the above-mentioned dog bed). One side of the cushion is genuine lambskin, and the other side is a breathable fabric for summer (100% polyester).

Unlike the previous models, which were made in Switzerland, this dog bed is made in France.
When it comes to the measurements, the bed is 26.8″ long, 9.1″ high, and 22″ wide.
Here's what Hermes has to say about this dog bed:
"Inspired by barrels intended for winemaking, the wooden buckets are perfect for all kinds of uses. With their discreet appearance, they adapt perfectly to any requirement. Unique objects that are also practical, subtly decorate our living spaces with equestrian touches. Encircled by stainless steel using expert craftsmanship handed down from generation to generation, they are made of oak wood, which is naturally durable and water-resistant."

Conclusion
In conclusion, a Hermes dog bed will cost you a fortune, but if it's worth it is up to you to decide. Are sheepskin and polyester really worth a minimum of 630 dollars? We believe that there are many other high-quality dog beds that won't cost you a fortune.
Also, keep in mind that dogs don't care if their bed costs 60 or 600 dollars, they will destroy it no matter the price tag. After all, give it a month and you'll find it full of dog hairs. Additionally, our dog might even chew on it and you'll have holes in your expensive Hermes dog bed. So, no we do not think that it's worth the money at all.