Just like people can be introverts or extroverts, the same goes for dogs too. There are dogs that don't like to interact too much with other people and pets. Those dogs need a hiding place, somewhere they can be alone and recharge. Of course, a crate can be a great hideout. But, if you're not a fan of crates you might want to look into a dog house bed.
ALSO READ Dog cage for sale: Finding the best crate
Some people don't like the idea of crates, even though they can be helpful and practical. So if you're one of those people, but you have an introverted dog, then we have the perfect solution for you.
A dog house bed basically looks like a dog house but it's a bed for your pooch. With this kind of bed, your dog can get a little bit of privacy and time for themselves if everything gets too overwhelming.
If you're not sure what kind of dog bed to get, we have many articles with suggestions for you:
Kirkland Dog Bed: The Ultimate Choice
Dog Beds Amazon Finds For Every Breed
Waterproof Dog Bed: Benefits Of Having One
Amazon Dog Beds Review
Bean Bag Dog Beds: Why They Are Good For Dogs?
Dog house bed – Our top picks
Dogs have different personalities, that's simply a fact. You have dogs that love to run around and play with other canines. There are also dogs that will stick by their owner's side when they are at the dog park and won't interact with other canines much.
If your dog belongs to the latter, then it probably means they are introverts. And what do introverts do? A little space of their own where they can hide out for a few hours. We have a few suggestions on dog house beds for you that your introverted pooch will love.
ALSO READ Can dogs have autism? Canine Behavior Disorder
Also, please note that your dog being introverted their whole life is nothing to worry about. However, if you notice that your usually outgoing, playful dog is behaving completely differently, then it might be a good idea to schedule an appointment with a veterinarian.
1. Furhaven Pet Beds Snuggery Dog Bed with Attached Blanket Hood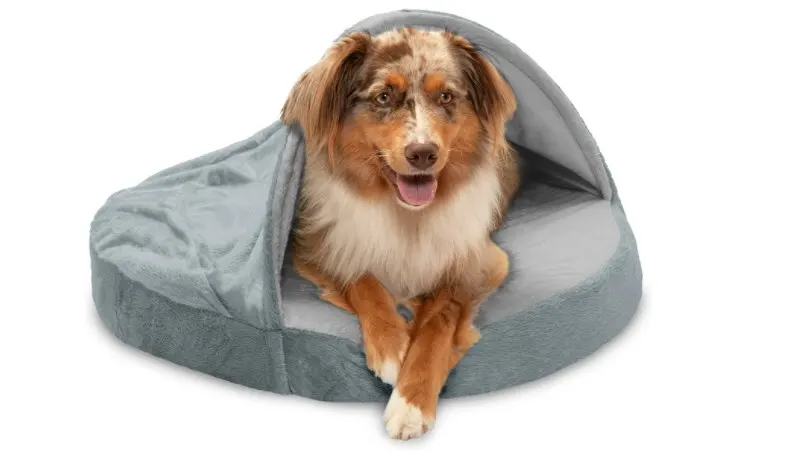 Cozy dog beds for introverted canines are usually quite small, so they fit only smaller breeds of dogs. However, that's not the case with the Furhaven Pet Beds Snuggery Dog Bed with Attached Blanket Hood.
This dog bed comes in four different sizes, so no matter which breed of dog you have, small or large, you can get it!
What's great about this dog bed is that it has an attached blanket that can be used as-is or you can convert it into a tented burrowing cave. Either way, your dog will have a cozy nesting space to curl up and snuggle in warmth.
ALSO READ My Dog Has To Sleep Touching Me – What To Do
I'll sound like an infomercial now, but the cover is not even the best part about this bed. You see, the base of this dog bed is actually orthopedic foam. This helps cushion pressure points, distribute body weight, and improve air circulation to ease discomfort and allow for a more restful sleep.
You can get the Furhaven Pet Beds Snuggery Dog Bed with Attached Blanket Hood on Amazon and it costs less than 30 dollars! How amazing is that?
2. Hollypet Cozy Warm Cave Nest Sleeping Bed for Small Dogs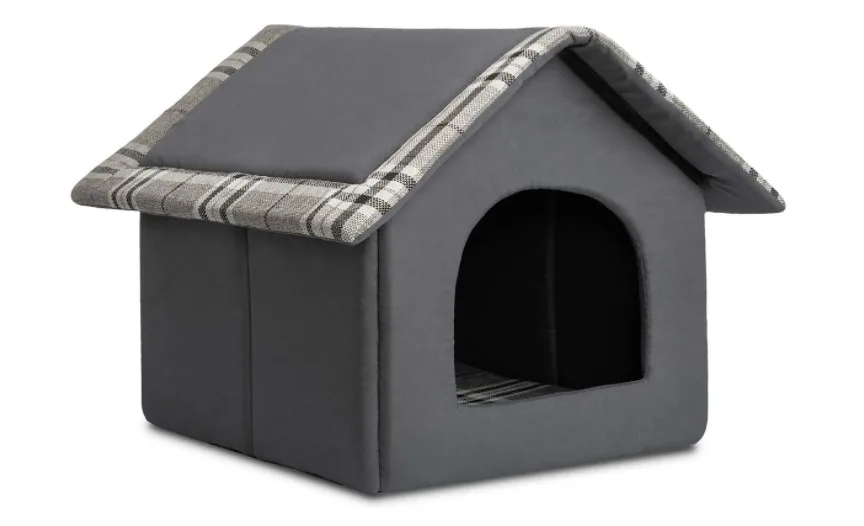 The Hollypet Cozy Warm Cave Nest Sleeping Bed is perfect for small dogs. The overall dimensions of this pet bed are 16 inches in length, x 16 inches wide, and 15 inches in height. The entrance size is 8.5 inches wide and 7.1 inches tall. This means that it is suitable for pets that are less than 20 pounds heavy, so small breeds of dogs and even cats.
This bed is of great quality, with precise sewing, invisible corners, and strong seams. It will definitely last you a long time.
ALSO READ Truck bed dog kennel: What to actually look for
The outer part of the bed is mainly made of polyester, the filling is of a high elastic sponge. This means that it's very soft and warm.
You can get the Hollypet Cozy Warm Cave Nest Sleeping Bed for Small Dogs on Amazon and it costs $31.
3. Hollypet Cozy Pineapple Shaped Pet Bed
Dog beds don't always have to look the same, why not get a fun-shaped dog bed? For example, a pineapple-shaped one?
The Hollypet Cozy Pineapple Shaped Pet Bed is super cute and will keep your dog safe and sound.
Just like the previous bed, this one is also made for smaller breeds of dogs or cats. The characteristics are the same too.
You can get the Hollypet Cozy Pineapple Shaped Pet Bed on Amazon for around 30 dollars.