We have talked about many different brands of food in the past. Just recently we posted an article about Pro Pac dog food and if it´s any good. In this article, we´ll take a closer look at Valu Pak dog food.
But let´s rewind for a second, in the Pro Pac dog food article we also covered how big companies sometimes deceive us by splitting grains into different kinds of grain, rice, wheat, corn, oats, and so on. So when you look at the ingredient list you´ll see for example rice in the fourth place and think you´re holding a high-quality dog food in your hand. In reality, when you put together all the grains that were used in that dog food, grain should be put as the first ingredient. It´s simply present in much larger quantities.
We know that high-quality dog food should contain the largest quantities of protein, then carbohydrates, and lastly fats. But, we´ve never taken a closer look at the nutrients your dog should consume and how much of which nutrient should even be present in your dog´s food.
Besides taking a closer look at Valu Pak dog food, we will also cover what nutrients your dog needs to stay healthy and happy.
Dog food 101 – What you need to consider
Dogs need different kinds of foods in different life stages. The same applies to their nutritional needs. That´s why dog food brands make foods with different nutritional levels. That´s also why you will see dog food for puppies, adult dogs, and senior dogs. There is even special food for pregnant and nursing female dogs.
We also need to make something else clear, the information and feeding guidelines we´re providing for you are only estimates. Now, we can´t know the feeling and nutritional needs of your particular dog. We can´t give you an exact food intake for your dog, but we can provide you with information that might help you out.
Obviously, the nutritional needs and precise food intake of dogs depend on a lot of factors. For example show dogs have to eat a lot of food that will help them keep their coat shiny and skin healthy. When talking about feeding active dogs or working dogs, you should know that they need additional amounts of food. Their caloric intake should be much higher than that of dogs that spend the majority of the day on the couch. So, the higher the stress factors on your dog´s body, the more extra nutrition they need. Food consumption also depends on the dog´s body weight. A large Golden retriever and a tiny Chihuahua won´t eat the same amount of food.
Nutritional needs
Is your dog a carnivore or omnivore? According to Wikipedia, a carnivore is a meat-eater, it´s an animal whose food and energy requirements derive solely from animal products. An omnivore on the other hand is an animal that can eat and survive on both plant and animal matter.
While there are still people who believe that dogs are exclusively carnivores, the truth is that your pooch is an omnivore. So, they shouldn´t only eat meat, they need vegetables and fruits too. They need all three macronutrients:
If we would go into the deeper, we would say that dogs need six basic nutrients to survive:
Protein
Carbohydrates
Fats
Fresh, clean water
Vitamins
Minerals
But how much of which macronutrient do dogs really need?
Protein intake
Well, dogs thrive on meat-based diets (but their meals shouldn´t contain ONLY meat!). So, protein should be consumed in the largest amounts. A rule of thumb is that dogs need one gram of protein for every pound of their ideal body weight.
Now, this can be a little tricky, how can you know what your dog's ideal body weight is? Our advice is to ask your vet what your dog's ideal body weight is. For example, if your vet tells you that your dog's ideal body weight is 30 pounds, that means your dog needs to eat 30 grams of protein.
But what is the consumption amount of protein in percent? Based on your dog's age, you'll want a minimum of 18 to 29 percent protein in his food. Adult dogs need 18 to 25 percent protein, but a growing puppy requires more protein – around 29 percent.
Extra tip: You´ll somewhere read crude protein, crude fat, or crude fiber. Don´t let that confuse you. The word "crude" is simply used to cover all of the methods through which these nutrients are estimated and assessed in the diet. It doesn't tell you anything about the quality of the nutrients or nutritional value.
But why are proteins so important? Well, protein is key in creating and maintaining cartilage, tendons, and ligaments. Besides that, protein in dog food also assists with muscle, skin, hair, nail, and blood formation.
Well, when protein is broken down, it creates amino acids that are important nutrients for a dog and its health. In short, amino acids help create energy for dogs and keep them alive. Basically, there are 10 essential amino acids that your dog needs to maintain its health. Your dog's body can't create these nutrients, amino acids, on its own, they need to be part of your dog's diet.
Animal protein sources have the most important amino acids. Proteins from plants are usually less digestible because dogs can't break down plant fiber as quickly as they can other types of food, like meat and fish. Lastly, let´s cover the best sources of protein in your dog´s diet.
Best Protein For Active Dogs:
Eggs
Fish
Beef
Chicken
Pork
Duck
Elk
Best Protein for Overweight Dogs
Carbohydrates intake
Your dog, especially if they are very active or if you have a working dog, can benefit from carbohydrates as a source of energy. But, dogs don´t need high amounts of carbs. Your dog can get the majority of all the nutrients they need from protein and fats.
But, obviously, carbs aren´t your dog´s enemy, they can and should consume carbs, but just in appropriate amounts. The issue with many cheap dog foods is that the main ingredient is carbs, it just contains too much of this macronutrient that it can become bad for your pooch. The worst part is that in most cases manufacturers use cheap sources of carbs.
Carbohydrates are classified into three types: sugar, starch, and fiber, and two forms simple carbs and complex carbs.
"It has been proven that dogs do not require a high amount of carbohydrates, un yet they allow 30-60% of pet and veterinary approved foods to contain carbohydrates."

National Research Council of the National Academy of Sciences, "Nutrient Requirements of Dogs and Cats", 2006 Edition, National Academies Press, Washington, DC.
Simple carbs are essential 'sugars' present in many inexpensive highly refined grains, white rice, and fruit (fructose) dairy products (lactose). Simple carbohydrates are quickly and readily metabolized and are a source of short-term energy.
Then we have complex carbs, also known as polysaccharides. They digest more slowly and are classified as 'starches and fibers.' Complex carbs can be found in unprocessed whole foods like vegetables. Complex carbs slowly release energy and promote digestion, support the immunological and neurological systems, and regulate your dog´s metabolism.
Also read:
It would simply take too long to state which vegetables your dog can eat and which you should avoid, that´s why we put together a whole article on this topic. We´ll also link articles to fruits dogs can safely eat and general human foods that are safe for dogs:
Fats intake
Fats are made up of fatty acids. Fatty acids are classified based on their chemical structure and how they are linked together. Certain fatty acids are required in the diet of dogs since the body cannot produce them. These are referred to as essential fatty acids. These important fatty acids are classified into two groups: omega-3 fatty acids and omega-6 fatty acids. Fatty acids from each of these categories must be consumed in a precisely balanced ratio regularly. Lastly, we have fats. Fats are essential in your dog´s diet too.
Additionally, fats are required for the regular growth and function of human cells, neurons, muscles, and other body structures. They are crucial components in the body's manufacture of hormone-like compounds known as prostaglandins, which act as anti-inflammatory agents. Prostaglandins act to decrease inflammation in the body, as well as to conduct a variety of other critical roles throughout the body.
Fats are one of the reasons why dog meals taste and smell wonderful, as well as being nutritious (at least to your dog). Fats and oils also help to give meals their shape. They aid in the absorption of certain vitamins known as fat-soluble vitamins by the body (A, D, E, and K). Fats and oils in your dog's food help to maintain his coat lustrous and healthy, and they are also crucial in the process of reproduction.
Valu Pak Dog Food
Valu-Pak is a dog food brand owned by Specialty Feeds Inc. Specialty Feeds Inc was founded over 50 years ago in 1960 by Vick, Gene, & Bubba Coscia on their North Mississippi dairy farm. Even though Valu-Pak products are unfamiliar to most dog owners, their goods are immensely popular among organizations such as hunters, breeders, and kennels. The reason why we´re analyzing Valu Pak dog food is because of their Free range of products which are made without wheat, corn, soy, and gluten!
Within its free product range, they tend to use "higher-quality" grains like brown rice and sorghum. But, you should also know that in their standard range, they stick to lower-cost alternatives like corn and wheat.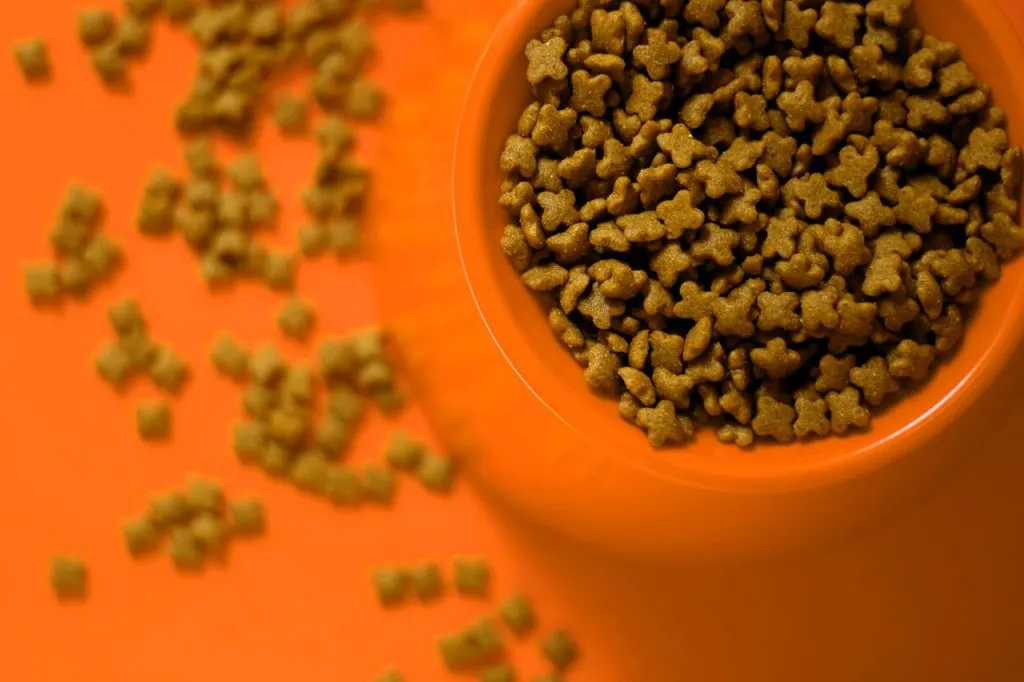 Extra tip: You can mix all dry dog food or kibble with a bit of warm water. Warm water will make those irresistible, meaty smells come out and it will increase the volume of your dog´s meal without adding calories to it. This is especially advisable for obese dogs. You can also feed puppies this way. The water will make their kibble softer and easier for them to chew.
We will take a closer look at the Valu-Pak Free 28-20 food, which contains 28% of protein and 20% of fats. According to the manufacturer, this dog food is formulated to meet the nutritional levels established by the AAFCO Dog Food Nutrient Profiles for all life stages of your beloved dog. While we´re talking about Valu Pak dog food, let´s also mention that Arcola Feed is one of the authorized dealers of Valu-Pak Dog Food.
Ingredients:
Chicken By-Product Meal (source of glucosamine & chondroitin), Pork Meal, Whole Grain Brown Rice, Whole Grain Sorghum, Chicken Fat (preserved with mixed Tocopherols), Dried Green Peas, Dried Beet Pulp (sugar removed), Ground Flaxseed, Salt, Potassium Chloride, Calcium Carbonate, Hydrated Sodium Calcium Aluminosilicate, Choline Chloride, Ferrous Sulfate, Vitamin E Supplement, Zinc Sulfate, Zinc Oxide, Manganese Sulfate, Copper Sulfate, Sodium Selenite, Niacin Supplement, Biotin, Calcium Pantothenate, Vitamin A Supplement, Riboflavin Supplement, Menadione Sodium Bisulfite Complex, Thiamine Mononitrate, Vitamin B12 Supplement, Calcium Iodate, Pyridoxine Hydrochloride, Vitamin D3 Supplement, Cobalt Carbonate, Folic Acid.
Crude amounts of each nutrient:
Crude Protein (Min) ………………… 28.00%
Crude Fat (Min) ……………………….20.00%
Crude Fiber (Max) ………………………. 3.5%
Moisture (Max) ………………………… 10.0%
Omega-6 Fatty Acid (Min)*…………. 2.20%
Omega-3 Fatty Acid (Min)*…………. 0.30%
Feeding directions for Valu Pak dog food

Canines in their adulthood
Breed, environment, temperament, and stress factors will all have an impact on the amount of food required. Show dogs and working dogs will need greater quantities of food depending on the level of activity or stress they are experiencing. The amount of food consumed should be modified to maintain optimal body weight.
Puppies may start eating Valu-Pak Free 28-20 Dog Food as early as four weeks of age, depending on their size. From the time they are six months old, feed them all the moistened (with warm water, not hot) food they will take three times a day until they are nine months old, then twice a day until they are twelve months old. It is permissible to have Valu-Pak Free 28-20 Dog Food available before the pups at all times if they are fed dry. While the quantity of food supplied should be adequate to sustain consistent, optimum development and weight, it should not be so high as to induce excessive growth and/or weight gain at a young age.
Dogs that are pregnant or nursing
Valu-Pak Free 28-20, supplies the additional nutrients required by reproducing females throughout the periods of pregnancy and lactation. Because food intake might fluctuate throughout pregnancy, feed just the quantity necessary to keep the pregnant female in excellent physical condition. The quantity of food consumed might rise by up to four times the amount normally consumed.
Valu-Pak Recalls
According to the FDA, AVMA, and DogFoodAdvisor Valu-Pak dog food has never been subjected to a recall, making it a dog food brand to have never had a recall.
This is particularly noteworthy considering the lengthy and illustrious history of Specialty Feeds Inc, which dates back more than fifty years.
Despite this, we urge that dog owners be attentive to any future recalls from Valu-Pak, Specialty Feeds Inc, or any other dog food company to ensure that their dogs' health and safety are never jeopardized.