There are so many brands of dog food that it can get overwhelming which to choose, Purina One Natural, Pro Pac, Pedigree, and so on. As dog owners we only want the best for our canines, but what dog food is the best? Well, we can´t tell you which dog food to buy, but we can analyze certain dog food brands to help you make a decision. In this article, we´ll take a closer look at Pro Pac Dog Food. Specifically Pro Pac Ultimates Puppy Chicken Meal and Brown Rice.
Besides this, we will also explain what characterizes good dog food, what distinguishes high-quality dog food from low-quality dog food. It is important to be able to do a label analysis, that way you won´t have to Google if a certain dog food is good or bad. You will be able to determine that yourself.
We believe that every dog owner should know how to read an ingredient list, otherwise you won´t know what exactly your dog is eating.
Nutrient analysis – Dog food
In an ideal world, every dog food would be of the same nutritional quality. Instead of that, a dizzying assortment of alternative products is provided to dog owners. And in that sea of products, each brand claims to be the greatest dog chow on the market in some way or another. Searching through all of these options in order to discover a dog food brand that is both nutritious and economical while also appealing to your pet may be difficult. That´s why we've searched for professional recommendations to assist you in narrowing down your choices.
Dry dog foods or wet food in a can are the most common feeding options for dogs. You may not like the smell of processed dog food, but don't worry; your dog will be quite fine eating it. Commercial dog diets of the highest quality are closely controlled and have undergone extensive testing by veterinarians. But, what are these dog meals made of?
The ideal dog food should suit your dog's dietary demands. While most commercial dog foods meet the basic nutritional requirements for dogs, it is essential to note that not all dogs have the same nutrient value.
Dogs need a variety of nutrients in varying amounts throughout their lifespan. Puppies have different nutritional demands than older dogs, thus it is best to give them a puppy formula or an "all life stages" meal. Also know that large breed dogs and pups need a different diet than small-breed dogs and puppies.
Ingredients
The ingredients list on a dog food label, no matter which food it is, Purina One Natural, Pedigree, or any other, won't tell you how good the ingredients are or where they came from. Some manufacturers split up the ingredients to deceive you. Let´s take carbs as an example. High-quality dog food should have protein in the biggest amounts. Carbs are important but should be present only up to 30%. Now, some shady brands will separate corn into different types of corn (which are all carbs) like flaked, ground, and kibbled corn, and put them on different positions on the list. So, when you´re looking for corn, it will be somewhere at the bottom of the ingredient list and you´ll think that you have good quality dog food in your hands. In reality, there is a lot more corn in the food than there is on the ingredients list.
What to look for and what to avoid
But, if an ingredient list doesn't tell us how good the ingredients used are, what does it tell us? Well, the truth is there are a lot of things we don't know about our pet's food. But, the ingredient label, so the pet food ingredients can help us figure out how good the food really is. Here are the ingredients you should look for, and the ingredients to avoid.
Check for:
Meat and fat products that are named after a species, like "salmon meal that has been deboned." If you don't know what kind of meat, poultry, or fish is in the food, you can't be sure that it's good.
You should only get dog foods that have meat as the first ingredient. It will be easier for dogs to digest and absorb food that is high in meat.
It's sometimes possible to get "grain-free formulas". If you feed your dog grains you should look for whole grains like "whole brown rice."
Whole fruits and vegetables, especially when they're used as a replacement for grains in food.
A lot of organic ingredients.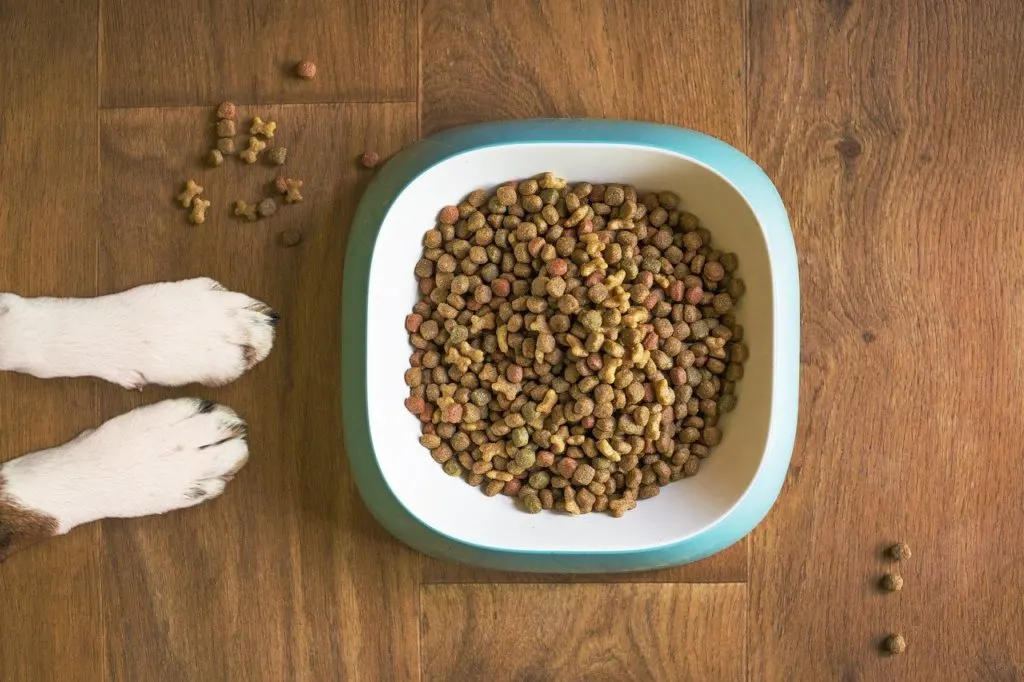 Avoid:
Foods that have unknown "meat," "animal," "poultry," or "fish" products in them.
Any kind of meat byproducts, especially if you don't know where they came from. There may be high-quality ingredients in byproducts, but there may also be parts of an animal that are not good for your dog (such as beaks and feathers).
There are a lot of things that aren't natural, like colors, sweeteners, or preservatives, like BHT, BHA, Ethoxyquin, Propyl Gallate, and other things like that.
Fragments of grain.
Corn and soybeans. In this case, corn is a cheap, non-nutritious filler that is hard for pets to digest and can cause allergies. Soy is another cheap and not-very-healthy ingredient.
Pro Pac Dog Food – Analysis
Let´s start this section by analyzing the ingredient list of Pro Pac Dog Food. The estimated dry matter nutrient content or dry matter basis of Pro Pac Ultimates dog food is as follows:
Protein = 33% | Fat = 22% | Carbs = 37%
Ingredients: Chicken meal, brown rice, white rice, chicken fat (preserved with mixed tocopherols), rice bran, whitefish meal, dried beet pulp, peas, flaxseed, dried egg product, apples, blueberries, cranberries, carrots, spinach, salt, potassium chloride, choline chloride, dl-methionine, l-lysine, taurine, Yucca schidigera extract, l-carnitine, beta-carotene, vitamin A supplement, vitamin D3 supplement, vitamin E supplement, zinc sulfate, l-ascorbyl-2-polyphosphate (source of vitamin C), ferrous sulfate, niacin, calcium pantothenate, riboflavin supplement, copper sulfate, pyridoxine hydrochloride, thiamine mononitrate, manganese sulfate, zinc proteinate, manganese proteinate, copper proteinate, calcium iodate, cobalt carbonate, folic acid, sodium selenite, biotin, vitamin B12 supplement
Unless you´re an expert, you probably don´t know what some of those ingredients even are. That´s why we will explain them and their nutrient profile in more detail.
Ingredients
A chicken meal is a meat concentrate with roughly 300 times the protein of raw chicken.
Brown rice is a complex carbohydrate that is simple to digest once cooked, however it is low in nutritional value for dogs.
White rice is processed rice that lacks the grain's protective outer coating.
Rendering chicken produces chicken fat. Chicken fat contains linoleic acid, an important omega-6 fatty acid. Chicken fat is a wonderful component, despite its unappealing appearance.
Refined rice bran is a nutritious by-product. The bran is the grain's outermost layer, rich in fiber, vitamins, and minerals.
Whitefish supper is also a protein-rich dish. Whitefish are endemic to Canada and the California coast.
Commercial fisheries commonly acquire fish meal from "clean, dried, crushed tissue of undecomposed whole fish and fish cuttings".
Beet pulp is a high-fiber by-product of sugar beet processing. Some call beet pulp a cheap filler, while others tout its gut and blood sugar advantages.
Peas are a good source of carbs. They contain natural fiber, like other legumes. However, peas provide around 25% protein, which must be included into the meat amount of this dog food.
If made into a meal, flaxseed is one of the greatest plant sources of dietary fats like omega-3 fatty acids. Flax seeds contain soluble fiber. But, flaxseed has 19% protein, which must be included into the meat content of this dog food.
Other ingredients
The above-mentioned ingredients are found in the öargest quantity, the rest of the ingredients are not likely to affect the overall value of this Pro Pac product. But we do need to mention a couple more ingredients.
Taurine is an amino acid linked to heart muscle health. Although taurine is not considered necessary in dogs, some have been shown to be lacking.
Probiotics are beneficial microorganisms added to kibble after processing to aid digestion.
Chelated minerals are minerals bonded to protein. This facilitates absorption. High-quality dog foods usually contain chelated minerals.
Judging by all of this we can say that the Pro Pac Dog food is an above-average dry product.
Final word on Pro Pac Dog Food
There are so many different dog foods, Purina One Natural, Pro Pac Dog Food, Pedigree, and many more, and you will read split reviews on all of them. We, humans, love good community involvement, we love to ask others about their opinions and get additional assurances. But in the end, no one can tell us exactly what food our specific dog needs. The needs of your dog and your friend´s dog aren´t the same, so they might not need the same kind of dog food. We humans take great pride in recommending something to our friends, but different dogs have different nutritional needs. And that´s probably the most important lesson you should take from this article.
Additional tip: Don´t buy dog food from random online retailers just because they are selling a product at competitive prices. Please only buy from a reliable source.
We´ve seen that Pro Pac Dog Food is a good product when it comes to the ingredients. But is there any product recall surrounding this brand or any important FDA alert? After all, social media is filled with news of product recall of various brands. The FDA has issued a list of dog and cat foods that have been recalled, according to an important FDA alert there are several varieties of pet food that aren´t safe. The following automated list by the FDA will tell you which dog foods have been recalled, you can find the list on the FDA´s website or by following THIS link.
Read some of our other articles: